Polk County Public Schools 2020 Teacher of the Year is a Polk State alum who believes in giving back to the community that educated him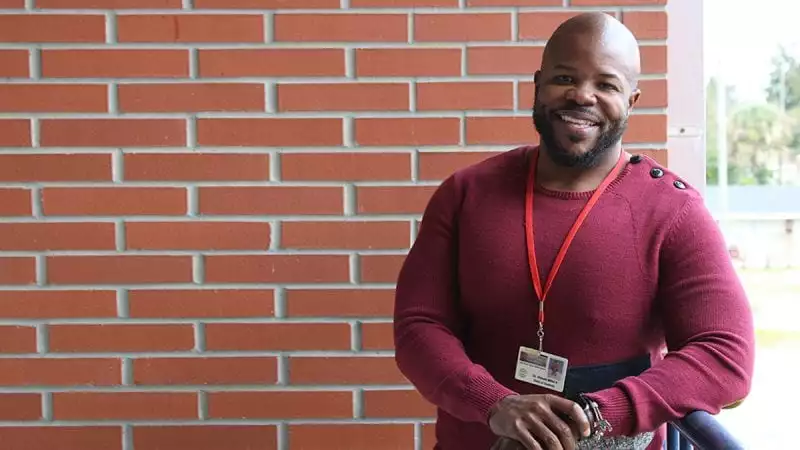 Vincent Miller is much more than the 2020 Teacher of the Year for Polk County Public Schools.
He is a basketball coach. He is the founder of the mentoring program Filling the Lane and co-founder of the Culture Connection Club. He is the advisor for the Key Club. He oversees all the pep rallies at Winter Haven High School and heads initiatives that provide care packages to graduates who have gone off to college or the military, as well as a care closet on campus for students in need.
He is a product of Polk County Public Schools and he is a Polk State College alumnus.
"It's a great feeling to be in the community, representing the community, grown from the community, and educated by the community," Miller said. "You can only give 100 percent in your everyday job when you're in that situation."
Born and raised in Winter Haven, Miller credits his first- and second-grade teacher at Brigham Academy – then Brigham Elementary School – for opening his eyes to the positive impact teachers have on the lives of their students.
With a birthday in July, Miller was the "baby" of the class and would sometimes fall behind his peers.
"I will never forget the countless hours she spent with me – how she would come to the house and take me for tutoring," he recalled. "She was a big inspiration and showed me what a teacher should be."
As he got older, it was his experiences at Jewett Middle Academy and Lake Region High School as well as "quality conversations" with his grandparents about the importance of education that motivated him to persevere on his path to college and to becoming an educator.
"At 98 years old, my grandmother watched Barack Obama be inaugurated when she could not go to school," he said. "Now you can get as much education as you need and she told me to never turn the opportunity down."
Miller was 17 when he enrolled at what was then Polk Community College.
It was not only the local, affordable option. It was also an opportunity for him to transition to the postsecondary education environment.
"Polk State taught me what it takes to be a professional student," said Miller, who benefited from a choir scholarship. "I suggest a lot of students, especially those not knowing what it's like to be on a college campus, get that experience."
Miller served as Vice President of the Student Government Association and an Outstanding Academics Leadership Award from the Student Activities Board is displayed in his classroom today.
"At Polk State, everyone was there to guide me and to give me the foundation I needed," he added, pointing to support services including the Student Activities and Leadership Office and the Teaching Learning Computing Center.
He received his Polk State Associate in Arts degree in 2003 and went on to achieve a Bachelor of Science in Biology from the University of South Florida, a Master of Business Administration from Webster University, and Doctor of Education from Lynn University. In 2009, he completed Polk State's Educator Preparation Institute and achieved his professional teaching certification.
A singer at heart, Miller has been in and out of the public school system for 10 years, taking tour opportunities. He returned in 2015 as dean of students at Lake Alfred-Addair Middle School – now Lake Alfred Polytechnic Academy – but soon realized his passion was in the classroom.
"Polk State taught me what it takes to be a professional student. At Polk State, everyone was there to guide me and to give me the foundation I needed."
At Winter Haven High School, his classroom encapsulates his dedication to teaching and commitment to student success.
Smooth R&B music, dim lighting, and flexible seating calm ninth graders as they work on challenging geometry lessons. But there's no sleeping in Mr. Miller's class. What starts with an online tutorial about finding the median of triangles transitions into a group discussion where students are encouraged to stand and project their explanations of reaching their answers.
"Lil Wayne said to never let them get comfortable," Miller said. "Engagement is key. I keep my students on their toes. If you get too comfortable, you can't grow."
His teaching philosophy revolves around "quality conversations" like those he had with his grandparents.
"It's important for students to relate their real-life situations to math," he explained. "Everything is a group conversation because it is about the process. Anybody can make the A but how did you make the A is the question. Being able to tell me how you got to that A is the most important part."
Serving a Title I school, Miller recognizes the diverse population of his students and the critical importance of investing in students beyond the classroom.
"Many of our kids come from single-parent and low-income homes. Some of our kids are raising their younger siblings," he said. "It's about building those relationships – being their biggest cheerleaders at their football games and band concerts, going to their homes to check in on them, or having a buddy call them and say 'hey – Mr. Miller's looking for you,' when they didn't show up for class."
His Teacher of the Year profile credits his ability to build positive relationships with students, their parents, and the community. It notes his lessons are designed around hands-on, real-life situations demonstrating how math is an integral part of life, as well as his belief that educators must be lifelong learners who are willing to evolve their teaching as students evolve.
"Lil Wayne said never let them get too comfortable. Engagement is key. I keep my students on their toes. If you get too comfortable, you can't grow."
His favorite part of the job: "The ability to inspire others."
It's important to Miller that his students understand some sage advice.
"It's not about what inspires you – it's about who inspires you," he said.
Quotes on his classroom walls highlight this message.
"Love your haters. They are your biggest fans," one says. "Surround yourself with positive people," another reads.
Miller aspires to be that positive influence on his students each day.
"It's those students who come back and say thank you for being that inspiration in their lives…, that if it wasn't for you, they don't know where they would be," he said. "It's those untouchable moments where you know you have ignited that spark – not only in their learning but also in chasing their dreams. That is hands down my favorite part of the job."
Miller added that his Teacher of the Year title is a testament to the quality of all the staff and leadership at Winter Haven High School.
"We are all teachers of the year," he said. "It's not one individual teacher who makes our school great. It takes a village. I am proud that our staff…, looked at me as someone who has helped to change the culture at our school. It's a culture of growth, respect, and responsibility, and it takes a community – from the custodian to the principal. I am honored to represent our community."