Nursing Alumnus Started Over at Polk State — And He'd Do It All Again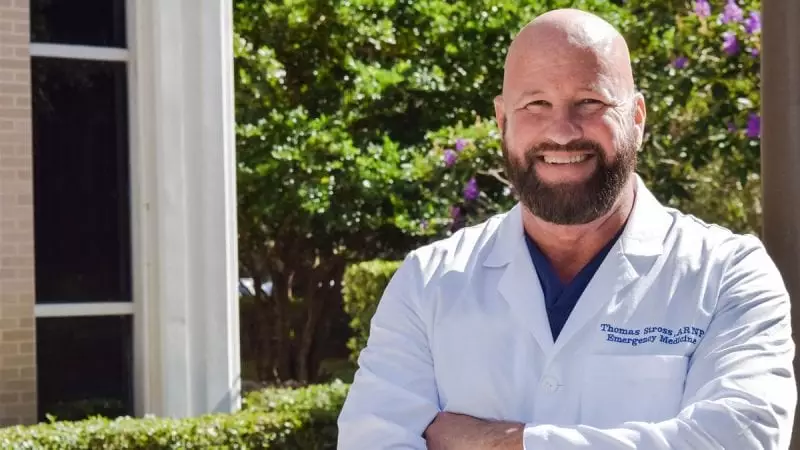 Like so many students do every semester, Thomas Stross came to Polk State College to start over, and like so many students find, doing so wasn't easy.
He had to let go of who he was, make sacrifices, and begin at the very lowest rung of a new career. It stung his pride. It tested his endurance. It made him wonder, many times, if it would all be worth it.
It was. He'd do it all over again. And his story, he hopes, might just be enough to help others navigating their own new starts in life.
"So many people will tell you that you can't do it. Those same people will continue to tell you that all the way up until the day you graduate. You have to be the one who says you can," Stross said.
Stross' pre-Polk State story goes like this: He's the middle child of eight. His dad was an accountant. His mom worked in education. He went to Santa Fe Catholic High School in Lakeland, but dropped out during his junior year.
"I just couldn't figure out the point of high school," he said.
He got his GED and went into law enforcement. He worked as a police officer in Polk County and as a border patrol agent in South Texas. It was work he respected, but for him, it just wasn't right.
What Stross wanted, he discovered, was a career that, like law enforcement, allowed him to help others, but that would require him to go back to school and overcome whatever challenges doing so would present. Stross, who years earlier hadn't seen "the point" of high school, was now determined to get a college degree.
"I had never been good at school, but I wanted a degree by 40," he said. "It was something I wanted to accomplish."
Around the same time that he was reconsidering his career, Stross visited his brother, who was working as a nurse at a local intensive care unit. The work seemed meaningful and challenging, and to do it, Stross would have to further his education.
Soon after, he quit his job as a police officer and enrolled at Polk State.
It was one of the hardest decisions Stross had ever made — but also, he was certain, one of the best.
"It was hard because people identify themselves by what they do. As a police officer, I had authority. Now I was a student. It made me feel like I was going backward," he said. "I was back at the beginning."
While he pursued his Nursing degree, Stross worked as a security guard, and later as a nursing tech, at a local hospital. Money was tight. In stereotypical college-student fashion, he often had instant noodles for dinner.
For three years, he swallowed those noodles and the feelings of inadequacy until, in 2006, he graduated with his Associate in Science in Nursing degree.
"Polk makes you jump through hoops. I think the Nursing faculty intentionally make it difficult, but only because they want to make sure their students are prepared," he said.
Thanks in part to the preparation he received at Polk State, Stross went on to earn a Bachelor of Science in Nursing and Master of Science from the College of Nursing at the University of South Florida.
Today, he works as a nurse practitioner at hospitals across Central Florida. Nurse practitioners are advanced-practice nurses who are able to diagnose and treat patients as authorized within their specialized area of practice.
"I'm in a job where I'm able to make a significant difference in people's lives. The decisions I make have a broad impact on my patients," he said.
Starting over wasn't easy, Stross said, but if he can do it, anyone can — and, if they want it badly enough, they can't let anything stand in their way.
"I have a job that I love. I went from struggling and eating Ramen noodles to being able to go on vacation. I feel like I've arrived," he said.
Polk State's Nursing Program is one of several Health Sciences programs offered by the College. The Nursing Program offers Associate in Science and Bachelor of Science degrees. Other Polk State Health Sciences programs include Cardiovascular Technology, Diagnostic Medical Sonography, Emergency Medical Services, Occupational Therapy Assistant, Physical Therapist Assistant, Radiography and Respiratory Care.
Polk State College's history is rich with stories of alumni who have gone on to make impacts, whether in the classrooms and laboratories of prestigious universities, the rough and tumble of commerce, or the halls of political power. Over the years, thousands of Polk State graduates have leveraged their education and experiences at Polk to transform their own lives and the lives of others. This transformation is the essence of what it means to "be Polk." Whether in big ways or small ways, Polk State alumni embrace the challenge of living lives that matter. News@polk regularly profiles these alumni. Their story is the story of Polk. They are The Pride of Polk.