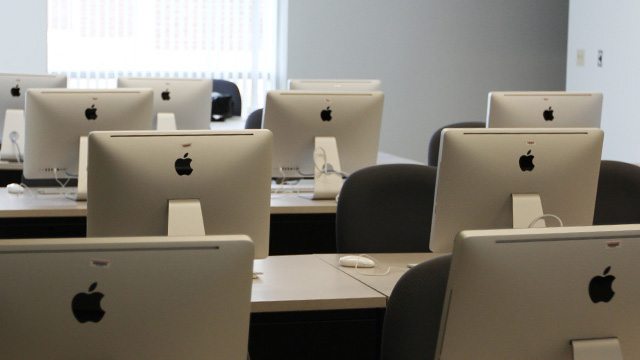 As most of you know, we converted LTB 1308 into three separate spaces–a control room, an awesome studio with a massive green screen, and a classroom. The studio is in its final stages of readiness and will be deployed soon.
The classroom is currently being used for teaching and just last week, 19 brand, spanking, new iMacs showed up. Three of them were the 27-inch variety with a 256GB SSD drive for the OS (that's super-fast), and a 1TB drive for data. For those of you who are not technical–that's a whole lot of speed and storage capacity. The other 16 computers were 21.5 inches in size with 1TB drive.
All machines were loaded with the latest version of Office (2011), and the master collection of Adobe CS 6. Yes . . . we can do anything now! Bring it on. I-Life 2011 with iPhoto, iMovie, and Garage Band came standard with the purchase. All computers are connected to a Mac server via a gigabit connection which enables very fast file transfers. We also loaded several other software students will find exciting.
Things are coming along nicely.
Soar, Eagles!