Metallica Scholar: Polk State provides tangible skills that will never leave you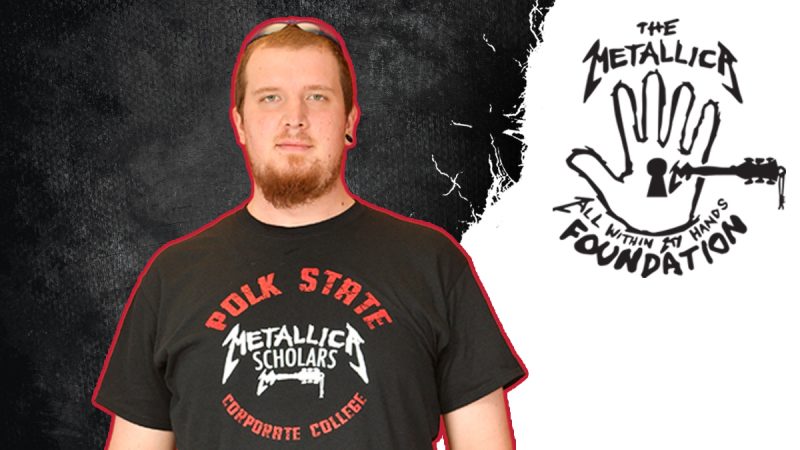 Jesse Williams worked a variety of trade jobs since graduating high school in 2010 and went back to school in 2018, when he enrolled in Polk State College's Manual Machining Program.
"It was a fairly random decision. My mother had passed away and I figured it was a constructive way to get through a hard time," he said. "The unfortunate nature of the jobs I was working is that you have to put in thousands of hours at low pay to be able to make a livable wage."
In eight weeks of training at Polk State, Williams gained five National Institute for Metalworking Skills (NIMS) certifications, created parts for NASA through the HUNCH Program, started a machining job at $18 an hour, and made connections that would prove invaluable on his new career path.
His mom would be proud.
When Polk State Machining Instructor James Gibbons informed Williams that full scholarships were available through the Metallica Scholars Initiative for students to participate in the eight-week Computer Numeric Control (CNC) Machining Program, Williams called it a "prudent decision" to sign up.
"Polk State lends tangible skills that will never leave you," he said. "This program sets you up with the knowledge, hands-on skills, and connections you need to land a job."
Or in Williams' case, the program provides college credits that will count toward the Polk State Associate in Science in Engineering Technology he plans to pursue next. He aspires to one day open his own machine shop.
Williams is on track to graduate with Polk State's first class of Metallica Scholars on October 9. The College is currently enrolling for the next class of Metallica Scholars that will start on October 12.
Polk State is one of only 15 schools across the country to receive a $100,000 grant from All Within My Hands, a nonprofit organization founded by members of the band Metallica. In partnership with the American Association of Community Colleges, the Metallica Scholars Initiative is providing fully paid scholarships to individuals including those who are unemployed or underemployed to complete the eight-week program's CNC Machining training. Students also receive the funds to complete exams for six NIMS certifications that will qualify them for in-demand, high-wage jobs.
Williams explained how the Polk State CNC Machining Program "transforms the way you think."
"It exposes you to seeing things in a way you don't see them in the outside world. In the outside world, metal is seen as a finite object, but in the program, metal becomes anything you want it to be," he said.
He also noted the program's flexibility, which has been especially important to him as he works up to 60 hours a week as a maintenance machinist on the night shift.
"Red Bull life support," he joked of how he balances his job with a full-time course load. "But the program is flexible, and the instructor and staff are supportive. I have been able to come and go as needed to complete the training."
The Metallica Scholars Initiative and the opportunity to receive such valuable training for free was one he could not pass up.
"I thank Metallica for injecting some lifeblood back into the industry," Williams said. "My generation was told that if you don't go to college, you won't be able to make any money, and that has devoid the trade world of some talent. Opportunities like this are creating more possibilities for people to get into fruitful fields without massive debt and lots of schooling."
More information about the Metallica Scholars Initiative at Polk State College is available at www.polk.edu/metallica. Individuals who are interested in this free, short-term training opportunity should contact Coordinator Jamie Rowan at jrowan@polk.edu or 863.837.5954.