Meet the Officers: Polk State Lakeland's Student Government Association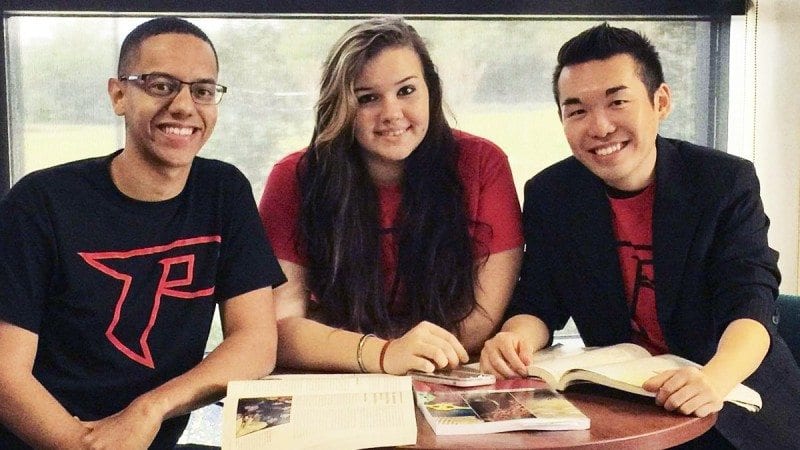 The Student Government Association is the official representative of Polk State College students. The SGA acts as a liaison between students and administrators, organizes campus activities, and represents students in organizations and legislative issues on statewide and national levels. In recent years, the Polk State SGA has been the driving force behind a campus-wide recycling program and the removal of smoking from campus grounds. Officers are elected during the spring semester and serve one-year terms. Here, News@Polk introduces Polk State Lakeland SGA President Christopher Ly, Vice President Xavier Santiago, and Secretary Jessie Seaman.
Polk State Lakeland SGA President Christopher Ly
Polk State Lakeland SGA President Chris Ly was named a Public Service Scholar while studying at Lakeland's Kathleen High School, an honor that came with a two-year scholarship to Polk State College.
Little did Ly know at the time that his two years at Polk State would turn into four. Ly graduated from Polk State with his Associate in Arts degree in 2014, and is now pursuing the Bachelor of Applied Science in Supervision in Management.
Ly plans to graduate with his bachelor's degree in 2016 and transfer to Florida Southern College to pursue a master's degree in International Marketing.
Ly is a familiar face in student leadership at the Lakeland campus, having previously served as SGA president, secretary and parliamentarian.
Now in his second term as president, and as he nears the end of his career at Polk State, Ly has a clear vision for his presidency and high aspirations for the Lakeland SGA.
"I aspire to be an effective leader who will represent my fellow peers in ways that they cannot. I want my peers to know that I am someone who is willing to always give a hand," he said.
Ly added:
"My top priority for this academic year is to expand student life. I want to show the students what SGA has been working on by creating the best events possible. I also want to connect with the students and hear their concerns, from issues with their classes or even legislative issues," he said.
As for how students can connect with Ly, he encourages them to attend SGA meetings, or simply stop him on campus.
"I want my fellow students to understand that they can voice their concerns and know that I will support them. Furthermore, I want them to know that I am here to guide them if they have questions regarding financial aid, where their classes are located, and who to contact about an issue in class," he said.
Polk State Lakeland SGA Vice President Xavier Santiago
Polk State Lakeland SGA Vice President Xavier Santiago is a Lakeland resident who is pursuing his Associate in Arts degree. Ultimately, he plans to earn the Bachelor of Science in Nursing from Polk State.
Santiago ran for office to get more involved on campus and to encourage other students to do the same.
"I ran in order to make SGA a more informative club, to inform students that we not only have an SGA, but that we have activities throughout the College on a regular basis," he said.
As for what his constituents should know about him, Santiago said the most important thing is that he will work hard on their behalf.
"My top priority, other than my grades, is to remain loyal to SGA. When I ran to be in office, I decided that if I won, I would have to give my all to being the best vice president I could be. I plan to follow that through to the best of my abilities," he said.
Santiago added:
"I aspire to be an encouraging leader to the students at Polk State College. I want students to know that I will never shut them down completely. If they bring an idea about a club or plans for an activity to me, I will encourage them every step of the way to follow it through as long as it benefits the students at Polk State College."
Polk State Lakeland SGA Secretary Jessie Seaman
Polk State Lakeland SGA Secretary Jessie Seaman is pursuing her Associate in Arts degree, with the ultimate goal of transferring to the University of South Florida to study marine biology.
As for what her fellow students should know about her, Seaman said:
"My top priority is my fellow students. It is so important that students enjoy the college they attend, so I am making it a priority to organize campus events that will be fun and will help students make lasting memories," she said.
When students see her on campus, they should feel free to approach her about any issue — large or small.
"The SGA plays a large role in the success of our campus as a whole. It is up to the SGA to help make positive changes on campus and organize events for students to become more involved with their campus. The SGA plays an even larger role on the state level. It is up to SGA members to speak up for the Florida College System when it comes to legislative issues," she said.
The Polk State Lakeland SGA meets every Tuesday at noon in room LAC 1242. Meetings are open to all students. Students may also contact the Polk State Lakeland SGA via email at PolkStateSGA@gmail.com,  via Facebook at PolkStateCollegeStudentGovernmentAssociation-LK, and via Instagram at PolkStateSGA.
Students may also stop by the SGA office, located in LAC 1131. Students are also encouraged to submit suggestions to the suggestion box located outside the SGA office.
SGA is one of more than 50 clubs and organizations offered through the College's SALO (Student Activities and Leadership Office).