Lifelong best friends and teammates to continue playing career for Polk State Soccer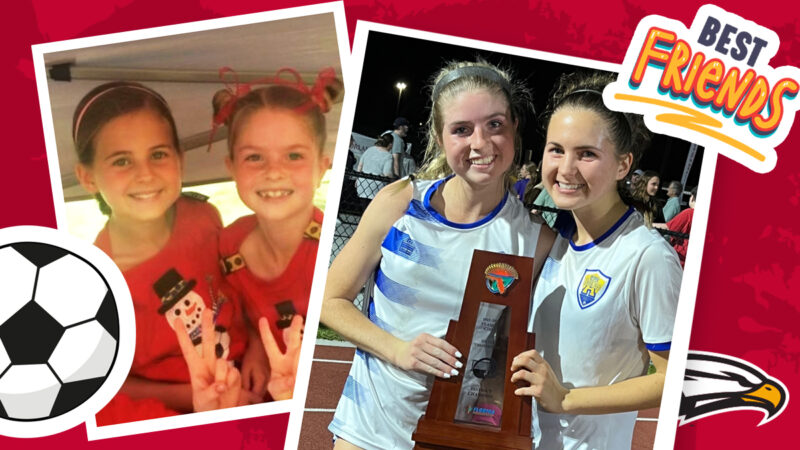 Since virtually the age of 5, best friends Peyton Battilla and Dylan Fernandez have been soccer teammates. That trend will continue in the fall at Polk State College.
Both seniors at Polk State's collegiate high schools, Battilla, 18, and Fernandez, 17, have been best friends since they started playing soccer. The two spent the 2022 season playing at Auburndale High School.
"Her decision to come to Polk State was definitely a contributing factor," Fernandez said of her bestie. "Being a homebody, I didn't want to go too far from home. This seemed like a great fit."
Of the two, Fernandez was the first to receive a scholarship offer from Polk State. Fernandez's offer came during the summer before Battilla earned one of her own a few months later.
"The first person I told was Dylan," Battilla said. "We've been on the same team forever, so we decided to go to college together to make something of it. She's like family to me."
Except for their freshman year of high school when Fernandez played at Lake Region High School and Battilla at Lakeland High School, the two have been teammates. The friendship began playing soccer near Lake Myrtle Park in Auburndale, but as Fernandez recalled, it wasn't on a soccer field.
"I remember first trying out for a rec team," she reflected. "We tried out on a softball field – I don't know why, but I've never really known soccer without her."
As lifelong best friends, Battilla and Fernandez share memories and inside jokes. That camaraderie also translates to the field.
"Outside of our freshman year, we've never been on a different soccer team," Battilla noted. "I feel like we have so much trust in each other. When the ball is on my foot, she's the first person I look for. Most of my goals are on assists from her. When I score, she's the first person I look to celebrate with."
"Our friendship outside of soccer helps us on the field," Fernandez contended. "We know what each other are going to do before we do it."
Both expect to graduate high school with their Associate in Arts degrees in May. Fernandez attends Polk State Lakeland Collegiate High School while Battilla goes to Polk State Chain of Lakes Collegiate High School.
Polk State's charter high schools allow students to simultaneously complete requirements for their high school diplomas while earning college credits. In most cases, students graduate with both their high school diplomas and Associate in Arts degrees at no cost to them.
"I wasn't completely sure what I wanted to do after high school," Battilla said. "Polk State is close enough to home where I'm near my family, but a place where I felt I could still get a good college experience. We love the environment."
Despite being lifelong best friends, the two can be quite different. Battilla was recruited as a forward while Fernandez is a midfielder. Their personalities also contrast.
"I'm pretty shy," Fernandez said. "She's one of the most outgoing people I've ever met. Her energy is just infectious."
For most freshman student-athletes who arrive on campus, the roster is exclusively comprised of first-time teammates. Battilla noted that having Fernandez with her will provide a sense of comfort.
"It's a really special thing," she said. "College soccer is usually a fresh start. I couldn't pick anyone else I'd rather play with than Dylan."
Fernandez won't be completely unfamiliar with the program, either. Her older sister, Logan Fernandez, spent the last three years playing forward for Polk State. This past season, she helped the Eagles claim Region 8 regular-season and tournament championships and reach the NJCAA Tournament for the first time since 2009.
"I got to see how much she loved being on the field and with her teammates," Fernandez said of her older sister. "She just loved Polk in general, so that inspired me as well."
Aside from soccer and their love for one another, career paths are another thing they have in common. Both plan on majoring in Elementary Education and earning their bachelor's degree from Polk State.
"I'm so excited – that's for sure," Fernandez added. "All these past years, I've been a little hard on myself when it comes to soccer. I hope to have fun, enjoy these years, and not take anything for granted."