Leadership Development in Public Safety Certification Program Named Exemplary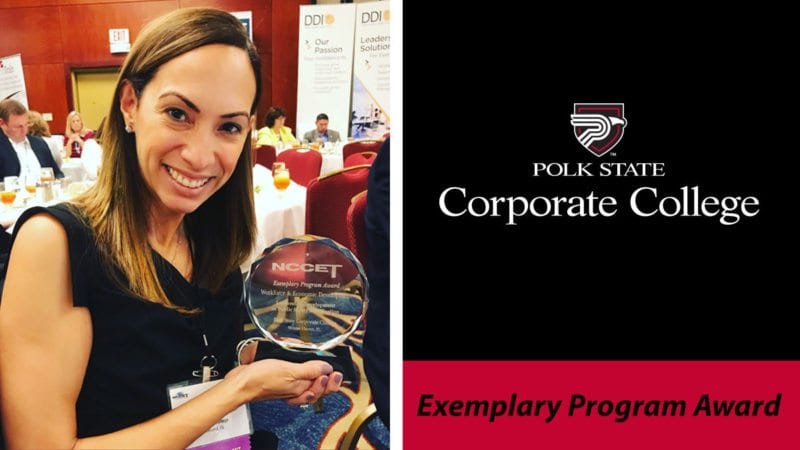 The National Council for Continuing Education & Training (NCCET) recently awarded Polk State Corporate College's Leadership Development in Public Safety (LDPS) Certification Program with the Exemplary Program Award in workforce and economic development.
The NCCET is an affiliate of the American Association of Community Colleges that advocates for higher education and workforce training issues, and provides member institutions and educators with proven best practices.
To qualify for the Exemplary Program Award, a program must address a specific need that impacts a significant number of students or constituents; address that need in a creative manner; be sustainable; and have potential to be successfully duplicated at other colleges across the country.
"We are proud to be recognized at a national level for creating customized programming that is successfully training our workforce while inspiring individuals to continue their education at our institution," program coordinator Nyrka Riskin said. "As a three-time award-winning program with more than 120 graduates, we believe that the LDPS program proves that we have local talent and expertise in the public safety industry."
Polk County Fire Rescue Deputy Chief Mike Linkins agrees.
The LDPS Certification Program started in 2016 as a partnership between Polk County Fire Rescue and Polk State College to develop an affordable, high-quality training program to address the results of a strengths, weaknesses, opportunities, and threats – or SWOT – analysis Polk County Fire Rescue had conducted.
The SWOT analysis indicated issues with recruitment and retention of employees, as well as communication silos that had the potential to impact the efficiency of the organization. With the loss of many senior employees to retirement, the institution was looking for a method to train the next generation of leaders to be job-ready on day one.
"Before, we had no formalized leadership training," Linkins said. "The program has improved morale, productivity, and communication within our agency; we have fewer disciplinary issues; and career development is better because our officers have the tools they need to mentor and guide others."
The LDPS Certification Program provides 160 hours of non-credit leadership training to those who are seeking advancement or who have been recently promoted to a supervisory position in public safety, as well as up to nine credit hours through the College's Prior Learning Assessment procedure.
Polk County Fire Rescue plans to use the program as a mandatory requirement for promotion and lists it as a critical success factor in its strategic plan.
"The LDPS Certification Program is a stellar example of the synergistic partnerships Polk State College has with the community," Polk State President Angela Garcia Falconetti said. "We are proud of the program's ability to fill a crucial need for one of our local agencies by giving the men and women of PCFR the leadership skills they need to serve the residents of Polk County."
Riskin gave a presentation last week at the NCCET 2017 Annual Conference outlining how other colleges can implement a similar program.
The program is a 2017 Bellwether Award finalist and recognized as a 2017 Best Practice in the Florida College System's "Chancellor's Best Practices."
"We are honored and thrilled to receive these recognitions," Riskin said. "We look forward to serving our Polk County community with more trainings in the future."