Lakeland Fire Department Rescue Chief dedicated to serving community achieves third Polk State degree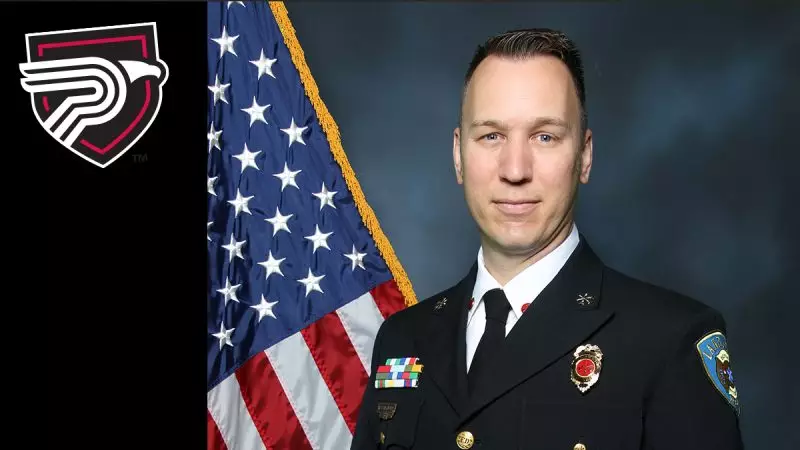 Shane Reynolds, Rescue Chief for the Lakeland Fire Department, will graduate with his third Polk State College degree this week and a passion for serving the community that is stronger than ever for this dedicated Polk County native and proud Polk State alumnus.
Reynolds, who earned his Polk State Associate in Science in Fire Science Technology in 2003 and Polk State Associate in Science in Emergency Medical Services in 2005, will receive his Bachelor of Applied Science in Supervision and Management with honors with the College's fall 2020 class.
"It has been a wonderful journey," Reynolds said, reflecting on his 25-year career in the fire service and trek as a Polk State student. "My bachelor's degree is a huge accomplishment because of my humble beginnings."
He described his father's upbringing in a low-income household and his success in becoming superintendent of Polk County Public Schools.
"I want my parents to be proud of me," said Reynolds, who is also a parent and role model for his 11-year-old daughter, Bella.
Reynolds truly takes pride in growing up in Polk County and being able to help the community that he has loved for his lifetime. His appreciation for the community and Polk State has kept him coming back to the College to further his education.
"If Polk State College were not here, I would have had to leave here to get my education," he explained. "I am proud that I came to Polk State, and I am proud to work for the Lakeland Fire Department; our department is like Polk State, we both have heart and do what we say!"
Lakeland Fire Chief Douglas E. Riley has known Reynolds since he started at the Fire Department as a teenager out of high school.
"It has been amazing to see his transformation from rookie firefighter to the dedicated, experienced, and knowledgeable Rescue Chief he is today. Under Shane's management, the Lakeland Fire Department's Rescue Division has become a leader in emergency medical services in the state of Florida and I can proudly say we have some of the best medics working in the field," Riley said. "I credit that in part to his educational journey at Polk State College and the partnerships he has built with the College's health services and public safety programs."
Reynolds is dedicated to the Lakeland Fire Department's mission and, with the additional education and training he has received through Polk State's BAS Program in the Public Administration concentration, Reynolds has further developed a theoretical and practical understanding of how public resources are utilized effectively within a changing environment.
Reynolds uses those theories in his role as Rescue Chief. He reflected on the skills he learned in one of his most recent classes at the College, American Sign Language (ASL).
"I was helping an elderly woman and saw that she was not responding," he explained. "She was hearing impaired and, as a result of my partner's experience with ASL, we were able to make a human connection, meet her needs, and safely mitigate the situation."
"This reflection was one I had years ago as I watched another employee who had ASL skills connect with a citizen," he added. "This inspired me to take ASL at Polk State."
The College has also enhanced his critical-thinking skills, which are providing tangible benefits to the City of Lakeland.
Reynolds' capstone project involved research to replace expensive fire vehicles with alternative rescue apparatus which will save the City hundreds of thousands of dollars over the next 10 years.
Lakeland City Manager Shawn Sherrouse, also a Polk State alumnus, commended Reynolds on his graduation and service to the community.
"As City Manager, I deeply value the role that Polk State College has, and continues, to play in the lives of our exceptional employees," Sherrouse said. "The College offers several high-quality and flexible educational options; which are great for working students like Rescue Chief Reynolds. Several of the degree and certificate programs offered by the school directly relate to the services we offer our citizens, allowing our civil servants to enhance their careers and become the educated workforce our citizens deserve."
"The partnership between our organizations is crucial to developing our current team members and ensuring that future employees continue to offer the very best to those who call Lakeland home," he added. "With that said, I want to congratulate Shane on his accomplishment and encourage him to continue to soar like the Polk State Eagle that he is."
Reynolds was already serving the community he loves in a rewarding career when he decided in 2012 to pursue his bachelor's degree by taking between one and three classes per semester while balancing his full-time job, raising his daughter, and being a husband to his wife, Rachel.
And while his bachelor's degree helps to qualify him for two positions over his own – Fire Chief and Assistant Fire Chief – Reynolds is in no rush to move up. He is excited to use his newest skills to support his team, enhance the organization, and best serve the residents of Lakeland.
Reynolds truly embodies the mission of the Lakeland Fire Department and its values: Duty, Honor, Integrity, and Trust. As a leader, Reynolds believes one's major focus should be on people rather than things. With his Polk State education, he plans to "leave things better than I found them."
Polk State will recognize Reynolds and the College's fall 2020 graduates during a virtual graduation celebration on December 10 at 6:30 p.m. on www.polk.edu/academics/graduation and Polk State's Facebook, Instagram, and Twitter.