Kathleen Students Visit Polk to Learn About Law Enforcement Careers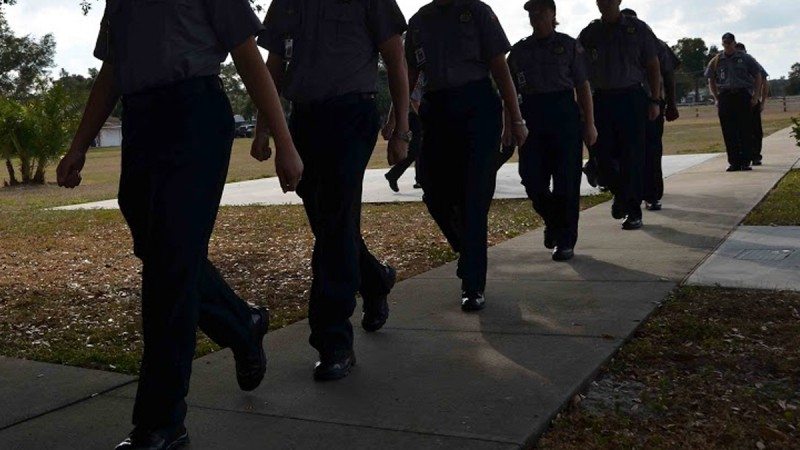 Polk State College hosted students from Kathleen High School's Criminal Justice Academy on Jan. 24, for a day of real-life insight into the field of law enforcement.
During the day, the Polk County Sheriff's Office gave a K-9 demonstration, and displayed an airboat, helicopter, and armored SWAT vehicle. Students also got talk to officers during a question-and-answer session, and learn about crime scene investigations, Tasers and Simunition. Simunition is a nonlethal form of ammunition similar to paintballs.
The Criminal Justice tour takes place annually at the College and is intended to give high school students a first-hand introduction to law enforcement, helping them to make more informed decisions about their education and careers.
Kathleen Criminal Justice Academy Coordinator and Polk County Sheriff's Office Deputy Lyle Tripp said the visit to Polk helps students have a clearer understanding about what they're learning in class and what a future in law enforcement would be like.
Polk State College has an articulation agreement with Kathleen's Criminal Justice Academy, meaning students may receive college credit for their high school coursework.
The Kathleen High School visit is just one of numerous similar events the College's Career Pathways program regularly arranges to reach out to area high school students.
Recently, firefighting students from Ridge Career Center spent a day at the Winter Haven campus. The visit included emergency medical technician and paramedic presentations, as well as presentations by the Lakeland Fire Department and Polk County Public Schools.
Polk State Public Safety includes the Kenneth C. Thompson Institute of Public Safety, the first public safety institute of its kind in the nation to receive Accreditation with Excellence from the Commission on Accreditation for Law Enforcement Agencies Inc. (CALEA), as well as associate's and bachelor's degrees in Criminal Justice, and associate's degrees in Emergency Medical Services and Fire Safety.