In the Bahamas, Polk State Students Learn About Art, Biology — and Life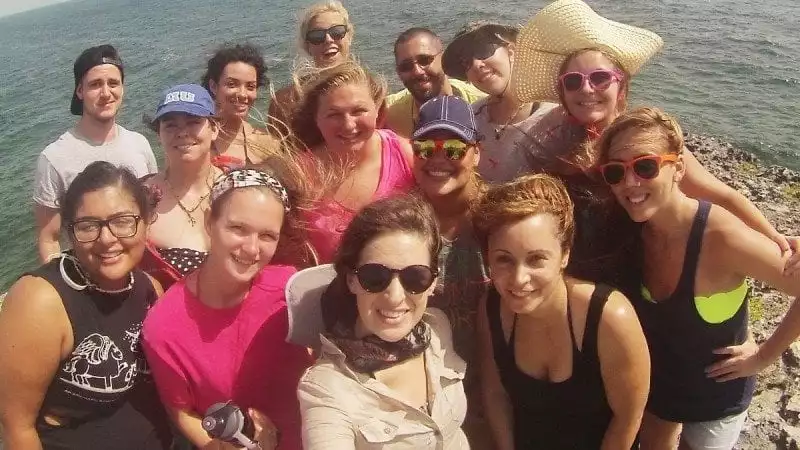 During their weeklong study-abroad experience in the Bahamas, 11 Polk State College students earned credits in art and biology.
The most important things they learned, however, may be those that have no place on their college transcripts.
"It was so motivational," said Brittany Killingsworth, a Lakeland resident pursuing her Associate in Arts degree. "I woke up every morning feeling so alive."
The Polk State students spent July 4-11 studying at Forfar, a research station operated by International Field Studies, a nonprofit for teachers. Forfar is located on Andros, the largest but least developed of the Bahamian islands.
Accompanying the students were Polk State Biology Professor Anthony Cornett and Art Professor Holly Scoggins.
Their days on the island were filled — literally from sunrise to sundown — with lectures on wildlife and ecology, snorkeling expeditions and landscape painting sessions.
"Everywhere we went, we were learning about different species and how they evolved to be specific to the island," Cornett said. "The entire island served as our lab."
Clarissa Gonzalez, a Lakeland resident who graduated with her Associate in Arts degree in May, intends to pursue a bachelor's degree in environmental science. She enjoyed learning about the range of people working at Forfar, as well as the scope of the research they are conducting.
Added Scoggins from the art perspective:
"Everywhere you looked you saw something picture-worthy," she said. "The students learned to work quickly, capturing scenes before the weather changed or before we had to move to a different location. They learned about the struggles of painting in the elements to capture that perfect image.
"There was one day where the art students were dropped off on Pigeon Key. A storm came through and we quickly covered our paintings with trash bags, watched the rain pass, and then we went right back to work. The wind was blowing, sand and bugs everywhere, but despite the conditions every student was quietly immersed in the act of painting. It was moving.  That was one of my favorite memories. "
As the trip progressed, the students helped one another see their surroundings from viewpoints both aesthetic and scientific, and they also helped one another adjust to a life devoid of creature comforts taken for granted in America.
On Andros, they had no air-conditioning or Wi-Fi. There were no grocery stores or shopping malls to fulfill their every need and want. They slept protected by mosquito netting, but even still, insects — and even crabs — found their way into their cabins.
Yet, with every creature comfort they were denied, the students' feelings of "being so alive," as Killingsworth put it, only intensified.
"It was very eye-opening that you do not miss many of the luxuries you're used to having — phone, Internet, even air-conditioning," said Bret Corey, a Lakeland resident pursuing his AA. "It was a refreshing experience."
On Andros, the students witnessed nature with their own eyes, not through the lenses of their cell-phone cameras. They reveled in simple joys, like watching an island child make music from a screwdriver and a rusty saw. They marveled at shooting stars and went days without worrying about their makeup.
They changed — and they don't ever want to change back.
"I definitely take little problems less seriously since I came back from the trip. I even find myself doing some of the same things I did over there, like talk to more people and learn their stories," said Mariannette Figueroa, a Bartow resident also pursuing her AA.
The week, the group agreed, is best summed up by an expression Killingsworth often used to describe everything she and her fellow students were experiencing: "This is real, guys."
"I just felt like it was unreal, like it was a dream. I couldn't put my mind around what was happening," she said.
For Polk State, the Bahamas trip is perfect proof of its growing Institute for Global Initiatives. Eleven students went on this trip, nearly twice the number who participated in the same trip two years ago. Also, the 2015 Bahamas group included a student who previously participated in one of the College's study-abroad trips to Stonehenge.
Students who want to have their own "this is real" experience have plenty of options. The College is planning trips to destinations including Costa Rica, the Dominican Republic, Greece, England, Ireland, Italy, Mexico, Morocco, Spain and Wales.