Holden Takes Dual Enrollment Message to Legislature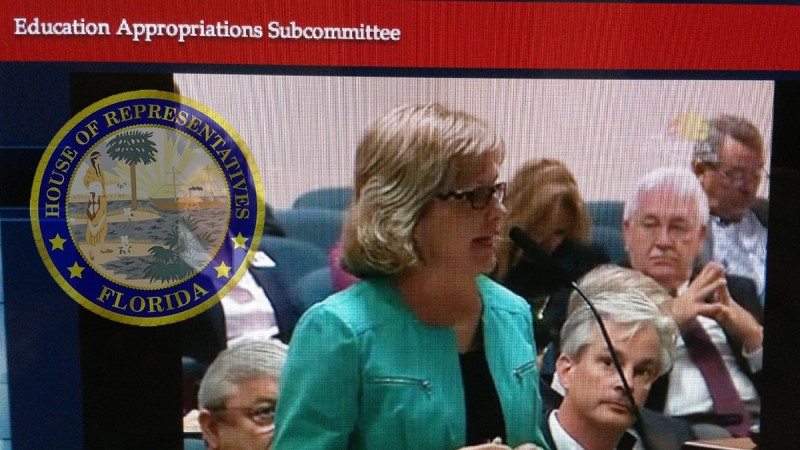 Earlier today Polk State College President Eileen Holden addressed the Education Appropriations Subcommittee of the Florida House of Representatives, representing the College and colleagues across the Florida College System.
Holden's message to the legislature, meeting in the Capitol for its pre-session October committee work, was one of gratitude for its work in the 2013 session to address the statewide dual enrollment funding crisis. In the prior session, the legislature provided a funding mechanism to partially reimburse Florida's state and community colleges for millions of dollars in tuition and fees that the colleges have absorbed each year in dual enrollment credits earned by high school students.
In her testimony before this morning's subcommittee, Holden praised the legislature for recognizing "a funding crisis" and taking action to address it.
"Your actions helped us — and you strengthened a good thing," Holden said, noting that dual enrollment opportunities represent an "important accelerated mechanism" of great value to Florida's families.
She also praised the collaborative relationship that exists between Polk State and the Polk County School Board — "our pipeline." According to Holden, the College has enjoyed an "extremely close working relationship" with the county's public schools, including three superintendents and an interim superintendent during her tenure at the College: "They are our pipeline, and we need a seamless pipeline."
While the legislation passed by the 2013 Legislature has created some controversy between colleges and school systems elsewhere in the state, Holden praised current Polk County Schools Superintendent Kathryn LeRoy for her leadership and collaboration. Elaborating on her testimony, Holden said "Dr. LeRoy and I are partners because we both understand how thoroughly the organizations we lead depend on one another. We are each other's stakeholders. Failure is not an option. When we work together, our students succeed — and that's what it's all about."
Polk State and the Polk County public schools currently collaborate through a variety of articulation agreements, recruitment and retention efforts, advising initiatives, career academies, and communication initiatives, as well as numerous informal partnerships.
Last year Polk State provided Polk County high school students with over 22,000 college credits, at no cost to the students or their families.