Graduating student is living American Dream with Polk State degree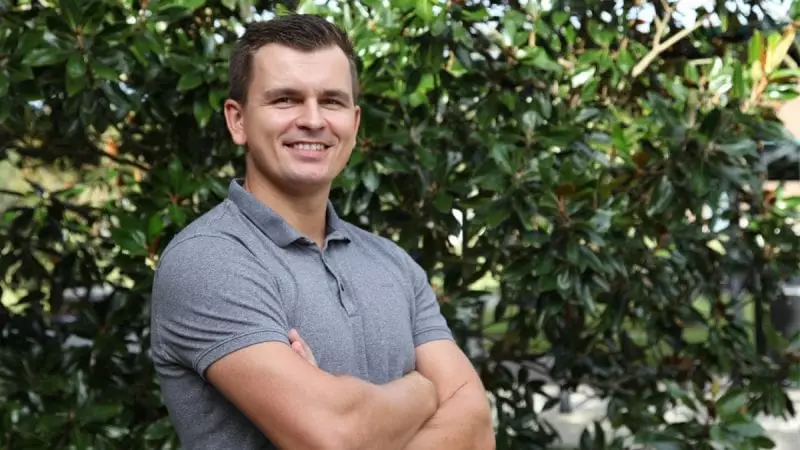 Konrad Sojko dreamed of a better life in the United States for more than a decade, and on Dec. 13, the Poland native will celebrate this achievement as he receives his Associate in Arts degree during Polk State College's 119th commencement ceremony.
Attracted by warmer weather and great opportunities, Sojko arrived at Orlando International Airport from Iceland three years ago with his wife, two children, and six suitcases with only the bare necessities. But before they could continue their search for a better life, they needed to find shelter and food in a country they knew little about.
"We looked at each other and said, 'Where do we go now?'" Sojko recalls. "We knew nothing. It was scary. But we were determined."
Living out of a hotel room and on money his family saved up for 18 months after notice that he would receive a lottery green card through the Diversity Immigrant Visa Program, Sojko quickly began his hunt for a job. He also quickly realized that he would benefit from education.
With nearly 10 years of experience working in a Styrofoam factory in Iceland, Sojko was able to secure a job within weeks in a Lakeland Styrofoam factory, but the company required Sojko to obtain his general education diploma (GED).
When Sojko was 15, his family moved from Poland to Iceland, and he began to seek independence. He dropped out of high school to work, although his parents encouraged him to continue his education.
"I always felt like I was missing something without an education."
"I'm not sure if it was a mistake – I wonder if I would be here today if I didn't make that decision," Sojko reflects, "but I always felt like I was missing something without an education."
He enrolled in West Area Adult School, where he was tested in different subject areas. His English was at a third-grade level, but that didn't discourage Sojko.
"This is where my motivation to pursue my education really began," he explains. "I studied hard with my wife to learn English every day. We had sticky notes all over our apartment with different words. Through hard work and determination, I received my GED in less than three months and realized that if I want to achieve something in my life, I had to keep going – I had to go to college."
At West Area Adult School, Sojko learned about Polk State and its Lakeland Campus in the city he now calls home. With encouragement from his family and employers, Sojko met with a Polk State advisor to start his higher-education journey.
"I was extremely nervous. I thought, 'How am I going to do this?'" he says. "But everyone was very encouraging at the College."
He enrolled in fall 2016, and when a professor asked him what he expected from college, he answered, "I want to learn how to learn."
Still struggling with English, Sojko registered for courses in this subject area first, signing a form that noted the difficulty of one of the courses given his reading level.
"I worked on my English assignments every evening, and I told myself if I don't pass, at least I will have learned something," he says. "But after four months of hard work, I received a 'B' and a comment next to my final grade that said, 'Great work, Konrad!' That comment meant more than any 'A' could mean to me."
In addition to his struggle with English, Sojko worked 60 hours a week while taking a full-time course load. With Polk State's evening, online, and hybrid class options, he was able to balance school with his job and family. Sojko also notes Polk State's small class sizes, attentive professors, and available tutors for assisting him in persevering on his path to a degree.
Sojko doesn't plan to slow down any time soon. He has enrolled full time at the University of South Florida to pursue a bachelor's degree in Business.
"We are living the American Dream, and I am grateful for the opportunities my family has received here in the U.S. and at Polk State College."
"I want people to know that everyone sets their own limits, and they decide how much time they dedicate to achieving their goals," Sojko said. "I've decided that I don't have a limit – I will keep learning and growing."
Sojko will be the first generation in his family to receive a college degree and he is doing so with honors as a member of the Phi Theta Kappa International Honor Society. His motivating spirit has also encouraged his wife, who plans to enroll in Polk State this spring to study The Arts.
"We are living the American Dream," Sojko says, "and I am grateful for the opportunities my family has received here in the U.S. and at Polk State College."