Friendship Makes Graduate's Walk Across the Stage Possible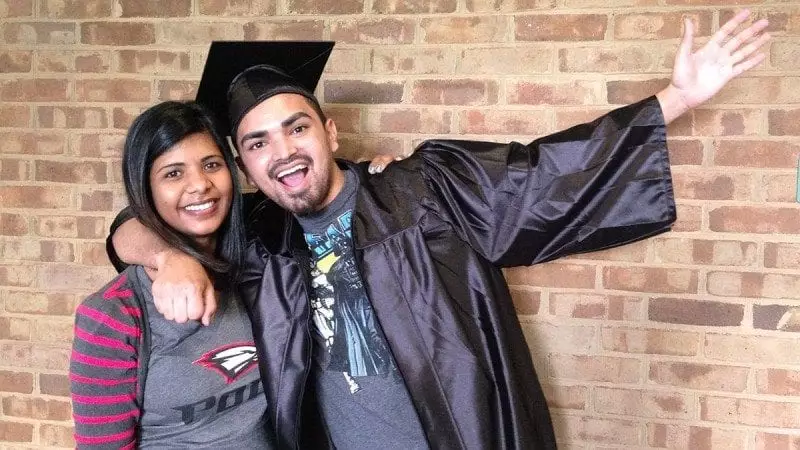 At each commencement ceremony, Polk State President Eileen Holden thanks the graduates' friends and family members.
Without these people, the moms and dads, brothers and sisters, coaches and neighbors, the graduates would have surely struggled. Some, Holden says, might never have made it to the commencement stage at all.
In the case of Emilio Roman, who will graduate Dec. 17, those words will ring especially true. Because if it weren't the generosity of his friend, Sasha Syboodeen, he would be watching the ceremony from the stands.
For the past two years, Roman has been studying toward his Associate in Arts degree. During his time at Polk, he's been involved in Phi Beta Lambda and the Polk State Lakeland Student Government Association. He's honed his public speaking skills and built his confidence. After Polk State, he plans to pursue a bachelor's degree in broadcasting.
Yet, Roman, for all he accomplished at Polk State, intended to forgo the ultimate moment of his college career. Roman is unemployed, and the cost of a cap and gown was simply too far out of his reach.
"I'm not about spending more money than I have," he said.
That's where Syboodeen comes into the story. Syboodeen graduated from Polk State in May. Her cap and gown were hanging in the back of her closet. She even had a PBL sash and cords. When she heard about Roman's plans to skip the ceremony, she knew what she had to do.
"There is no way he can't go to graduation," said Syboodeen, who is continuing her education at the University of South Florida to study mass communications. "Graduating makes it official."
Syboodeen, who was the first in her family to graduate from college, said she cherishes every moment of her Polk State commencement:
"I got to shake Dr. Holden's hand. I was with all my friends. It was surreal."
She couldn't let her friend miss out on making those same memories, she said.
Roman's reaction to Syboodeen's offer:
"I was ecstatic that this dear, dear friend of mine would be willing to let me borrow this symbol of completion," he said.
For Syboodeen, offering her cap and gown was just a small act of kindness, but it was enough to set things right. Next Thursday, Roman will cross the stage and she'll be the one in the stands.
"I can't wait to cheer him on," she said.
Polk State's 113th commencement ceremony will take place at 6:30 p.m. on Dec. 17 at The Lakeland Center. More than 1,200 students qualify to march in the ceremony.