Florida Poet Laureate Encourages Students To Read And Write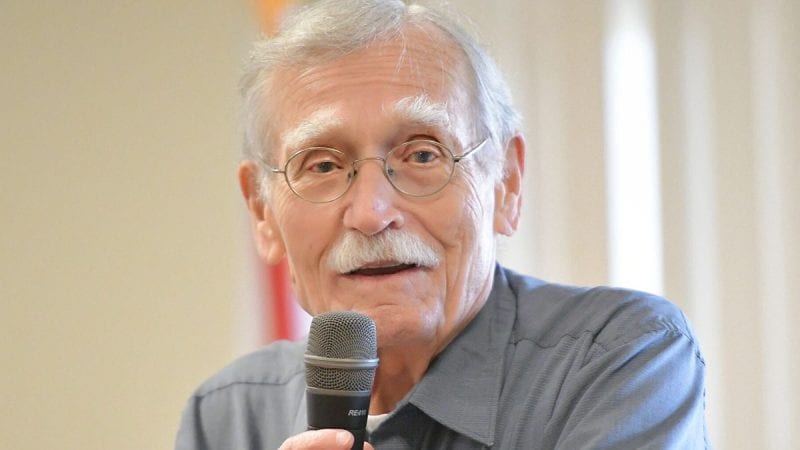 If you're sitting around waiting for inspiration, forget about it.
That was advice Florida Poet Laureate Peter Meinke gave students and aspiring writers during his recent presentation hosted by the Creative Writing Club at Polk State College's Lakeland Campus.
"Read a lot and make regular time for your writing," Meinke said. "Take the time every day to write and take things as they come – poets are always waiting for a happy accident."
Meinke travels the state promoting reading and writing, and encourages students to express themselves through poetry and reading out loud.
A crowd of students, faculty, and staff had the opportunity to hear Meinke read several poems, including "Gentler Times," his first award-winning piece that received the 1965 Olivet National Sonnet Prize.
The poem is dedicated to his wife, Jeanne, who illustrates his books. Although they desperately needed that prize money at the time, they spent the award on a piece of art that still hangs by their front door today.
"That's the way we live our life," Meinke said. "I'm an example that you can be an old poet and still have a somewhat exciting life. My wife and I recently celebrated our 60th anniversary. I like to think the poems had something to do with it."
Meinke weaved many details about his life and influences between his readings.
As a child growing up in New York, Meinke was taught to lose his Brooklyn accent.
"It sparked my interest in language and how words sound," he said.
In "Myrtle the Turtle," Meinke read stanzas in different accents and used shape poetry to eliminate unnecessary words to illustrate the importance of rewriting, writing concisely, and giving meaning to each word in a poem.
"Learn to never accept a poem on the first draft – you can always make it better," he said.
Meinke grew up as a "depression baby" in a blue-collar family who was "upwardly mobile."
"All of the kids were in piano lessons and parents were in book clubs reading books they couldn't afford," he said. "What attracted me to poetry was my mother's book of the month club."
His mother wasn't reading poetry and his dad dreamed of his son becoming a second baseman for the Dodgers.
"When I told them I was interested in poetry, it got a reaction," Meinke said. "I thought, 'well, this is something they don't want me to know about' and I was intrigued ever since."
He read other famous poems, including "Miss Arbuckle," "Zinc Fingers," and "Naked Poetry."
A favorite of many in the audience was "Artist of the Heart" – a poem expressing his affection for his mother.
Tyler Roy, a Polk State Lakeland Collegiate High School junior, enjoyed how personal Meinke made his presentation.
"He has a great ability of connecting with the audience, especially when reading his poem about his mom," Roy said. "The details drew me in, and his commentary after reading each poem was certainly interesting."
"It's impressive that Polk State offers these opportunities to its students," Roy added.
The biggest piece of advice Meinke had for students and aspiring writers was the importance of reading and writing every day.
"This will allow you to develop an interest in words," he said. "Find poets and novelists you like, figure out what it is you enjoy about their work, and write – not like them, but just as good as them."
He added that it's best to start writing even if you don't know where your mind is going.
"The thing about writing poetry is that you're doing a lot of things at once, although sometimes it is hard to tell what those things are," Meinke added. "It's good to start a poem without knowing where it is going to end."
He quoted Robert Frost: "No surprise in the writer, no surprise in the reader."
Creative Writing Club President Gabrielle DeRouen, a Polk State Lakeland Collegiate High School senior who plans to pursue a degree in Elementary Education with a minor in English, found Meinke's presentation uplifting and inspiring.
"I am able to express myself through writing and Mr. Meinke is very inspiring to young poets," DeRouen said. "I enjoyed his readings, especially the poem about his mom and how open he was with us.  I am appreciative to Mr. Meinke for taking the time to speak to us. It was an unforgettable experience."