Creative Writing Club To Host Florida Poet Laureate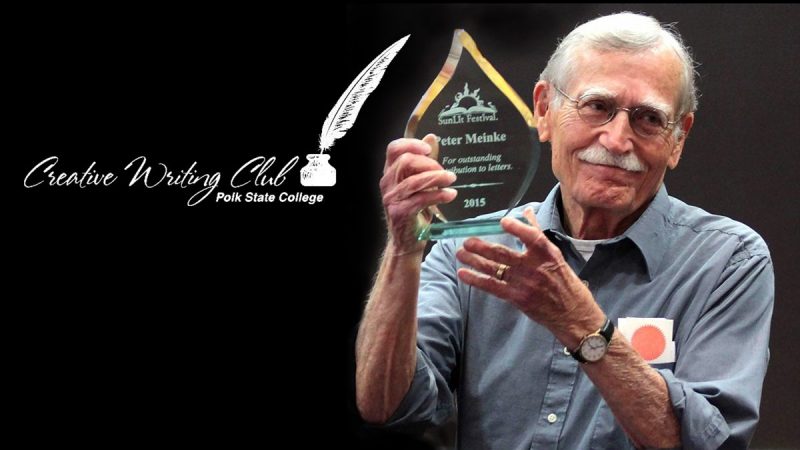 Polk State College's Creative Writing Club will host a special guest on February 1 in the Lakeland Student Center – Florida Poet Laureate Peter Meinke.
He is only the fourth poet laureate in the history of Florida and has published more than 18 books of poetry and short stories.
Meinke travels the state promoting reading, writing, and the appreciation of poetry, and encourages students to express themselves through poetry and reading out loud.
Typically, he doesn't lecture. Instead, he reads.
"In my experience people really do like poetry readings,'' Eckerd College quoted Meinke, professor emeritus and past director of the Eckerd College Writing Workshop. "When I read a poem, I talk to people about it, and it's very relaxed."
Meinke's presentation will take place from 3 p.m. to 4 p.m. on Thursday, February 1, in the Lakeland Student Center, located on the first floor of the Lakeland Academic Center (LAC) building. Club members and guests from the College community are welcome to attend – no RSVP required. Snacks and beverages will be served.
Gov. Rick Scott appointed Meinke to the Florida Poet Laureate post in 2015. The poet laureate serves a four-year term without compensation.
Meinke has lived in St. Petersburg since 1966 and was appointed the city's poet laureate in 2009.
Many of his poetry collections have been published by the prestigious Pitt Poetry series, and his collection of short stories, "The Piano Tuner," received the 1986 Flannery O'Connor Award for Short Fiction.
Polk State Professor of English Heather Childree likens Meinke's poetry to that of Robert Frost's.
"Like Frost, Meinke finds the extraordinary in life's every day happenings," Childree said. "His poem 'Myrtle the Turtle,' one of my favorites, exemplifies this."
She met Meinke in spring 1997 when she was a recent graduate of Florida Southern College and an entrant in the school's Wesley Ryals Creative Writing Awards. Meinke was the guest speaker and told Childree that she should continue writing and pursue her Masters in Fine Arts, she said.
"I did neither," Childree said. "My writing gradually faded as I was hit with adult responsibilities."
But she became a member of Polk State's English Department and co-advisor of the Creative Writing Club, which she heads alongside English professors Eileen Murphy and Neil Steiger.
Childree ran into Meinke again – this time only a few years ago. He had already been named Florida's poet laureate in 2015.
She reached out to the State of Florida Department of Cultural Affairs to inquire about the possibility of Meinke presenting at the College.
Childree said she hopes to complete her collection of Meinke's books when he visits Polk State and the Creative Writing Club.
The club meets each week during the fall and spring semesters and invites interesting, informative speakers to present to students and the College community. More information about the Creative Writing Club is available here. It is one of many clubs Polk State offers through the Student Activities & Leadership Office (SALO).