First Time in Florida: Exhibit of Work Created in Life's Direst Circumstances to Open at Polk State Lake Wales Arts Center on July 21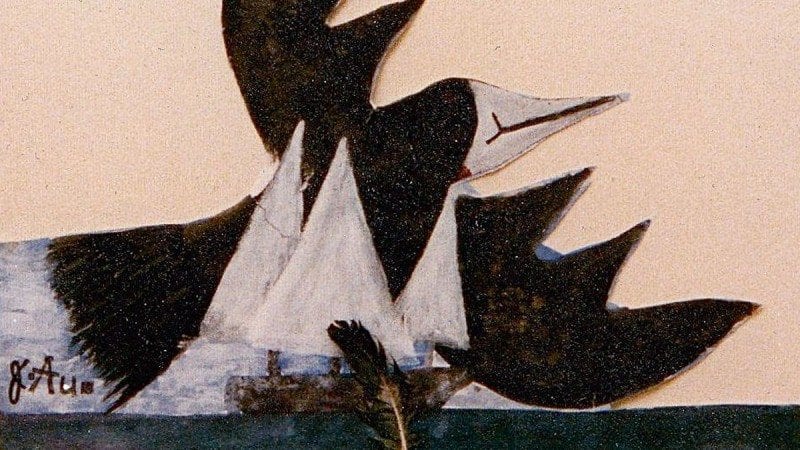 There are paintings that had been stuffed under a bed in a homeless shelter, ink drawings created in the back of an abandoned gas station, other pieces that had been thumbtacked to the walls of a mental-health facility.
They are all art in its purest form, created in the direst of circumstances by those who simply needed to express themselves, and they will all be on display at the Polk State Lake Wales Arts Center.
A Whole 'Nother Story, an exhibit comprised of over 75 pieces created by 16 different artists while staying in homeless shelters, mental-health facilities, or otherwise facing extreme difficulties, will open July 21.
A Whole 'Nother Story has been displayed in cities from New York to Durham, N.C., but this will be its first show in Florida.
"This exhibit is about revealing hidden talents, about showing that art isn't just something that trained artists create," said Polk State Lake Wales Arts Center Director Osubi Craig.
"Art is an expression. The pieces in this show were created by people facing terrible uncertainty in their lives. These artists picked up their brushes or their pens and simply let all the emotions they were feeling spill onto the canvas. It is a moving and memorable exhibit, and we're very proud to be the site of its Florida debut.
In 1995, Robert Bullock, who recently relocated to Lake Wales, began the Coalition Ingenu Self-Taught Artists Collective in Philadelphia. His purpose was to enhance existing art programs in homeless shelters and mental health centers. Within a few years, not only had existing programs been improved, but also new ones had been created. In addition, the Coalition had collected enough original artwork to give 14 exhibits in one year — including one at the Philadelphia Museum of Art.
Soon the Coalition took its show on the road, staging more than 180 exhibits in churches, hospitals, restaurants, art galleries, conferences, fairs and museums in cities along the Eastern Seaboard.
Now, Bullock is pleased to be building his audience in Florida.
"I haven't been in Florida long, but I'm pretty sure you're not going to get a chance to see anything like this very often," Bullock said.
"Most artists approach art from the perspective of trying to create something that people will buy," Bullock said. "That's not what this art is about. The artists create it for themselves, and they're only interested in the creative process. They're not interested in recognition or reward.
"This exhibit is really about showing that we all have something to contribute to the world, and trying to remove the stigma that comes with being homeless or having a mental illness."
The exhibit will be on display July 21-Aug. 31. Gallery hours are Monday-Friday from 8 a.m. to 5p.m.
An opening reception will take place from 5:30 p.m. to 7:30 p.m. on July 25, and a closing reception will take place from 5:30 p.m. to 7:30 p.m. on Aug. 14.
The exhibit and receptions are free and open to the public.
The Polk State Lake Wales Arts Center is located at 1099 State Road 60 East.
For more information, visit polk.edu/lwac, call 863.298.6883, or email LWAC@polk.edu
In addition to the Polk State Lake Wales Arts Center, the College also operates the Polk State JD Alexander Center in downtown Lake Wales.