First-generation Americans make families proud as valedictorian, salutatorian of Polk State Chain of Lakes Collegiate High School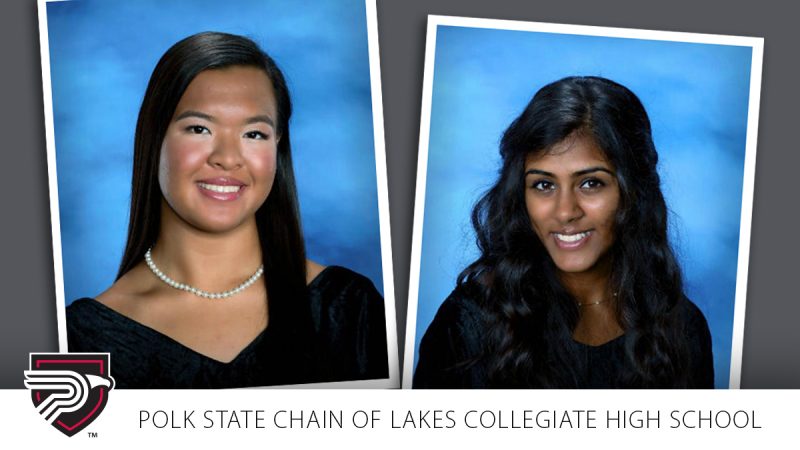 Polk State Chain of Lakes Collegiate High School valedictorian Victoria Nguyen and salutatorian Reeya Patel have a lot to celebrate as they graduate this week. In addition to receiving their high school diplomas, they have achieved their Polk State Associate in Arts degrees, they are accomplished athletes, and they are first-generation Americans who are undoubtedly making their families very proud.
Nguyen, who has achieved the top spot with a 4.788 grade-point average, said she never expected to be named valedictorian of her class.
"I was very shocked but also very happy," she said. "My family is very proud of me and I am grateful for their support."
Polk State's collegiate high schools serve juniors and seniors and provide them with the opportunity to receive college credit toward the Associate in Arts degree while also completing their high school requirements. In most cases, students graduate from Polk State's collegiate high schools with their associate degrees and high school diplomas simultaneously.
Nguyen, who started working on high school credits in middle school, was able to skip the 10th grade and enter Polk State Chain of Lakes Collegiate as a junior.
"I was interested in collegiate because I wanted to challenge myself. Polk State had the rigor and challenging classes that I was looking forward to and that motivated me to learn more, pursue different subject areas, and try out new hobbies," she explained. "Polk State has many choices to choose from and is very flexible. I was even able to take a lot of classes toward my major, computer science."
Nguyen will continue her education at Georgia Tech.
During her time at Polk State Chain of Lakes Collegiate, she participated in the National Honor Society, Key Club, and Phi Theta Kappa. She has also been a competitive swimmer since she was 5 years old and served as captain of the Lake Region High School swim team her senior year.
What has kept her motivated along the way?
"I come from two generations of immigrants from Vietnam and that has instilled in me to always try my best for my family and for the opportunities that have been available to me," Nguyen said. "Education has always been one of my greatest passions."
Patel, who has earned the salutatorian title with a 4.717 grade-point average, echoed appreciation for her family and parents who are from India.
Inspired by her father's entrepreneurship, Patel plans to study finance at the University of Florida with a Florida Medallion Scholars Bright Futures Scholarship and one day open a business or work in consulting.
"I have learned a lot from him," she said. "I'm really thankful for my family."
Patel, who is a Winter Haven native, learned about the opportunities available at Polk State Chain of Lakes Collegiate when she was in middle school. And although she recalls being "iffy" about her decision to apply because she didn't want to leave her friends, "I don't regret my decision at all," she said.
"I loved the atmosphere at Polk State and the opportunity to get my AA degree while getting my high school diploma," Patel said. "I also wanted to meet new people and I did meet a lot of people while I was here, and it was a great experience."
She was involved in student life, serving as treasurer for the National Honor Society, as well as a Senior Ambassador and member of the Key Club. She also played golf for Lake Wales High School and competed in nationals.
Patel offered some words of advice for students.
"Go in with a plan," she said. "Time management is key and be determined to get your AA while you are here."
Nguyen added encouragement for students to take advantage of the variety of opportunities available at Polk State Chain of Lakes Collegiate High School.
"Always try something new and enjoy the experience, even if the results aren't what you anticipated," she said.