Florida Department of Education's Division of Career & Adult Education Chancellor visits Polk State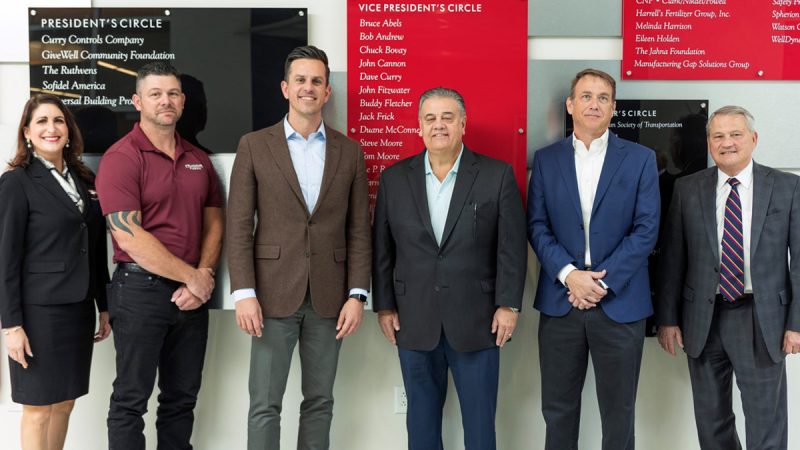 Polk State College was honored to welcome Henry Mack, Chancellor of the Florida Department of Education's Division of Career and Adult Education, to Polk County on Wednesday to tour the College's state-of-the-art workforce training facilities and meet with College leadership and community partners.
Polk State President Angela Garcia Falconetti, Winter Haven City Manager Mike Herr, Winter Haven Economic Development Council President Bruce Lyon, Nucor Steel Florida Maintenance Manager Tommy Massey, and Florida Can Manufacturing Senior Director of Finance and Administration Jose Rivera met with Mack at the Polk State Clear Springs Advanced Technology Center in Bartow, where the Chancellor learned about the Polk State Corporate College and Engineering Technology Program.
"I am incredibly thankful to Chancellor Mack for his time and support of our College, as well as to our community partners who assist us with keeping our fingers on the pulse of local workforce needs," Falconetti said. "The Advanced Technology Center serves approximately 9,000 students each year in degree, certification, and short-term training programs – many that lead to nationally-recognized industry credentials and high-wage, in-demand careers. We appreciate the opportunity to showcase how Polk State is helping to ensure students 'get there' as part of Florida's workforce education initiative."
Mack and his division launched the Get There Career and Technical Education (CTE) initiative in 2020 to increase awareness about CTE opportunities, including those at Florida College System institutions.
"Thanks to our Governor, we have prioritized and resourced workforce education and training, enabling hundreds of thousands of Floridians to access meaningful jobs and higher wages," Mack said. "Polk State College is executing on our Governor's vision – providing engaging and relevant coursework needed to ensure for our state's continued economic success. I am so proud and excited by the great work of the college's leadership and faculty."
The Polk State Corporate College provides workforce training in areas including advanced manufacturing, information technology, and supply chain management, and partners with employers including The Mosaic Company, Nucor Steel Florida, and Florida Can Manufacturing to provide accelerated, customized training to meet their workforce needs.
He also toured the facility's Engineering Technology labs, which provide training in advanced manufacturing with focuses on robotics and automation, and mechanical design and fabrication with focuses on 3D modeling and computer numerical control machining and programming. Students are able to articulate credits from Polk State Corporate College certification programs to Polk State's Associate in Science in Engineering Technology Program.
Mack called this "the perfect model" for such programs and partnerships.
The Chancellor also visited the Polk State Center for Public Safety in Winter Haven, where Capt. Theresa Garcia, Director of the Kenneth C. Thompson Institute of Public Safety, and Emergency Medical Services (EMS) Program Director Frank Dunn provided an inside look into their world-class learning and simulation spaces that draw aspiring public safety professionals from across the state.
Polk State's Law Enforcement Academy and EMS Program graduates continue to achieve 100 percent pass rates on their certification exams, exceeding state and national averages and illustrating the high-quality education and workforce training the College provides.
Garcia and Dunn also highlighted community partners, including the Polk County Sheriff's Office and Polk County Fire Rescue.
"Chancellor Mack witnessed firsthand Polk State's commitment to providing high-quality workforce training and the community partnerships that make it possible for us to ensure that we are producing a highly skilled talent pipeline of professionals who meet our local needs," Falconetti said. "Thanks to our faculty, staff, and students who provided Chancellor Mack with a warm Polk State welcome, he was able to experience that We are Polk!"