Farewell Concert: Polk State's Fource of Attraction to Give Final Performance, Proceeds Benefit Music Scholarships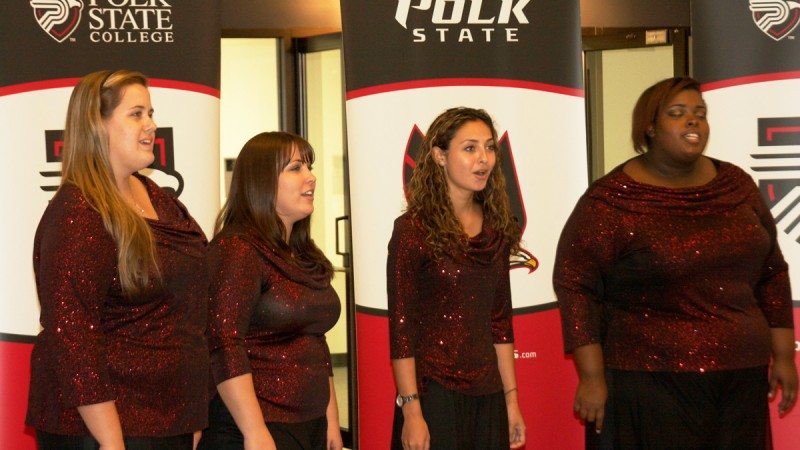 Polk State College will host a farewell concert for Fource of Attraction, the popular student-quartet whose harmonies have entertained audiences in Polk County and beyond for two years.
All four members of the ensemble — Chanqueria Grimes, Holly Helm, Nilka Lopez and Amelia Marler — are taking their Polk State degrees and moving forward to higher levels of education.
The end of their time at Polk State brings an end to their locally famous collaboration as Fource of Attraction.
The group formed in 2012, when the members recognized in one another a sincere interest in music that went beyond class requirements. They got together, started practicing, and found that their voices melded well for everything from 60's doo-wop favorites to current hits by Katy Perry.
In the two years since, their impressive range and harmony has been enjoyed by audiences at a wide variety of engagements, from Polk State Foundation events to this year's Polk County Day at the state Capitol.
"We've done so much together and become best friends," said Grimes. "And it's all been because of Polk State."
After Polk, Grimes s headed to Kennesaw State University in Kennesaw, Ga., where she will study music education.
Her fellow vocalists will be scattered across the Southeast. Lopez is moving on to Belmont University in Nashville, Tenn., to study songwriting. Marler is going to Florida State University to pursue a bachelor's degree in choral music education. Helm graduated from Polk with her Associate in Arts degree in 2013, and plans to stay in Polk County and study elementary education.
That they will soon be hundreds of miles away from one another makes this final performance all the more sweet, Marler said.
"I'm so excited. I don't think we ever thought that we would accomplish so much, and we definitely didn't expect to become best friends. These are some of the most important people in my life," she said. "This is a great way to end the career we've had here at Polk State."
At the farewell concert, Fource of Attraction will share the stage with The Jazz Society, another Polk State Music performance ensemble that is emerging as a community favorite.
The repertoire for the evening includes jazz, oldies and pop.
The concert will take place at 7 p.m. on May 12 at the Polk State Winter Haven Fine Arts Theatre, 999 Ave. H N.E.
The students performing in the concert, as well as the Polk State College Foundation, suggest a minimum $10 donation for admission to the concert, but any amount is welcome and appreciated. All proceeds will benefit scholarships for students studying music at Polk State.
In addition to Music, Polk State Fine Arts includes Theatre and Visual Arts, all of which enjoy outstanding statewide reputations.
The Polk State College Foundation Inc. is a tax-exempt corporation whose purpose is to provide Polk State College with resources for the advancement of the College, its students, faculty, staff and other constituencies in fulfillment of the College's mission.