Domestic Violence Victim Yvette Cade Captivates Polk State Lakeland Crowd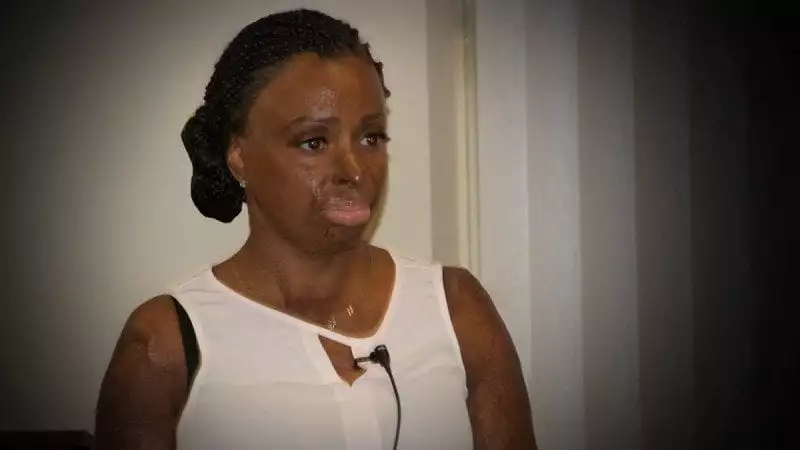 It's not often that any part of the Polk State Lakeland Student Center is quiet, but on Wednesday, as domestic violence survivor Yvette Cade shared her story of being set on fire by her ex-husband, more than 100 students listened in rapt silence.
During her hour-long visit to the campus, Cade shared not only the graphic details of her attack, but a plea for heightened awareness of domestic violence.
"Domestic violence doesn't happen one day and then go away like a bruise," said Cade. "It is an epidemic that exists directly or indirectly in all our lives."
As the attendees of the event leaned forward in their chairs, occasionally gasping in disbelief, Cade described a relationship that grew more and more abusive, culminating with the day that her ex-husband walked into her workplace, doused her in gasoline and lit her with matches.
Looking back, Cade said the first warning sign was when her then-boyfriend purchased a cell phone for her so he could contact her while she was visiting with family.
"That cell phone was really a tracking device," said Cade.
At the time, however, Cade was blinded by her love for her abuser. They were married, and the abuse escalated. Cade was slapped, kicked, punched and stabbed. Then there was the verbal abuse — hurtful words that cut deep into her psyche.
In 2005, Cade was working at a T-Mobile store in Maryland. Her now-ex-husband walked through the doors of the store, carrying a Sprite bottle in his hand. Instead of soda, however, the bottle contained gasoline. He poured it on Cade and threw matches at her until she ignited.
On Wednesday, she illustrated her story with slides of images captured on the store's surveillance camera. In several of the slides, Cade was shown completely engulfed in flames.
Cade suffered third-degree burns on 63 percent of her body, and has since undergone dozens of surgeries.
But, even when her skin was freshly singed, Cade made the decision that she would use the attack to help others.
"The paramedic in the helicopter asked me, 'Are you still with me?' and I said, 'Yes, I'm not going to let him steal my joy,'" Cade recalled. "Then a nurse at the hospital asked, 'Are you still with me?' and I said, 'Yes, I'm going to be on 'Oprah.'"
Cade was indeed a guest on "The Oprah Winfrey Show," and she now travels the country to fulfill what she considers her purpose in life: speaking out against domestic violence.
She told her Polk State audience that one of the most important things they can do is simply to pay attention to one another so that they will more readily recognize domestic violence warning signs.
"Come together with your family. Talk at the dinner table. Find out what's going on in your children's lives," she said.
She also stressed the importance of anti-bullying education.
"There are children who are born and raised in abusive households," she said. "We have to teach them how to control their anger while they are in school. There is hope."
Among those who attended Cade's talk was Asa Hedstrom, a Plant City resident who is pursuing his Associate in Arts degree. Hedstrom arrived at Cade's talk curious, but left inspired.
"I think the male community shakes off the issue of domestic violence. We need more men to stand up and say, 'This isn't right,'" he said. "Women are special creatures, and there are just certain things you don't do."
Polk State Lakeland SALO (Student Activities and Leadership Office) and the Polk State Help Center sponsored Cade's visit, which is ongoing initiative to raise awareness about domestic violence. Earlier this semester, the College hosted its first bystander intervention training to train participants on the warning signs of domestic violence and how to respond when they suspect abuse.