Demonstrating Polk State's Core Values, Two Receive Commendations for Integrity and Service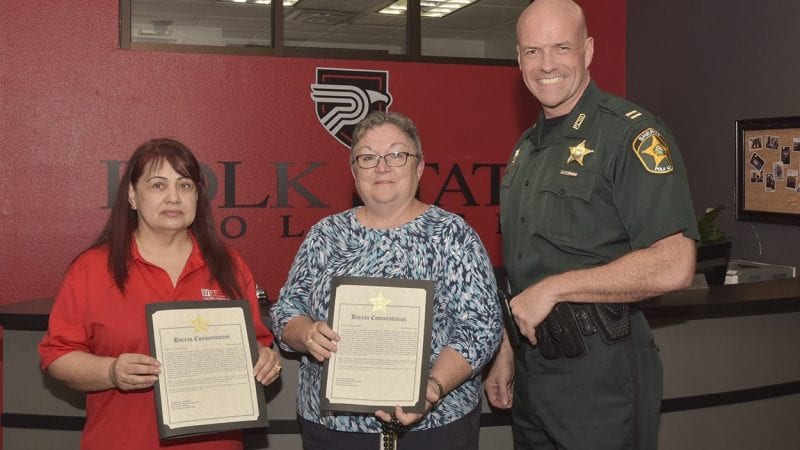 When Polk State custodian Nereida Solivan found an envelope full of cash in a classroom, she immediately wanted to return it to its owner.
"I counted the money and then took it to security," she said.
"I knew it was the right thing to do. It wasn't my money."
The bank envelope contained $477 in cash and an ATM receipt. Security turned it over to Sgt. Bobby Brigman of the Polk County Sheriff's Office assigned to Polk State College's Lakeland campus.
Diane Caudill, administrative assistant in the Provost's Office on the Lakeland campus heard that Sgt. Brigman was trying to identify of the owner by tracking down the information on an ATM withdrawal slip that was in the same envelope. He said after three failed attempts, the bank's local office could not help him.
Caudill sent an email to the bank's CEO in Chicago, asking for his help.  A response came the next day.
"I had worked in banking, so I knew someone had to be able to help us," said Caudill.
The bank identified the owner of the money, and Sgt. Brigman returned it to her.
To express his appreciation, Capt. Jerry Connolly of the Sheriff's Bureau of Colleges and Universities presented Bureau Commendations to Caudill and Solivan.
"Based on honesty, unwavering integrity, and professionalism," said Connolly, "Diane Caudill and Nereida Solivan returned money to its rightful owner, who would have never been able to use it for what it was intended for. That could've had a detrimental impact on her quality of life.
"On behalf of Sheriff Grady Judd, Executive Staff, and the Polk State College leadership team, I commend you on a job well done. Keep up the good work."