Classes Resume at Polk State, Enrollment Continues to Grow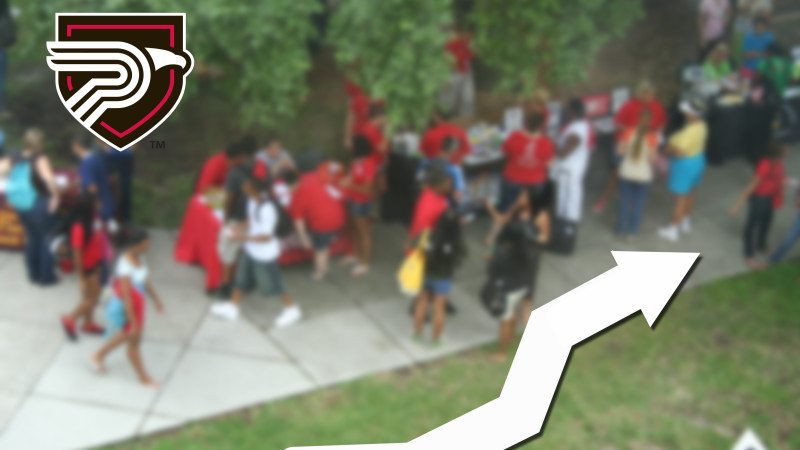 Campuses and centers are abuzz this week as students return to classes at Polk State College, the only public college in Florida where enrollment is still growing, according to a recently released report.
According to new data from the Division of Florida Colleges, Polk State College experienced a 2.10 percent gain in full-time-equivalent enrollment in 2012-13, jumping to 7,828 from 7,667 the year prior.
Polk State was the only college in the 28-institution Florida College System to post an enrollment increase. The 2012-13 report includes the summer, fall and spring terms. The average system enrollment declined by 5.9 percent.
In addition to being the only public college in the state to show continued growth, Polk State is also the largest higher-education institution in Polk County.
Vice President for Academic and Student Services Kenneth Ross attributed the College's growth to a number of factors.
"I give a lot of credit to our bachelor's programs," Ross said. "Like every degree and program Polk State offers, the bachelor's degree programs were strategically developed to address workforce needs. Awareness is spreading that this College offers workforce-based bachelor's degrees at the area's most affordable price point — which is why we see enrollment in those programs continue to grow."
Polk State College launched its Bachelor of Applied Science in 2010, following it with the Bachelor of Science in Nursing in 2011, and the Bachelor of Science in Criminal Justice in 2012.
Enrollment figures for the current term won't be finalized for another week, but initial data show that more than 1,300 students are studying in the College's baccalaureate programs this semester.
"All signs are pointing to this being the biggest term for enrollment in those programs," said Peter Usinger, the College's director of institutional research, effectiveness and planning.
In analyzing the 2012-13 data, Ross also said another factor in the enrollment growth has been a new "concierge" service, which involves employees calling students to remind them of outstanding tuition or fees, or other requirements they need to fulfill.
This service has resulted in fewer students being purged from classes at the drop/add deadline each semester.
"It comes down to improved communication between the College and the students," Ross said. "The students know what's expected of them when they walk up to the doors."
Currently, more than 11,700 students are enrolled in classes this semester at Polk State's campuses in Lakeland and Winter Haven, as well as centers in South Lakeland and Lake Wales. The majority of those students are studying toward the Associate in Arts degree, which is parallel and fully transferrable to State University System, however a large portion are also studying in the College's workforce-based Associate in Science degrees.
The remaining students are studying in bachelor's programs or a variety of workforce certificate programs designed to lead to immediate employment opportunities.
Usinger said based on initial data, he expects Polk State's upward enrollment trend to continue through 2013-14 reporting year. In fact, there is evidence to suggest that this semester may be the highest for enrollment in the College's nearly 50-year history, Usinger said, though he cautioned that enrollment data is still in flux.
"We are well on our way to having the largest headcount enrollment by end of term," he said.
Enrollment Services & Outreach Coordinator Matina Wagner, who works on the front lines of recruitment efforts, attributed the enrollment bump to increasing awareness of what Polk State has to offer.
"I think more and more people are realizing the value of a state college," Wagner said. "Economically, it just makes more sense. People are minding their dollars and they're realizing that the quality is there. They can get the same rigor that they would at other schools, without breaking the bank."
Polk State is the county's most affordable higher-education option.
Saul Reyes, dean of student services at Polk State Winter Haven, proudly notes that many employees at the College also play a role in growing enrollment — from the Admission Office to Advising to Financial Aid. The enrollment growth is especially sweet reward for those who work with students one-on-one, because it means more are realizing the power of a Polk State education.
"It's an honor to see the excitement in a student's eyes when they first enroll at the College … to witness the student's realization that college is going to change their future and their family's future, it's the best part of the job," he said.
Welcoming thousands of students back to campus is no small effort, and one of the most visible signs of this is the College's First Days initiative. Each semester, employees Polk State's Lakeland and Winter Haven campuses — representing everything from administrative to entry-level positions — set up information stations to direct students to their classes, answer questions and hand out supplies such as pencils and campus maps.
"First Days has been going on for years. It's a great way for Polk State employees to make contact with the students, and to show the students that everyone here — even people they might not normally interact with — has a stake in getting them off to a strong start each semester," said Cori Endicott, a learning resources assistant who coordinated this year's First Days effort at Polk State Winter Haven.
The beginning-of-semester buzz will peak again next week, when students participate in Club Rush at both Polk State Lakeland and Winter Haven. During Club Rush, students will learn about — and join — dozens of clubs offered at the College, from the Math Club to the Eagleteers, a student volunteer organization.
"This is certainly an exciting time of the year for Polk State, and even more so because we continue to defy statewide downward enrollment trends," said Polk State President Eileen Holden.
"What I love most about these first few days of the semester is what they say about this College. First Days is our way of saying that we care about helping each individual student, on a very one-on-one level, succeed. Club Rush is about Polk State encouraging students to take part in the extracurricular activities that are so important to the college experience. Here at Polk State, we want our students to succeed — in and out of the classroom — and we are here to help them every step of the way."
Polk State College, an open-access institution, was established in 1964, and serves more than 20,000 students annually. Its offerings include the Associate in Arts, which is parallel and fully transferrable to the State University System, and the Associate in Science, which is designed to lead directly to the workforce. The College also offers the Bachelor of Applied Science in Supervision and Management, Bachelor of Science in Nursing, Bachelor of Science in Criminal Justice, and a variety of continuing education and certificate programs. For more information, visit polk.edu.