Class Reunion: Long-Serving Professor, Theatre Director Recalls Landmark Shows, Trends in Polk's First 40 Years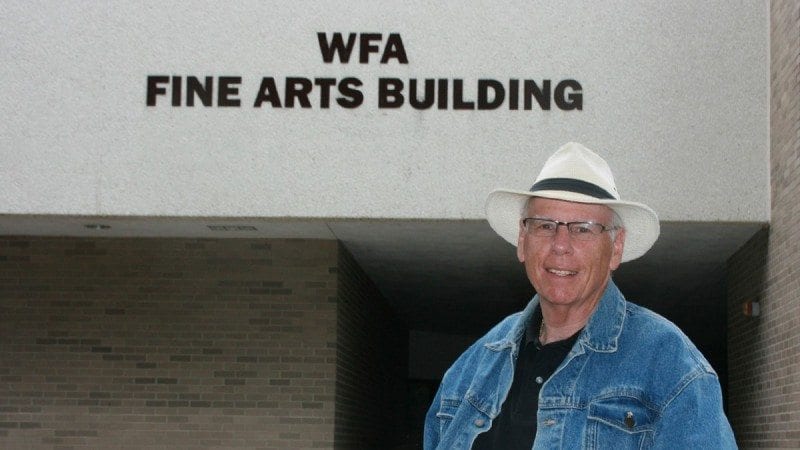 Thinking back on his 39-year career at Polk State College, Norm Small sorts through a hodgepodge of memories.
There are plenty of big, history-making moments, like Antigone, his first production as director of the College's then-fledgling theatre program. So few students tried out for the show that Small had to play the lead role.
Then there were landmark shows, like Godspell, a 1970s musical based on the Gospel of St. Matthew in which Jesus wears a Superman costume and dances with his apostles. Polk's rendition of Godspell so divided the community that the production was both picketed by and performed in local churches.
He also recalls the building of Polk State's Fine Arts Theatre, ending the days that plays were staged in the Polk State Winter Haven Student Center.
Then there are the smaller, more random recollections. In the 1970s, he used stage hair to try out a goatee. Liking what he saw in the mirror, he became — if his memory serves him right — one of the first Polk employees to sport facial hair.
His career also saw the trend of streaking. One day a pair of students stripped their clothes off and ran from the Winter Haven Student Center to the Learning Resources Building. The campus stopped for those few seconds to watch, but then went right back to its normal business, a little naked revelry proving only a brief distraction.
In 1967, after graduating from the University of Florida with a master's degree in Education, with a major in theatre and a minor in history, Small came straight to what was then Polk Junior College. His background made him an ideal choice to head both the theatre program and forensics activities. Halfway through his career, he gave up his Polk theatre duties, choosing to concentrate on teaching humanities and building the state-renowned Theatre Winter Haven.
Here, Small, in no particular order, shares more memories of Polk's first 40 years —four decades of which he couldn't be more proud.
You staged Antigone just three months after getting hired at Polk. What were the challenges of putting together that first play?
One thing was we didn't have a place to perform. The College in 1967 was still at the Bartow Air Base. The Women's Club of Winter Haven had a little theatre, but it was dormant at the time. We partnered with them to use their stage. I thought people would be coming out of woodwork to tryout, so I was quite taken aback when the only students who showed up were the ones from my class. In a cast of 10, we only had eight students. There was a local elementary school teacher who took a role, and I ended up playing the male lead, Creon. To give you an analogy, you can be a good baseball coach but a mediocre player. That's what I am to acting. We assembled a very simple set. That was in the days before electric screwdrivers. I remember screwing the set together by hand, one screw at a time. We performed four shows, and had an audience for each one of a few dozen. But I wasn't really concerned with any of that; I just wanted to do a show. When you're first beginning, what matters is that you grow where you started.
In 1970, you directed your first-ever musical, You're a Good Man Charlie Brown. What made you decide to take on the challenges of a musical? Why did you think the program was ready?
The show is so universally appealing because everyone loves Peanuts. With only a handful of characters, it's also pretty simple to produce. It's popular, acceptable, fairly easy material. If you want to enter the world of musicals, this was a good way to ease into it.
What do you consider the landmark shows of your time with the theatre program?
One example from the 1970s is Godspell, which is a musical by Stephen Schwartz, who also wrote Pippin, the first show we did in the new Fine Arts Theatre when it was built. In Godspell, Jesus has a clown face and wears a Superman costume. The play is a very irreverent way of looking at Christ. I saw it performed at Rollins College and was so enthralled and moved that I knew we had to do it at Polk. The show received 100 letters from one church that picketed the performance, but we were also invited into five more liberal churches to perform the show. We also, in the 1980s, did Grease, which was a splendid success.
What about the other end of the spectrum? Were there any shows that failed?
In the 1980s, in the Fine Arts Theatre, with its 400-some seats, we did The Lark, about Joan of Arc. Nobody came; there were maybe 50 or so people a night for four nights. That experience taught me that serious, period shows are very hard to sell.
What do you consider one of the biggest points of pride in your career with the theatre program?
Having a voice in the building of the Fine Arts Theatre and getting almost everything the program needed, from the workshop for building sets to an orchestra pit that can be raised and lowered. The president at the time, Fred Lenfestey, and the architect, Ernie Straughn, really listened. We toured the theatres of other programs around the state and built a theatre for the future. We also, in my second or third year, were able to offer theatre scholarships. That allowed the program to really start growing. Success breeds success.
What are some of the trends you watched gain popularity at Polk?
Facial hair. I was 24 and it was 1969, my second year at Polk. I wanted a goatee to look older. Facial hair was just getting popular. To see what I would look like, I used makeup from the theatre supplies. Streaking came in the early 1980s. One day, two guys and a girl ran across campus during the day. That was really the thing. Leisure suits and jumpsuits were others. I remember once being so excited about wearing a double-knit jumpsuit because it was so cool.
What do you think this College has meant to the community?
At last year's Retiree Luncheon, I walked up to Dr. Holden and told her I'd never been so proud to be part of Polk State. The number of people who attend here (the College serves more than 20,000 students annually), and the number of campuses (the College has campuses in Lakeland and Winter Haven, and centers in Lakeland, Bartow and Lake Wales) — it's, just, wow. When I was here, we had campuses that weren't campuses. We had classes in all kinds of locations, all over the place. I used to call it PCC — Polk Community Collage. Now we have the Polk State Clear Springs Advanced Technology Center — whoa! And it's a four-year school. I feel such pride in having been a part of it. When I was 22 and we had to share a telephone at the Air Base, I was just happy to have a job. It was primitive. I never would have thought it would be what it is today.
What does Polk mean to you, in a few words?
It's a place where the instructors always really cared about the faculty.
Polk State College opened its doors in 1964 to offer the students of Polk County accessible, affordable higher education. Since then, it has awarded nearly 40,000 degrees. Class Reunion is a recurring series to highlight the life-changing, generation-spanning difference Polk State has made in the lives of its graduates. Send your Class Reunion story suggestions to news@polk.edu.