Annual Luncheon Honors Work, Dedication of Polk State Retirees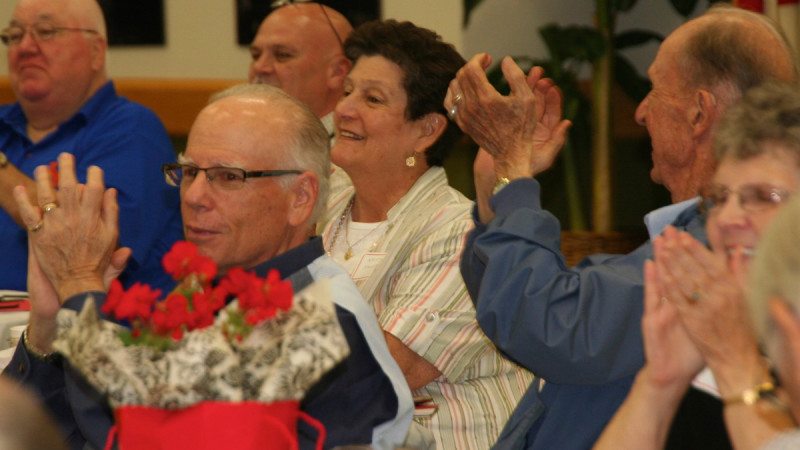 The memories were rich and the reunions were sweet during Thursday's fifth-annual Retiree Luncheon at Polk State College.
Each year, the College invites its retirees to campus, to thank them for their years of service and to share with them what their hard work and dedication has helped to build.
"We are so proud to carry on the tradition of excellence that you started," said Polk State President Eileen Holden to approximately 50 retirees, current employees and students gathered in Polk State Winter Haven's Student Center.
The event began with a slideshow tribute to deceased members of the College community.
"We can't have a retiree luncheon without honoring the people, colleagues and friends, we have lost," Holden said. "The success of the College belongs as much to them as it does to those of us who are still here."
The afternoon program included a presentation on the College's Clear Springs Advanced Technology Center, currently under construction in Bartow, and the Polk State Lake Wales Arts Center, which opened earlier this year. The program also featured accounts of specific students enrolled at the College — all of whom credit Polk State with life-changing opportunities.
Additionally, Polk State Theatre students performed an excerpt of their upcoming musical, "All Shook Up."
In between presentations and in small groups that formed afterward, the retirees shared their fondest memories of Polk State — and marveled at how much it has changed through the years.
Jean Lozell retired in 1999 after working as a courier at the College for 13 years. Among her most enduring memories of Polk State, she said, is driving through rows of orange trees to deliver mail at Polk State Lakeland while it was still under construction.
"I remember driving through the ruts in the road," she said. "It's amazing how much the College has grown." (The Lakeland campus is currently the College's largest.)
Seated nearby was Peggy Rizer, who retired in 2001 after 22 years as a staff assistant. Rizer still volunteers at the College in its Winter Haven Fine Arts Gallery and at special events.
Indeed, she said, the College has grown tremendously through the years, and in many ways, it is a much different place than it was decades ago.
In other ways, however, the College remains what it has always been — and for that, she is thankful.
"I loved it here, and I still love it here," she said. "These are the best people in the world. It's always been awesome.
"It is unbelievable to think about the imprint the College has made all over our community. I still talk to students who are thinking about college, or thinking about not going to college, and I tell them that they will never go wrong by coming to Polk State."
Seated together were David Woodward, performance and process improvement coordinator for contractor safety at Polk State Corporate College, and retiree Barry Fitzgerald.
The two have been friends for many years, and Woodward took over his current position from Fitzgerald, who retired in 2011.
Woodward and Fitzgerald still talk several times a week, but the Retiree Luncheon is still a special occasion for them both.
"There is a lot of good camaraderie here, and so many good people," said Fitzgerald.
Also in attendance was Peggy Cooper, who worked at Polk State from 1975 through 1991, save for a few years when she was raising a family. She worked in the cashier's office, payroll and business office during her career.
Sharing Cooper's table was senior accountant Barbara Lloyd, who worked with Cooper for several years before Cooper's retirement.
The two have worked during vastly different times — Cooper, for instance, remembers registering students on paper, while Lloyd has long had use of computers. Still, Lloyd said, she will always be grateful for the immense knowledge of Polk State that she gained from Cooper.
"Peggy taught me a lot about the people, who they were and what they did and where they were on campus," Lloyd said. "She knew everyone, and she knew how important it was to know everyone."
Before leaving campus after the luncheon, Roger Hewitt, who worked for the College for 25 years as a music instructor, and who still directs the Over 55 Show Band, which performs at the College, reflected on the most striking change he noticed during his career: the perception of the College within the community and among its students.
"There was a time when students thought going to Polk was as far as they would go," he said. "Now, students think of this as a stepping stone to higher degrees. This is a good base to start, and they know that from here they can go anywhere."
Established in 1964, Polk State employs more than 1,100 people at locations in Lakeland, Winter Haven and Lake Wales, and makes an annual economic impact of almost a half a billion dollars annually.