Polk State HR's Robin Robinson remembered for her genuine care for people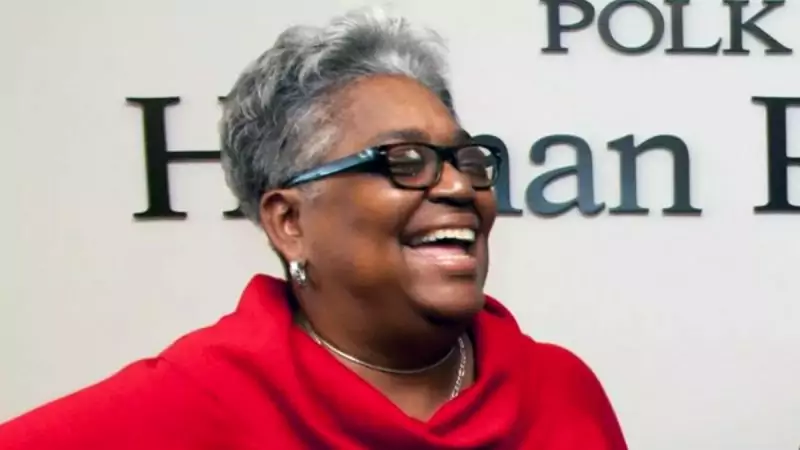 Robin Robinson was the introduction to Polk State College for many employees over the course of her 15-year career in Human Resources and she personified the College's accepting and family-like atmosphere with her smile and willingness to help others however she could.
Robinson, who served as Human Resources Assistant since 2006 before retiring in December 2020, passed away on June 3, 2021. She was 64.
"She was the first person who most people saw when they walked into HR and what a wonderful first person to come into contact with," Professor of English Sherry Siler said. "She listened, paid attention, and figured out exactly how she could address what you needed. If there is one thing to remember her by, it is the generosity of her spirit."
"She was the first person who most people saw when they walked into HR and what a wonderful first person to come into contact with. She listened, paid attention, and figured out exactly how she could address what you needed. If there is one thing to remember her by, it is the generosity of her spirit."

Sherry Siler
Professor of English
Her friends and former colleagues shared memories that highlight just how generous Robinson was. She had genuine care for people and truly valued her friendships.
For Melissa LaRock, Robinson "felt like home" when she first arrived at the College about 15 years ago.
"She was from New Jersey, and she helped me navigate my transition from New York," explained LaRock, who serves as Executive Assistant for the Vice President of Business Administration and Finance/Chief Business Officer. "She was proactive in reaching out to me to see if I needed any help and she took a lot of pride in what she did. She had a great work ethic and was always very helpful."
Robinson's care for the College and her coworkers extended beyond her day-to-day duties and into her volunteer efforts spanning from screening committees to serving as President of Polk State's Association of Florida Colleges Chapter.
Professor of Psychology Greg Harris, who worked closely with Robinson on committees and with the AFC Chapter, recalled an annual coworker appreciation candy drive they held, and it was not only Robinson's hard work to coordinate the fundraiser for the AFC Chapter that was memorable.
"She got a lot of appreciation herself on coworker appreciation day," Harris said. "That illustrated to me that people really loved, adored, and respected her. Although she wasn't a high-ranking administrator, she was a person of great stature. The fact that people would give so freely to her demonstrated that she was doing a magnificent job."
Another highlight for Robinson's friends was her 60th birthday party where Harris DJ'd. While Robinson was caring toward all who came into her path, there were few who were part of her close circle, and colleagues were honored to get an invite to such a special event, they shared.
Dr. Orathai Northern, Vice President of Workforce Education and Economic Development, explained that the "fantabulous" party "says a lot about the way Robin lived her life."
"She had such a fun spirit. She was celebratory. She claimed that moment of turning 60 and she wanted to share that moment with her family and friends with this shindig where she could really take advantage of the time with those closest to her because her people were important to her," Northern said.
Robinson's Cocker spaniel, Sadie, was also important to her and she connected with many of her colleagues and friends over being dog and animal lovers.
Chris Levan, Human Resources Generalist, explained that Robinson's former HR colleagues know just how much Sadie meant to Robinson and are chipping in any way they can to find a home and medical care for her.
"Sadie was her baby," Levan said. "She loved that dog."
Levan also called Robinson the "socialite" of the HR Office.
"She had so many friends and coworkers who liked to call her and stop in and chat," she explained. "That big old grin of hers was always ready and she had a great sense of humor. It was a dry sense of humor that would make you think 'is she being serious?' but she was quite comical."
Jeannette Grullon, Coordinator of Career Services for the Winter Haven Campus, noted Robinson's "contagious, earnest, beautiful laugh."
Like many of her colleagues, Grullon noted how special she felt to receive an invite to Robinson's 60th birthday party.
"She had an exclusive list of people and I asked her, 'what did I do to make the list?'" she said. "She joked that it must have been a mistake and we laughed and laughed about it. That was Robin's sense of humor and that was so special to me."
Robinson's friendships with her colleagues flourished both in the office and outside of work, where they celebrated holidays and time with their families together.
Daisy Rivera, Academic Advisor for the Educational Talent Search, reminisced of Robinson's time with her own family.
"Although most of the time my family was speaking Spanish, she managed to mingle with everybody and became part of the group," Rivera shared. "She asked me to translate for her so that she could also laugh at the jokes and would listen to Spanish music and interact with my family."
"She was a curious person who asked questions about religion, culture, music, and food," she added. "Robin was very conscious about social inequality and did not hesitate to express her opinion on social media and fight for justice."
Grullon echoed a similar sentiment, as Robinson was her "movie buddy" who always wanted to support Black filmmakers.
"She didn't want to stream the movies or buy the DVDs," Grullon explained. "She wanted to go to the theatre and support these movies because it was important to her."
Robinson's friends noted some other facts about her that others may not have known, but that speak to the joy Robinson found in life and through her friendships.
Robinson was a basket weaver who sold her work at the Polk State FallFest, she was an avid reader, she enjoyed monthly lunch dates and happy hours with her colleagues, and she was a thoughtful gift-giver in a way that made others feel special but never pressured to return the favor.
"What was always endearing about Robin was that she would show up with little gifts. Sometimes it would be a little gift bag with some samples of lotions or chapsticks. One Christmas, she gave us the cutest little pots of poinsettias," Siler said. "It was the kind of thing that was extremely thoughtful but on the other hand not gigantic in a way that made you feel awful that you didn't bring a gift."
"In a lot of ways, that sums up Robin," she added. "I can't imagine ever feeling anything other than goodness and love when I was spending time with her."
Siler also shared a boat day on the Chain of Lakes with Robinson's family, who Robinson loved very much.
"Robin was a private person, and I was honored that she trusted me to spend time with her family," she said. "It was a delightful day, and her family was just as personable and lovely as she always was."
"Her unique sense of humor, bright smile, and loud laugh will be missed on campus."

Daisy Rivera
Academic Advisor for the Educational Talent Search
"She enjoyed life, she enjoyed people, and she enjoyed when people were genuine and cared about each other," Siler added.
When Robinson fell into bad health, she continued to live vicariously through her friends.
"She always wanted to know where I was and what I was doing and would tell me to make sure I take a lot of pictures so that I could show her and tell her about everything," LaRock said. "One thing I keep telling people is that no one should have regrets about things they didn't do with or for Robin. She appreciated everything that everyone did for her."
"She really valued people and her friendships," Grullon added.
"Her unique sense of humor, bright smile, and loud laugh will be missed on campus," Rivera said.