Chain of Lakes Collegiate Student Named Sunshine State Scholar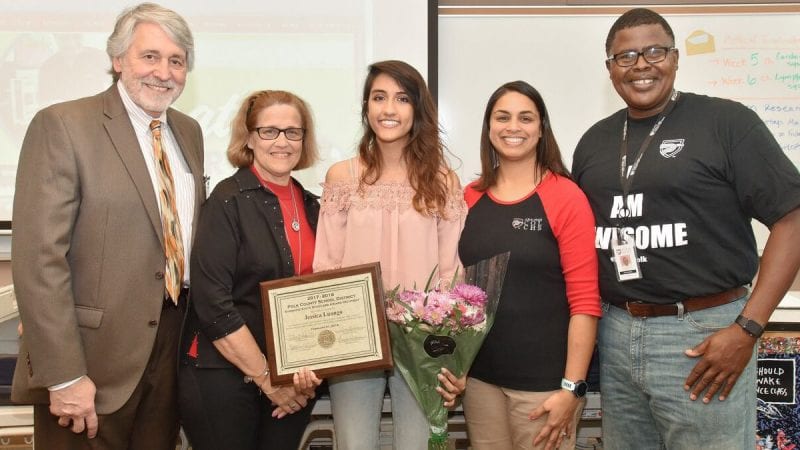 Polk State Chain of Lakes Collegiate High School student Jessica Luongo has been named a Sunshine State Scholar, making her one of only three students in all of Polk County to receive the honor for 2018.
Principal Bridget Fetter, Assistant Principal Keith Bonney, Provost Steve Hull, Polk County Public Schools Curriculum Specialist Karrie Wikman, and Luongo's family surprised her in class Friday, where she was working on a college-level STEM project – appropriate considering Sunshine State Scholars are selected for their achievements in the areas of Science, Technology, Engineering, and Mathematics.
"I'm very surprised and very happy," Luongo said. "I'm excited for the opportunities that await me."
As a Sunshine State Scholar, Luongo will participate in a think tank with top 11th graders from each of Florida's school districts. The scholars, along with their parents, will travel to Orlando in May for the two-day program, which will allow the students to collaboratively work on solving some of Florida's toughest challenges.
The event is a convergence of Florida's highest caliber STEM students, the colleges and universities that hope to enroll them, and employers who may one day have them on their team. The scholars will be honored by the Florida Department of Education as well as meet with representatives from Florida's colleges and universities to discuss higher education opportunities.
Polk County Public Schools accepted one nominee from each high school. To qualify, students must demonstrate an interest in STEM as well as an interest in pursuing higher education in Florida. They must also have a weighted grade-point average of 3.9 or greater.
Luongo, who aspires to be a surgeon, plans to major in biology at the University of Florida before proceeding to medical school.
The nominees were asked to write essays, which were reviewed by experts in STEM-related fields. The experts selected three students to represent the School District as its Sunshine State Scholars. In addition to Luongo, Katherine Achinger of Harrison School of the Arts and Maria Gonzalez of Bartow Senior High School were selected.
"My essay explained how STEM has inspired me to go into the medical field," she said. "I want to find solutions that will help people."
As part of her STEM class and Heath Occupations Students of America (HOSA), Luongo and her peers have researched Alzheimer's and developed a possible treatment using nanotechnology to dissolve a disease-causing protein.
"My interest in STEM and the medical field has only grown as I now take part in a college-level STEM research course," she wrote in her essay. "I have focused more on the science discipline of STEM because I have a strong passion for the sciences such as biology and pathophysiology. Science provides not only an explanation, but also a purpose for life: the more we know, the better impact we can have on the world."
Polk State Chain of Lakes Professor of Anatomy and Physiology Suzanne Halverson called Luongo a bright, innovative student, and said, "I'm excited to see her soar in STEM and in everything she pursues in life."
As part of Halverson's class, Luongo also has the opportunity to spread her interest in STEM to younger students by serving as a STEM mentor at Chain of Lakes Elementary School.
"The greatest challenge America faces regarding STEM is accessibility to STEM opportunities in education. Overall, I think the best way to counter this issue would be to encourage an increased awareness of the STEM field…," Luongo wrote. "As a STEM mentor, I am able to demonstrate my passion for STEM and medicine though hands-on activities with robotics and bioengineering activities. I am excited to expand on this practice in the coming years, promoting the STEM field."
Polk County Public Schools Curriculum Specialist Karrie Wikman told Luongo it was a pleasure to read her essay.
"I can tell you that the competition was very stiff," she said, "but your essay shined bright above the rest, and we are here to celebrate you and your accomplishments in STEM."