Campus Security Top Priority for Polk State College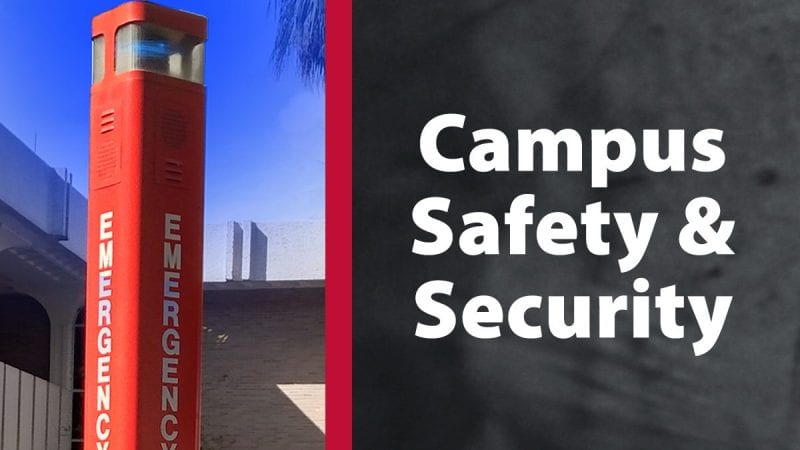 Like institutions of learning across the country, in light of the recent tragedy at Marjory Stoneman Douglas High School in Broward County, Polk State College's administration and security officials are tirelessly reviewing security measures and ways to enhance campus safety.
Within days of the horrific event that took place in Parkland, Polk State President Angela Garcia Falconetti increased the College's physical security and capacity to respond to incidents by expanding its partnership with the Polk County Sheriff's Office. Falconetti reminded students, faculty, and staff of the mental health resources available to them through the Employee Assistance and BayCare Student Assistance program, and called for forums at each campus where faculty and staff reviewed safety and security measures.
"Like everything we do here at Polk State, we are constantly looking for ways to improve," Falconetti said. "The safety of our students, faculty, and staff is one of our top priorities, and we will continue to proactively seek opportunities to strengthen security."
Lt. Bobby Neil, the College's security coordinator, assured faculty and staff that Polk State's six locations are prepared in the case of an emergency.
With law enforcement and campus security officers at all sites, and the proximity of the College's centers to local law enforcement agencies, Lt. Neil explained that a strong strategy is in place to monitor each location and respond to emergency situations in a timely manner.
"I lose sleep at night trying to think of ways to improve campus safety, but I am confident that we are doing everything we can to ensure the safety of our students, faculty, and staff," Lt. Neil said.
The College maintains a readily accessible Emergency Preparedness Plan (EPP), which provides thorough instructions to employees on how to respond to emergencies on campus, from dangerous weather to an armed subject. Lt. Neil provides crime awareness and prevention programming, as well as regular safety training courses for faculty and staff. And faculty members are familiarized with the safety features of their classrooms, which they are encouraged to share with their students.
The College continues to invest in physical security and safety enhancements at all campuses and centers.  The College also continues to upgrade its WiFi infrastructure to improve coverage and communication. Polk State utilizes multiple mass communication tools to alert the College community in the event of an emergency through notifications to mobile, classroom, and office phones, polk.edu, social media, and more.
College officials will continue to seek opportunities for strengthening Polk State's security and safety measures.
"Institutions for learning should be safe havens for our students, and it is heartbreaking when our feeling of security is shattered by a senseless act of violence," Falconetti said. "The safety of our students, faculty, and staff is a top priority, and we will continue making decisions based on the best interest of our College community."