"Battle of the Bands" Features Polk State Entry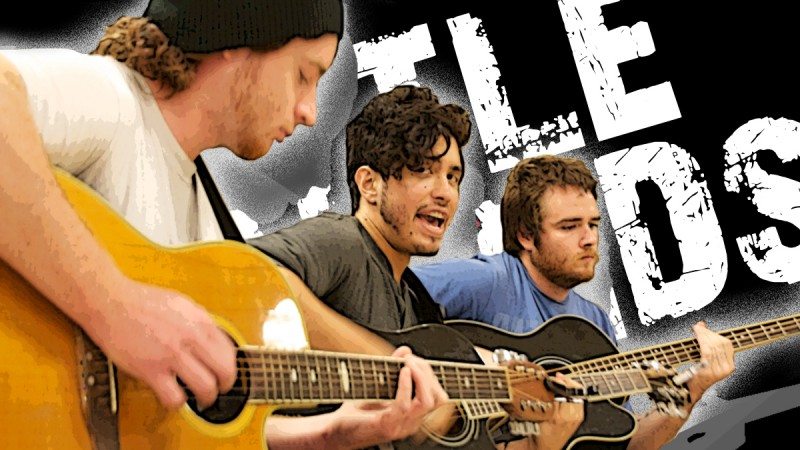 Their name is Trials. They're rock. They're indie. And they'll be reppin' Polk State at the United Way's upcoming Battle of the Bands.
The Battle of the Bands will take place at 5:30 p.m. on Sept. 19 at Munn Park in downtown Lakeland. Bands from Florida Southern College and Southeastern University will compete against Trials.
The winning band will be the one that has the biggest audience turnout, has the most text messages sent during the event, and also receives the most votes from a panel of judges. All proceeds from the event will benefit the United Way of Central Florida.
Three bands competed for the chance to represent Polk State at the Battle of the Bands — and Trials is stoked to have won the chance.  
"We're really excited and confident," said lead singer and guitarist Jared Houts, a Lakeland resident. Houts went through Polk State's Corporate College to become a licensed insurance adjuster and now works at GEICO.
"This is a great chance to showcase our music. It benefits the United Way, which does a lot of good for the county, the state, and the country. And we get to show that Polk State is the best place to go to college in Polk County."
In addition to Houts, Trials includes drummer Mark Strand, guitarist Nick Swiney, and bassist Kyle Town, all of Lakeland. Town is working toward an Associate in Arts degree at the College.
The four have been playing together for about a year and a half, though Town and Swiney, who are cousins, previously played together in a punk band.
They formed Trials shortly after attending a farewell concert by the California-based rock band Thrice, which they name as one of their musical inspirations, along with the RX Bandits and As Tall As Lions.
"And Miley (Cyrus)," said Town, jokingly.
Twerk-infamous Cyrus not included, Trials says their musical influences are wide and varied, but all share one thing:
"Any music that makes us feel something influences us," Houts said.
Trials jams in Houts' garage and at Lakeland's Evolution Records a couple times a week.
During a recent showcase at the Polk State Lakeland Student Center, the band played acoustic versions of three songs that will be included on their upcoming, as-yet-unnamed album.
Free samples of their music available at trialstheband.bandcamp.com, however, prove they're capable of a sharper, electric sound, too. 
"I would describe us as progressive rock with many musical undertones, and we're very story-driven," Houts said.
By "story-driven" Houts refers to the album that is currently "in studio." It will include 10 songs, nine of which are written, and will tell from start to finish a single story.
"It follows a central protagonist, who is anonymous and has no interest in day-to-day life. He allows himself to live and breathe in his dreams," Houts said. "He feels he has the power to fall asleep and not wake up again, so he wills himself to do that. But he doesn't realize he's been living out his dreams in the real world, so he's right back where he started."
Trials is no stranger to the stage. They play at Evolution and at clubs in Ybor City. Their biggest audience so far has probably been about 150 people strong. Still, they say their success in the Battle of the Bands, even despite their performance experience, will have a lot to do with how many Eagles turn out to support them.
"Definitely crowd participation is tantamount to the success of any show," Houts said. "We want to see people moving and enjoying it."
Added Swiney:
"We feed off the crowd participation. Everything goes up with the crowd energy."
Polk State is making it easy for students to support Trials during the event. Here are the details:
United Way's Battle of the Bands
Date and time: Sept. 19, 5:30 p.m.
Location: Munn Park, Downtown Lakeland
Cost: Free
What to wear: Polk State gear to show your pride and support; T-shirts are available at SALO offices on both the Lakeland and Winter Haven campuses for $2, pay at the Cashier's Office and take your receipt to SALO.
Transportation: Free bus service to and from the event will be provided at Polk State Lakeland. Contact SALO for more information.
Text to give and vote: During the event, make a donation to the United Way and cast a vote for Polk State by texting CONNECT to #80888.
Lots of fun is planned even before the bands take the stage. Check it out:
Polk State Lakeland
Sept. 16 — Wear your favorite band T-shirt or dress like your favorite musician, free Polk State T-shirts given to students who participate, $50 Visa or iTunes gift card to the best-dressed
Sept. 17 — Test your music mind in a Scavenger Hunt/United Way Riddle Hunt, SALO office, winners receive a $50 Visa or iTunes gift card
Sept. 18 — Sports Tournament, Student Center game room, 11 a.m. to 2 p.m., free food and $50 iTunes or Visa gift cards to winners
Sept. 19 — Financial Fitness seminar to discuss charitable giving, 12:30 to 1 p.m., LAC 1243, and campus-wide Pep Rally
The Polk State Lakeland Student Government Association will buy United Way shirts for the first 150 students who sign up to attend Battle of the Bands. Students will also have the chance to win Justin Timberlake and Drake tickets, as well as tickets from Southwest Airlines.
Polk State Winter Haven
Sept. 16 — Open Mic Monday, noon, WST 101A, winner receives a $50 iTunes Gift Card
Sept. 17 — Constitution Day, 11 a.m. to 1 p.m., WST lawn
Sept. 18 — Hispanic Heritage Month Kickoff, 11:30 a.m., WLR Loggia
Sept. 19 — Wii Mario Party 8 Tournament, noon, SALO game room, winner receives $50 AMC movie card