AT&T Presents $25,000 Check to Polk State College Foundation, Money Will Benefit Gateway Program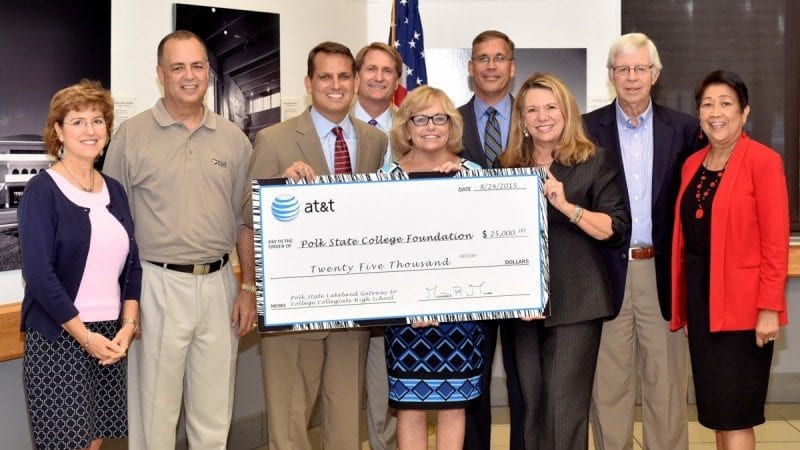 AT&T presented a $25,000 check to the Polk State College Foundation to support Polk State Lakeland Gateway to College Collegiate High School during Monday's District Board of Trustees meeting in Winter Haven. 
"One of the things that most defines Polk State is its collaboration with businesses like AT&T," said Polk State President Eileen Holden. "We're grateful for AT&T's support, and we can't wait to put this money to work for our students."
AT&T Regional Director Matt Mucci said that AT&T, through its AT&T Aspire program, has committed $350 million to support initiatives aimed at increasing the nation's high-school graduation rate.
Polk State Lakeland Gateway to College, where students simultaneously complete high-school requirements while also earning college credits, perfectly aligns with AT&T Aspire's mission, Mucci said.
"Polk State Lakeland Gateway to College fits in with our goal of increasing the nation's graduation rate. When communities connect with proven strategies to help students achieve, graduation rates rise," he said. 
The $25,000 contribution will be used to buy books for Polk State Lakeland Gateway to College students. The gift is the largest ever contributed to the school through the Polk State Foundation.
"I am thrilled at the opportunity that this generous support from AT&T will provide Gateway to College High School students," said Principal Sallie Brisbane. "With this contribution, students will be able to take more college classes without being hindered by financial constraints of continually rising textbook costs. I am confident our students will be able to earn a significant number of college credits with the support provided directly from AT&T."
AT&T is an ongoing supporter of Polk State College. Between 2012 and 2014, AT&T gave $28,500 to support student scholarships and the College's TALON Robotics program.
"AT&T is an important supporter of student success, "said Foundation Executive Director Tracy Porter.  "Their corporate culture recognizes the needs of communities and as such, they have created programs that help make a meaningful impact.  We greatly appreciate their ongoing generous support that helps to transform lives through the power of philanthropy."
Mucci said that giving to Polk State College is a way to directly impact Polk County. 
"AT&T prides itself on being a part of the communities where our employees live and work, and we have a responsibility to improve these communities," he said.
Mucci added that the College's expansion and leadership are also compelling reasons to give financial support.
"There are many reasons why AT&T chooses to support Polk State College and its programs, but at the top of the list is people," he said.
"Polk State is led by President Eileen Holden, who in less than 10 years has raised the profile of this institution not only locally but regionally and around the state. The unprecedented growth that includes new satellite campuses and the addition of four-year degrees is a small sampling of her achievements.
"She has assembled a team of professionals to support the mission of transforming lives by providing access to an affordable education. At AT&T we take pride in our efforts to support education, and at Polk State College, they take it to the next level."
The Polk State College Foundation Inc. is a tax-exempt corporation whose purpose is to provide Polk State College with resources for the advancement of the College, its students, faculty, staff and other constituencies in fulfillment of the College's mission.
Polk State College operates three public charter high schools, including Polk State Chain of Lakes Collegiate in Winter Haven, Polk State Lakeland Gateway to College Collegiate, and Polk State Lakeland Collegiate. All three high schools allow students to fulfill requirements for their diplomas while also earning college credits.  
About Philanthropy & Social Innovation at AT&T
AT&T Inc. is committed to advancing education, strengthening communities and improving lives. Through its community initiatives, AT&T has a long history of investing in projects that create learning opportunities; promote academic and economic achievement; or address community needs. In 2014, nearly $127 million was contributed or directed through corporate-, employee-, social investment- and AT&T Foundation-giving programs. AT&T Aspire is AT&T's signature education initiative that drives innovation in education by bringing diverse resources to bear on the issue including funding, technology, employee volunteerism, and mentoring.