Aspiring Doctors Get Head Start in Polk State Scholarobotic Academy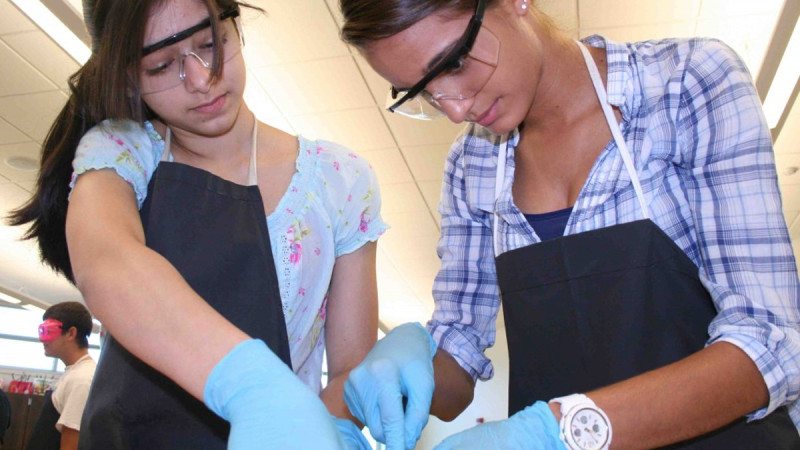 Annika Mulaney is only a sophomore in high school, with years to go before she'll take a seat in a university classroom and open her first medical school textbook.
But this summer she's already taking a step toward her career goal, participating in Polk State College's first Scholarobotic Academy, a partner project with Winter Haven Hospital.
As part of the Scholarobotic Academy, Mulaney and her fellow participants are completing a three-credit-hour course in medical terminology, instructed by Polk State Professor Suzanne Halverson. They also are spending several hours a week at Winter Haven Hospital, training on the da Vinci Surgical System under the watch of Robotic Surgery and Urology Director Dr. Sijo Parekattil and research fellow Dr. Ahmet Gudeloglu.
Scholarobotic Academy kicked off in late June and ends Aug. 8 — six weeks that Mulaney said are already paying off.
"The medical terminology has already helped me so much, to understand the way doctors talk, and the robotics technology has been different and new. I've never done anything like this before," said Mulaney, a student at Bartow High's International Baccalaureate. Mulaney spoke about her Scholarobotic Academy experience during a break from dissecting a fetal pig in Halverson's class, an exercise to help students identify organs and tissues.
Parekattil said Scholarobotic Academy is intended to inspire students such as Mulaney. He recalled his own experience as a high schooler fascinated by science — and the impact early encouragement of scientific curiosity had on his life.
"These students really are our future. High school is such a stressful time, and you have so much on your plate. Sometimes it's easy to forget to dream and aspire for something bigger and better," Parekattil said.
To capture the imagination of Scholarobotic Academy participants, Parekattil and Gudeloglu have incorporated LEGO bricks into the curriculum, challenging the nearly dozen students to build replicas of the Empire State Building using the da Vinci system. Colorful fun aside, Parekattil said it's the meatier research projects students are completing that have really grabbed their interest — topics such as the possibilities for robotic surgery in ophthalmology.
"I've been blown away. Their energy is exciting and it is humbling to think about what these kids will be doing one day," Parekattil said.
Students will display their research projects during the Second Annual Multispecialty Robotic Microsurgery Symposium later this year in Tampa, where they will also interact with physicians from all over the world — an experience they'll be better prepared for after their Scholarobotic training.
Halverson said working with the Scholarobotic Academy students has been especially fulfilling.
"During the regular school year, I'm constantly impressed by the curiosity of my students and their ability to pose a question and research it through the scientific method. This summer, I've gotten to see my students take things to a whole new level. Not only are they performing experiments and research, but they're also grasping the material in a way that allows them to converse with professionals about their topics," Halverson said.
Liza King, a student at Polk State Chain of Lakes Collegiate High Schoolparticipating in the program, said she's enjoyed the opportunity to extend her previous studies with Halverson, and apply them in a real-world setting.
"I want to be a doctor one day, but I haven't decided what area of medicine. I already feel more proficient in medical terminology, something that will help me no matter what field I decide on," she said.
Parekattil said additional sessions of Scholarobotic Academy are planned. For more information about the program, visit scholarobotics.org.
Polk State Health Sciences includes programs in Cardiovascular Technology, Diagnostic Medical Sonography, Emergency Medical Services, Nursing, Occupational Therapy Assistant, Physical Therapist Assistant, Radiography and Respiratory Care. Polk State's Health Sciences students regularly outperform their peers in the state and nation on required licensing exams and enjoy outstanding workforce placement rates.