Arts Incubator Series: Actress Libby Skala Inspires Students, Will Stage Final Show on March 22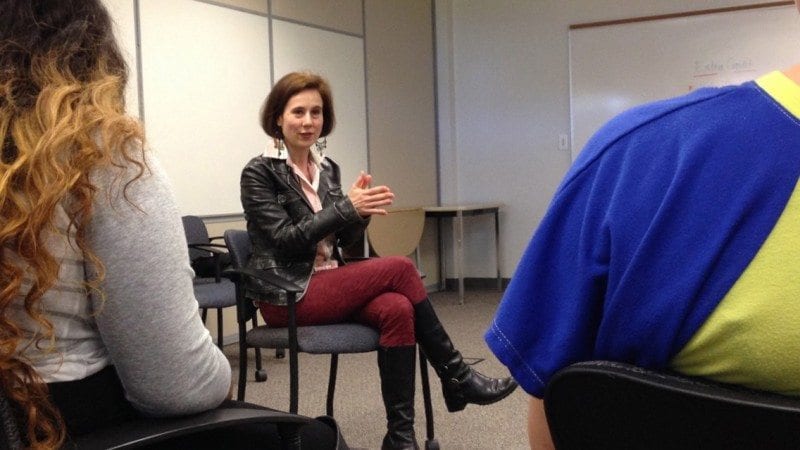 On a recent afternoon at Polk State Lakeland, students in an Acting II class put the syllabus aside and the notebooks away, all to learn about show business from someone who's made it her life — and been pretty darn successful at it, too.
During its mid-afternoon meeting last Thursday, the class heard from Libby Skala, a writer and performer whose one-woman shows have received rave reviews from newspapers across the country and awards from the other side of the Atlantic Ocean.
Skala is in Polk County as part of the Polk State Lake Wales Arts Center's Arts Incubator Series. In addition to performing, she's also meeting with classes at the College, and even making a presentation to students at Spook Hill Elementary in Lake Wales.
Skala has created three award-winning one-woman shows about her grandmother and great-aunts.
Her first, LiLiA!, tells the story of her Oscar-nominated actress grandmother, Lilia Skala. LiLiA! was an off-Broadway hit that also sold out venues in Berlin, London, Seattle, Toronto, Vancouver and Winnipeg. At the latter location, LiLiA! won "Best of Show" among 118 entries at the Winnipeg Fringe Theatre Festival.
Skala's second show, A Time To Dance, is about her great-aunt, Elizabeth "Lisl" Polk, who overcame poverty, artistic repression and the rise of Hitler to become a renowned dancer. A Time to Dance won Best Solo Performer at the London Fringe Theatre Festival.
Felicitas, Skala's third show, is about her other great-aunt, Felicitas "Litzi" Sofer, who was born in turn-of-the-century Vienna under the Hapsburg empire and became a nurse for new mothers and babies.
Before she was an award-winning performer, however, she was a new college graduate struggling to find her career path — a story that resonated with the Acting II class.
Skala studied English and theatre at Oberlin College in Oberlin, Ohio. After graduating, she went to New York City to pursue acting. Like so many other aspiring actresses, she attended mass audition "cattle calls" — a system that overwhelmed and dismayed her.
"I would be standing there in line with these other women, and I would think, 'I would cast her, she's so gorgeous,' or 'I would cast her, she's so funny,'" Skala told the Acting II students.
"By the time I got in to audition, I felt so small."
Turned off by the cattle call system, and also so busy working to pay off her student loans, Skala's acting career took a bit of a backseat. Eventually, she found her way to the West Coast, where she studied with Gary Austin, founder of The Groundlings Theatre & School, which has trained such notables as Will Ferrell, Kristen Wiig and Lisa Kudrow.
Austin encouraged Skala to create a one-woman show as a way to stand out from the crowd of other aspiring performers. She did, Lilia! was a hit, and the rest is show business history.
During her meeting with the Acting II students, Skala encouraged the students to follow their dreams, even if it means forging a whole new path.
"It was cool to think about bringing personal, unique material to the stage," said Raquel Eplin, a Lakeland resident who will graduate this spring with her diploma from Polk State Lakeland Collegiate High School, as well as her Associate in Arts degree from the College.
Eplin said she likes acting, but is not sure if she wants to make it her career. Regardless, she'll carry Skala's advice with her for a long time to come.
"For sure, it can be applied to anything that I might choose to do. I can put my own personal spin on whatever career I follow."
The Arts Incubator Series has brought a wide variety of artists to Polk County, from a pianist to West African percussionists.
"The Arts Incubator Series is about bringing all kinds of artists to Polk County, giving our students and area residents cultural experiences they might otherwise never experience," said Polk State Lake Wales Arts Center Director Osubi Craig.
"It's about giving them enjoyable performances, as well as inspiration that will last long after the show ends."
Skala will conclude her stay in Polk with a performance of A Time to Dance at 7 p.m. on Saturday, March 22, at the Polk State College Lake Wales Arts Center, 1099 State Road 60 East.
The event is free and open to the public.
In Lake Wales, in addition to the Polk State Lake Wales Arts Center, Polk State operates the Polk State JD Alexander Center.