5 questions with Christina Gesmundo: The value of speech & forensics isn't debatable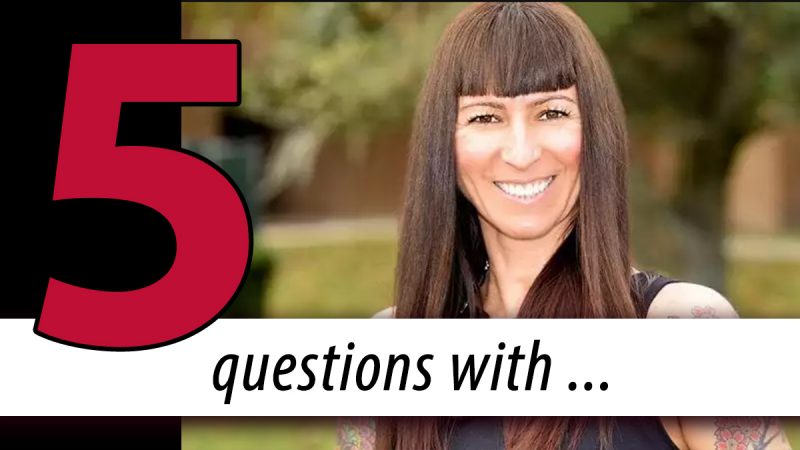 Christina Gesmundo, Professor of Speech and Director of Forensics, has served in her roles at Polk State College since 2013, also coaching the award-winning Polk State Speech & Debate Team and receiving an Endowed Teaching Chair Award for her outstanding teaching and service to the College, its students, and the community.
The Florida College System Activities Association named Gesmundo Forensics Coach of the Year in 2016 and 2019, and in 2015 she received the Delta Sigma Rho-Tau Kappa Alpha Forensics Coach of the Year Award. But her work goes beyond the awards and recognitions, with an innate drive and keen focus on developing students into critical thinkers, skillful communicators, and well-rounded individuals as they navigate their higher education careers. Gesmundo is also working on a doctorate in Communication at the University of South Florida.
Polk State News caught up with Gesmundo to discuss her many roles and the opportunities that abound for students through her courses and the Polk State Speech & Debate Team.
You wear many hats as Professor of Speech, Director of Forensics, and Coach of the Speech & Debate Team. What do your roles entail?
Those are all my official titles at the College, and all three of them fit together in nearly every instance. My primary role at Polk State is teaching. I teach SPC 1608, and I also teach HSC 1101. While communication is my first love, I have a place in my heart for health and wellness; I believe that balance is important, and with a focus on my own health and wellness, I can bring the best version of myself to the table — in this case to the classroom and to my other professional roles and responsibilities!
Coaching the Speech & Debate Team falls under my role as Director of Forensics. I work with other coaches around the state, including Florida Intercollegiate Forensics Association, to grow speech and debate, encourage the development of teams across the state, and contribute to a robust competition circuit. As coach, I promote the team, recruit team members and work with them to teach them about Forensics, and to help prepare them for competition.
Where do your interest and expertise in speech and debate come from?
Much of my graduate work focused on performance studies, which included understanding and recognizing the influences that shape who we are and how we (choose to) present ourselves to the world, so the performance elements of interpretive events are my favorite.
My enjoyment of Forensics grows with every tournament I attend, especially when I get to hear and see the research students are doing to give voice to important issues impacting all of us, from climate issues to gender norms to sex expectations to economics. They are constantly teaching me about what is important to their generation, and I am consistently impressed with the passion they put into their work.
What are the benefits of taking a speech class or getting involved with the debate team?
Nearly everything in life requires talking to other people. The benefits of taking a speech class include developing confidence, learning to organize one's thoughts, critical thinking, and persuasion, to name a few.  Communicating with others — that includes listening as well — is something each of us does and a public speaking course can assist with enhancing all of our interpersonal engagements.
Many of my speech students join the team while in my class, or after they have completed a term. They see the personal evolution and confidence that develops when they commit to bravery, practice, and stepping out of their comfort zone. Involvement with the team develops and refines poise, the ability to think and speak quickly, and provides an opportunity for students to network and make new friends. Team members are also eligible for scholarships for up to 15 credits.
Team members only need to be driven, high achievers who are willing to commit to self-growth. In the challenge of learning a new skill, there is a lot to be gained. And it speaks directly to people who are competitive, although that isn't a condition!
What are the top accomplishments of the Speech & Debate Team?
During my tenure at Polk State College thus far, I am most proud of the first and to my knowledge, the only speech and debate tournament organized and hosted at the College. In nearly every year that we've had an established team, team members have been awarded Student of the Month by the Florida Collegiate State and I am grateful to have received three Coach of the Year awards, as well as the Endowed Teaching Chair Award for my work with the team.
What's ahead for the team and how can people support it?
I'm excited to have a robust team for the 2022-2023 competition year. Our first tournament was held virtually in September with the University of West Florida. Edgard Neto, one of the newest members of the Polk State Speech & Debate Team, placed in the finals in impromptu speaking.
We have a tournament in November too. Support for the team comes from the Student Government Association, and Student Activities & Leadership Office, and from donations to our Polk State College Foundation account.
In the future, I would love to see a scholarship specifically funded by past team members, other alumni, as well as from community members who want to grow the team. I would love to have graduated team members return to the College for speaking engagements, coaching new members, and detailing the impact that participating in collegiate speech and debate has had, and continues to have, in their lives.
Students who are interested in the Polk State Speech & Debate Team can click here for more information and contact Professor Gesmundo at cgesmundo@polk.edu.