5 questions with Beth Luckett: From Polk State Radiography to Director of Health Sciences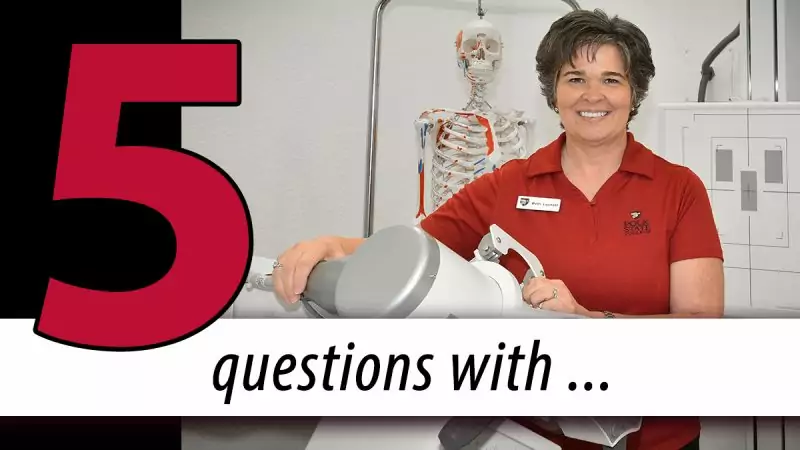 Beth Luckett has a new role at the College, but she is no stranger to Polk State, serving the Health Sciences programs for more than 20 years. A proud graduate of the Radiography Program at what was then Polk Community College, Luckett returned after 15 years as a radiologic technologist. Luckett has seen the College through exponential growth and the momentum is still going strong.
With the growing demand for highly skilled healthcare professionals, Polk State continues to grow the opportunities within its Health Sciences programs to ensure it is meeting the needs of the community. During the 2022 Legislative Session, the College received $5 million in nonrecurring funds to expand the College's Health Sciences programs, and Luckett is a critical part of the conversation in determining how to best utilize this support.
In August, she was named Director of Health Sciences, overseeing seven of Polk State's nine Health Sciences programs. Polk State News recently caught up with Luckett to learn about her new role and reflect on her time at the College.
What does your role as Director of Health Sciences entail?
I oversee the College's Health Sciences programs including Cardiovascular Technology, Diagnostic Medical Sonography, Emergency Medical Services, Medical Coding Specialist, Occupational Therapy Assistant, Radiography, and Respiratory Care. I support the Program Directors and Clinical Coordinators in all areas that relate to the operation and success of the Health Sciences programs. I also collaborate with the College administrators, Program Directors, and regional healthcare partners to ensure the continuity of student and program success.
Tell us about your background in health care.
I am a proud graduate of the Polk Community College Radiography Program's third class in 1985. I began my healthcare career as a radiologic technologist at Winter Haven Hospital working in all areas of the hospital (ER, OR. ICU, etc.), including as clinical instructor, until December 2000. I then began my career here at the College as the Radiography Program Clinical Coordinator. In 2007, I started the Diagnostic Medical Sonography Program and was Program Director until 2010, at which time I became Radiography Program Director. In August 2022, I started in my current position as Director of Health Sciences.
Why would you encourage others to pursue a career in health care?
Because I believe there is no greater feeling than to know that you played a role in helping another person. A career in healthcare allows you to be that person for someone else, whether it is only for a few minutes or a few days. You have to be your best and be prepared to give your best to someone who is usually not in their best moment. Is it hard? Yes. Is it worth it? Absolutely!
What makes Polk State's Health Sciences programs stand out?
Simply put, they are the best programs you can attend! Our program directors, coordinators, and instructors are not only extremely knowledgeable in their professions, but they are also passionate about teaching their professions to others. Our national exam pass rates are well above average and the majority of job placement rates are 100%. Our local healthcare facilities consistently request to hire Polk State Health Sciences graduates because they know they are hiring well-trained healthcare professionals.
What is the most rewarding part of your job?
Being with the people of Polk State College! It may sound cheesy, but I love working with the various departments throughout the College. I have always felt like part of a family here. I have also enjoyed my time in the classroom and lab teaching students how to become radiologic technologists. To demonstrate and explain a skill and then to see the student's excitement when it clicks and they can do the skill themselves is very rewarding.