Voices of the People Concert Series Continues with Piano Recital Sept. 27 at Polk State Lake Wales Arts Center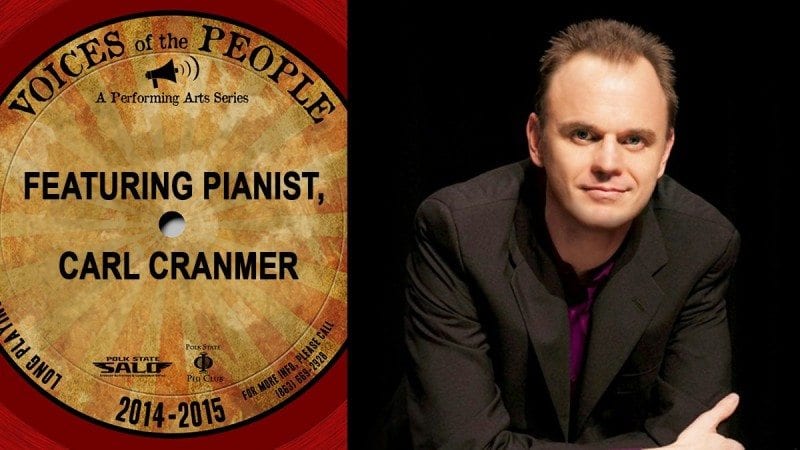 Polk State College's Voices of the People concert series will continue its 2014-15 season with a recital by pianist Carl Cranmer at 7 p.m. Sept. 27 at the Polk State Lake Wales Arts Center, 1099 State Road 60 East.
The performance is free and open to the public. RSVP by calling 863.298.6883.
According to a profile found at instantencore.com, Cranmer made his debut with the Philadelphia Orchestra at just 9 years old. He has since given solo recitals around the globe, and has performed with the Royal Philharmonic of England, the Gulbenkian Orquesta of Portugal, and the Juilliard Orchestra, to name just a few.
Cranmer holds doctorate and master's degrees from Juilliard, and a bachelor's degree from Oberlin Conservatory of Music. In addition to performing, he is also an assistant professor of piano at West Chester University of Pennsylvania.
During his performance at the Polk State Lake Wales Arts Center, Cranmer will perform works by Bach, Beethoven and Chopin. Derek Menchan, a humanities professor at the College and a cellist, will accompany Cranmer.
Now in its third season, Voices of the People is a joint effort by the College's Philosophy Club and SALO (Student Activities and Leadership Office) to offer classical music performances.
A variety of events and more than 50 student clubs and organizations are offered through Polk State College's SALO.