13-Year-Old Is Polk State College's Youngest Student Ever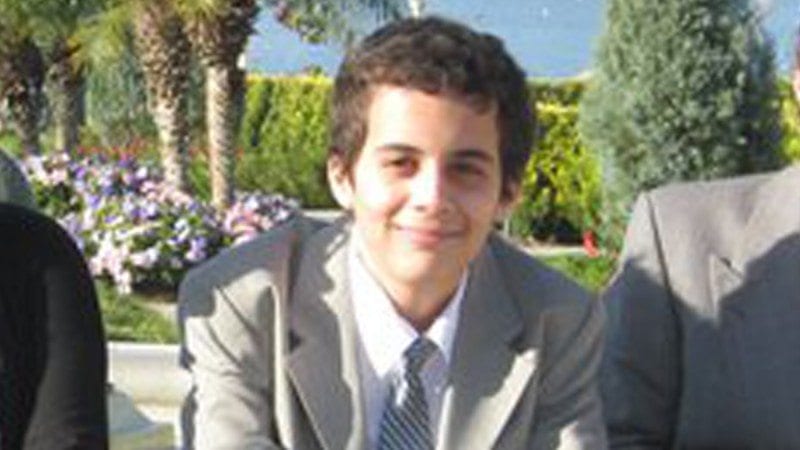 In many ways, Alex Manjarres is your typical high school student.
He speaks with the shyness of someone who is still learning about himself. He spends hours playing video games. He's not a fan of writing essays.
But in truth, Manjarres is hardly ordinary. At just 13, he is the youngest student ever served by Polk State College, and by the time he is 15 he will have earned both his high school diploma and his Associate in Arts degree.
Manjarres is a junior at Polk State Lakeland Collegiate High School, one of two public, charter high schools the College operates, allowing students to complete high school requirements while also earning college credits.
Manjarres was accepted to the school when he was 12, after his parents had tried home-schooling and other public and charter schools.
None of those options posed enough of a challenge for Manjarres, who was reading well before kindergarten, said dad Armando Manjarres. At Polk State Lakeland Collegiate, however, the family has found what it needed.
"It's like someone gave us shoes that fit, and he can walk," said Armando Manjarres. "This environment is a perfect fit."
Students accepted to Polk State's collegiate high schools must meet eligibility requirements, including a 2.5 grade-point average and a passing score on the PERT (Postsecondary Education Readiness Test). The schools serve only juniors and seniors.
Academically speaking, Manjarres' admission was no problem – he had a 4.0 and had already scored high on the SAT and PERT.
That's not to say, however, that there wasn't any hesitation – both on the part of his family and on the part of the College.
"We were proactive in considering all the variables that could hinder him from being successful," said Polk State Lakeland Collegiate Director Sallie Brisbane. "For example, we looked at the content of courses. If we know that there is a particular class that might have mature themes, then we will point him to a different course."
Such concerns aside, Manjarres said so far only his instructors have taken notice of his age, and only in passing.
"Everyone's treated me like an equal," he said.
Manjarres plans to study at Yale or Cornell, with the goal of becoming an anesthesiologist. If he maintains the academic pace he's shown so far, he could be practicing medicine by his mid-20s.
With Manjarres' impressive academic resume – it already spans two pages, filled with honor roll recognitions, certificates and awards – it would be easy to imagine his parents as drill-sergeant types who demand endless study sessions.
That assumption would be incorrect.
Manjarres estimates he spends 30 hours a week playing his favorite video game, "Halo: Reach," and as long as his homework is finished, his parents eagerly approve of his couch-potato ways.
"He can play 20,000 hours of video games in a week, but he is expected to do his schoolwork," said Armando Manjarres. "His job is to do well in school, but relaxing and playing video games and watching TV are a part of life, too."
Triplet Siblings Also Attend the College
Impressive as Alex Manjarres' story is by itself, it also isn't complete without his 15-year-old triplet siblings – Armando E., Raphael and Monica.
The triplets also all boast numerous academic achievements. Armando E. and Raphael are also students at Polk State Lakeland Collegiate. Monica is home-schooled and is taking dual-enrollment courses at the College; she plans to attend Polk State Lakeland Collegiate later this year.
The triplets are on track to earn their high school diplomas and AA degrees by the time they are 17.
Armando Manjarres says the family's emphasis on academics began when the triplets were born 13 weeks prematurely.
After 66 days at a hospital in New Jersey – where the family lived until 2006 — the babies were sent home, but with a warning: Because they were born so early, they could have developmental delays.
Armando and wife Daisy, now an accounting manager at DCR Business Solutions in Mulberry, decided that she would work to support the family. Armando, meanwhile, would stay home to care for the children, making their development and education his full-time job.
"I am so proud of the children and my husband. Every minute of the day, he's thinking of ways to help them and do things for them," said Daisy Manjarres.
Armando and Daisy researched ways to stimulate their babies' premature brains and followed through on many of the suggestions, including reading to them daily and playing different types of music in the home.
When Alex came along, he simply fell in stride.
As the triplets grew older, they proved to be free of setbacks, but the family's learning-first culture didn't wane. Recently, the family moved from Mulberry to a subdivision located just outside the Polk State Lakeland campus, solely to make it easier for the kids to get out of bed and get to school.
Such a move may seem extreme to some, but for the Manjarres family, it's all part of helping their children to succeed.
"As parents, we feel that if we give our children the right tools, then they will do a good job," said Armando Manjarres, who now does freelance budget forecasting.
"We can give our kids the foundation to do whatever they want with their lives."
All the Manjarres children plan on pursuing their bachelor's degrees, but they have a variety of career interests. While Alex is focused on anesthesiology, Armando E. is interested in a music career and Monica is interested in being a writer and musician. Raphael, meanwhile, is still deciding what he will do after graduation.