Return on Investment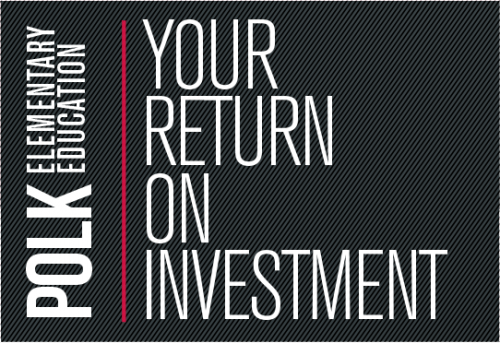 Polk State College prides itself on being Polk County's most affordable, accessible choice for higher education.  Polk State College is defined by its industry partnerships, its ability to quickly respond to local workforce needs, and most of all, its commitment to student success.
Your investment in a Polk State College education is an investment in your future and one that should not be taken lightly. As you consider your options for higher education, please consider the following return on investment figures for Polk State College's Bachelor of Science in Elementary Education program.
How much can I make per year?
Starting Teachers $41,572*
Kindergarten and Elementary School Teachers $55,000**
Please note that potential salaries within Elementary Education vary depending on job, education, and experience level. Polk State College does not guarantee employment for anyone completing a program nor any specific compensation or benefits if employed.
*Polk County Public Schools, 2019-22 Collective Bargaining Agreement
**2019 annual median wage data, U.S. Bureau of Labor Statistics
 How much will it cost?
The cost of tuition and fees for the Bachelor of Science in Elementary Education is approximately $7,433~
~Please note that this figure does not include the cost of an associate's degree which is a requirement for admission to the bachelor's degree program
How does Polk State College's cost of degree compare to other institutions?
The cost of a Bachelor of Science in Elementary Education at competing institutions is $32,000 – $59,000.