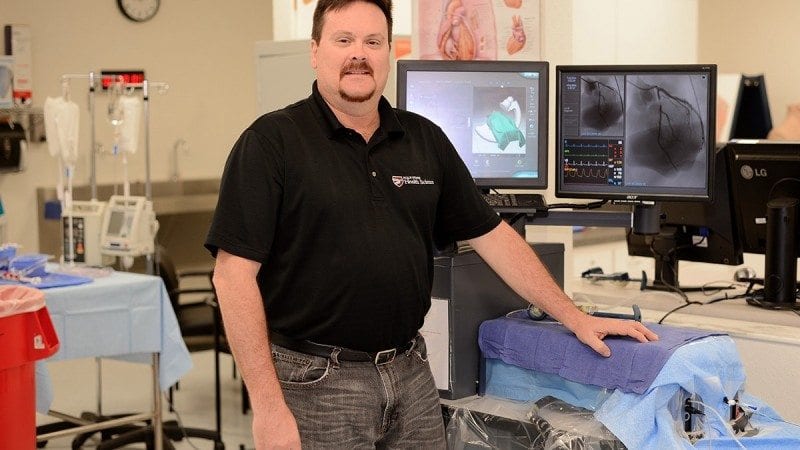 Phone: 863-669-2947
Internal Extension: 4071
Email: kferrier@polk.edu
Office: ASL-132, Airside
Station: 150


Kevin Ferrier was born and raised in Delaware. Following a six-year military career and a three-year civilian career in the field of meteorology, Ferrier found a new career in the health sciences industry.
Ferrier graduated with academic honors from Polk State's Radiography Program in 1994, earning his Associate in Science in Radiologic Technology.
Following his graduation, Ferrier worked as a radiological technologist at Winter Haven Hospital before moving to North Carolina, where he trained in cardiovascular technology at Forsyth Memorial Hospital in Winston-Salem. He graduated with high honors from Forsyth College in 1997, earning a Specialty Degree in Cardiovascular/Vascular Intervention.
In 1998, Ferrier began working as a cardiovascular technologist at Johns Hopkins Hospital in Baltimore. While at Hopkins, he also worked for the Baltimore Orioles as a radiological technologist. Two years later, he returned to Polk County, where he worked at both Lakeland Regional Medical Center and Heart of Florida Regional Medical Center, in the interventional radiology and cardiology departments respectively.
In March 2007, Ferrier returned to Polk State to begin curriculum development for the new Cardiovascular Technology (CVT) program. He administered the $2 million U.S. Department of Labor Community Based Job Training Grant awarded to the College, and established the high-demand, targeted health science program for invasive cardiology.  By 2010, the CVT Program received national recognition as one of 30 accredited invasive cardiovascular technology programs nationwide.
Ferrier completed his Bachelor of Applied Science in Supervision and Management in Healthcare Administration at Polk State in spring 2014, graduating cum laude.  Currently, he is completing courses for enrollment in the master's program for Professional and Technical Education at the University of Central Florida.
He is a member of the Golden Key International Honor Society and Phi Theta Kappa.  Ferrier resides in Winter Haven with his wife and three sons. He and his family enjoy fishing, camping, and supporting the Orlando City Soccer Club.