With Projects, Polk State Nursing Students Educate New Moms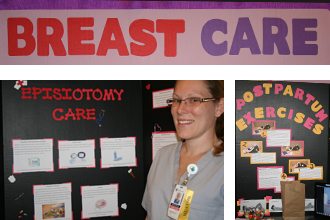 More than 60 Polk State Nursing students on Tuesday displayed projects that will educate new mothers on everything from breastfeeding positions to postpartum depression.
The students are all in their third semester of the Nursing program, when their studies focus on Maternal-Child Nursing and Women's Health.
Since fall 2011, students in the term have been required to delve into a particular aspect of childbirth, be it caring for the mother's clogged milk ducts or swaddling a newborn.
Students must use the information they glean to educate patients in a clinical setting. They also design presentation boards, which were displayed Tuesday in the Winter Haven Fine Arts building. The boards are graded by Nursing staff and, in many cases, end up at either Winter Haven Hospital's Regency Center for Women and Infants or Lakeland Regional Medical Center, where future patients will benefit from the information.
Nursing Professor Marcia Scott, strolling through the rows of projects, said she's always impressed by the students' creativity.
"It's amazing. I'm always blown away," she said, as she passed a project that used a carved pumpkin to illustrate a Caesarean-section incision.
The project is essential practice for the students, who will have to educate their patients on a daily basis when they enter the workforce, Scott said.
Student Nikki Beals, herself a mother of four, chose the topic of postpartum depression. It may not be the most fun topic related to new motherhood, but it's one of the most important to discuss, she said.
Beals, who has already presented her information to a patient, said the experience was a valuable one.
"My patient was really receptive to the information. This project will help make me a better nurse. As nurses, we can't just push medication and discharge our patients, we have to really care about them and teach them to help themselves," she said.
Student Aline Garcia, who built her presentation board around a large pair of rubber breasts that she had express delivered to her home from Amazon, based her project on breastfeeding and the numerous difficulties that it can pose for new moms.
Garcia, a mother of a 9-year-old, said she wasn't provided much information about breastfeeding, and wanted to save others from the discomfort and confusion she experienced.
"I had a lot of problems when I was breastfeeding. People would tell me to use heat, and others would tell me to use cold, to relieve the pain," Garcia said, referring to the swelling and clogged milk ducts that some breastfeeding mothers often experience.
"Evidence-based practice tells us that you should use cold to relieve pain in between feedings but heat right before a feeding to help the milk come out easier."
With her project, and its eye-popping, lifelike breasts, she hopes to help other new mothers experience the joys of breastfeeding.
"Even though it wasn't always easy, I felt I did something really special for my child by breastfeeding for a year and two months. I wanted to educate other mothers so they can do the same."
Polk State's Nursing Program is one of several Health Sciences programs offered by the College. The Nursing Program offers Associate in Science and Bachelor of Science degrees, and serves approximately 400 students in any given term. Approximately 60 percent of Polk County's Registered Nurses graduated from Polk State.