Winter Haven City Manager Deric Feacher: Students Need to Vote and Read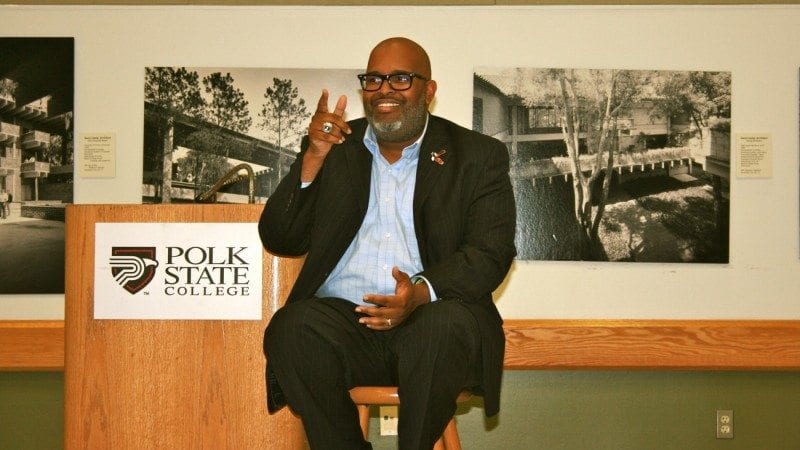 Polk State hosted Winter Haven City Manager Deric Feacher for a talk with students Tuesday that ranged from voting to the importance of reading.
Approximately 50 students attended Feacher's lunchtime chat at the Polk State Winter Haven Student Center. Christina Urbina, a student who also works for Winter Haven SALO (Student Activities and Leadership Office), served as moderator of the event.
Feacher began his talk by describing his responsibilities at the City of Winter Haven, including overseeing 440 employees and a $78 million budget.
Feacher said the parts of his job that he enjoys the most are working for positive changes in his community and helping to shape the lives of residents and his employees.
He also recounted how experiences in college spurred his interest in government and set him on his career path.
A native of Winter Haven, Feacher attended Bethune-Cookman University in Daytona Beach. While he was studying there, Deric said, the university's administration began closing the student game room at 7 p.m.
In response, Feacher organized his classmates for evening activities on a lawn outside the president's home. The students got the administration's attention, and soon not only was the game room open later, but the intramural sports program was improved.
"That's when I realized that this government thing really works if you're organized," Feacher said.
Feacher encouraged the students to take an interest in the activities of their elected officials, particularly at the local level.
"The government affects all areas of our lives," he said. "If right now the Winter Haven city commission wanted to, they could pass a law saying we all have to be in our homes at nine at night. They have that power."
He added that at higher levels, lawmakers are discussing issues that could impact college affordability, and college students should not only be paying attention, but also voicing their opinions on election day.
"Voting is essential," he said. "If you don't vote, you have no room to talk."
Reflecting on his own college years, Feacher shared this advice with students: Get involved and get as much education as you can.
"Don't wait," he said "If you have the opportunity to further your education, or study abroad, or get involved in student government, take it. You'll want those opportunities again one day and they may not be there."
As he wrapped up his comments, Feacher emphasized the importance of daily reading.
"Read something that feeds you mentally. Read something that will make you better," he said. "They can put you in jail, but they can't take what's in your head."
He also encouraged students to engage in professional networking and to act as leaders — even if right now they don't think of themselves as such.
"Every leader does not need a title," he said.
Among those in Feacher's audience was Gloria Rodriguez, a Kissimmee resident who is preparing to study in the College's Nursing program.
"He is really laid-back and transparent. It's easy to ask him questions," Rodriguez said of Feacher.
"It's imperative that college students have opportunities like these so that we understand the voice we can have."
Feacher spoke at the Winter Haven campus as part of SALO's ongoing events to encourage civic engagement.
The Winter Haven campus will host Jonathan Evans, city manager of Haines City, in October, and Kenneth Fields, city manager of Lake Wales, in November. Similar events will take place at the Lakeland campus in the spring.
Polk State SALO has offices in Lakeland and Winter Haven, offering students opportunities to join clubs and organizations, participate in activities and events, engage in community education, play in intramural sports and serve on college-wide committees.