Polk's Urbina Overcomes, Sees "Sunrises" in Her Future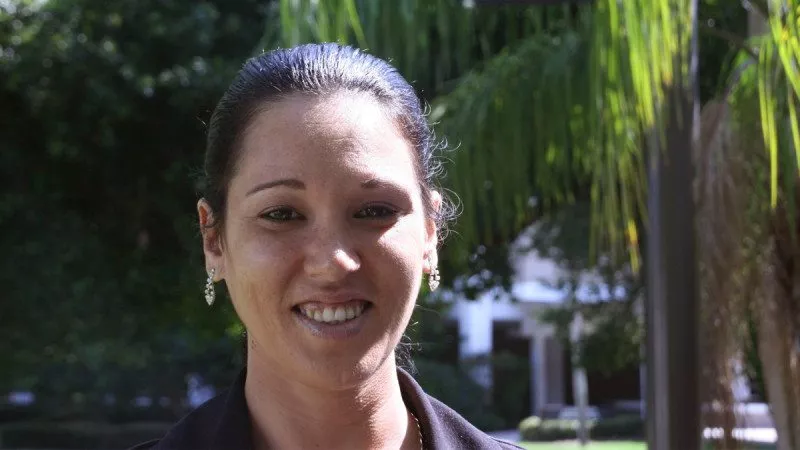 Christina Urbina describes the life she led up until a few years ago as standing in the ocean, right where the waves break, and getting knocked down over and over again.
She dropped out of high school.
She got in a lot of trouble.
She became a mom long before she was ready.
But every time she got knocked down, Urbina would get right back up again, driven by the potential she knew was deep inside her — potential that none of those waves would ever crush.
Then she found her way to Polk State College, and the tide began to turn in her favor. Now, the education she always wanted for herself, and so much more, is finally hers.
"If I can do this, it doesn't matter where you're coming from, you can do it too," said Urbina, 30, a resident of Winter Haven.
The uncensored version of Urbina's life story is difficult for her to tell and for others to hear. It still brings tears to her eyes. For those she confides in, especially those with young children, it causes a sick feeling deep in their stomachs.
In the most general of terms, there was abuse. There was pain. There was division in her family. Even as she tried to bury it all, to ignore it and move on, it festered just under the surface. Waiting.
When she was in the ninth grade, the neat facade she and her family had built to conceal the past came crashing down, and Urbina's life began a downward spiral.
"Everything started to hit me. I started self-destructing," she said.
Urbina had always been a good student, a regular on the Honor Roll. But she struggled in an eighth-grade algebra class, falling so far behind that by the ninth grade, she couldn't see any way back to the student she'd once been.
"I went from all A's to all A's and an F," she said. "That took everything right out of me.
"When I was doing well in school, I was ecstatic. I felt hyped to do a really good job. When I started failing, I wasn't making anyone happy anymore, especially not myself."
Urbina dropped out of school in the ninth grade, taking online classes for a time, but eventually giving up entirely.
Urbina's academic troubles coincided with her finally confronting the abuse she'd suffered early in her childhood and the storm of emotions that came with facing those memories.
She turned to drugs and alcohol, anything she thought might dull the pain.
"I was drinking to not feel things I was feeling. I wanted to forget. I didn't want to be me anymore," she said.
It wasn't long after that she had her first child, a daughter who is now 14. Urbina was just 15.
In the years that followed, those waves came in quick succession. She had another daughter, who is now 7. She was arrested four times; according to the Polk County Sheriff's Office, charges included DUI, marijuana possession, violating probation. She spent nine months in prison for driving on a suspended license.
Going to prison, and being separated from her children, is by far the lowest point she's ever known in her life, Urbina said, but she wouldn't take it back for anything.
"I'm so thankful for prison. I got a counselor. I had someone to talk to. I got my GED," said Urbina, who is studying toward an Associate in Applied Science degree with a concentration in business administration and management.
"I was away from my kids and knowing they were hurting. I didn't want to be a disappointment to them. I didn't want them to be ashamed."
When she got out of prison, Urbina went to work as a server at a steakhouse. Four months later, she was pregnant again, this time with a son.
In spring 2011, with three kids depending on her and with a lifetime of hardship behind her, Urbina enrolled at Polk State.
Here, she got the help she needed to repair her past troubles in math. After three semesters of remedial math, she says she now has a better understanding of the subject and its applications to real life. She even earned a handful of A's and B's in her math classes.
But the progress she's made goes way beyond specific courses. She is also the president of Polk State Winter Haven's chapter of Phi Theta Kappa, the international honor society for two-year colleges. Urbina's grade-point average, by the way, is 3.76.
She is active on campus, planning events for breast cancer and domestic violence awareness. Other students turn to her — she still can't believe it sometimes — for encouragement.
Phi Theta Kappa Adviser Anthony Cornett said Urbina inspires everyone she meets.
"To go from prison to the top of her class and leading a chapter of one of the world's most prestigious honor societies, it's a wake-up call for others," he said.
Phi Theta Kappa Vice President of Leadership Sandra Garcia agreed.
"She's a motivation. She somehow managed to get through everything. She's a full-time mom with full-time schoolwork, but she's still doing so much on campus," she said.
"She makes everyone else try more. She's an overachiever and makes everyone else want to overachieve, too."
Added Pat Furnish, vice president of the Student Government Association at Polk State Winter Haven and a member of Phi Theta Kappa:
"She pulled herself out of some very dark spots. She's determined. She's not going to stop where she is. She'll just keep going."
Urbina, indeed, is just getting started. She hopes to run for an international position within Phi Theta Kappa. She also plans on getting a bachelor's degree in public relations after she graduates from Polk State in 2015. She dreams of going to Columbia University or studying in Italy.
Now, Urbina said, when she thinks about her future, she doesn't see waves coming at her, ready to knock her down.
"I see a sunrise. Every day is new hope and a new beginning. Every day, I can make a change and be different than I used to be," she said.