Virginia Davidson, Early Music Faculty Member: "It's Incredible What Has Happened at Polk State"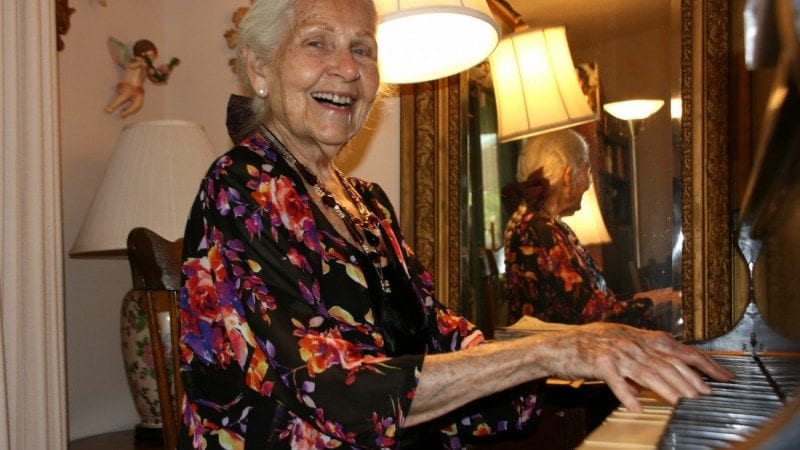 Born in a Winter Haven grove house, Virginia Davidson always dreamed of making music, but never that music would take her so far.
Now 86, Davidson had her first piano recital at age 5. She was being paid to give piano lessons by age 10. She's traveled the world singing, teaching and conducting, and gave nearly two decades to Polk State College, helping to build its now-renowned Music program.
Now, as the College marks its 50th year, Davidson sat down with News@Polk to recall those early days, when a program that just had its first alumnus accepted to The Juilliard School consisted of just four pianos in a maintenance building.
"It's incredible what has happened at Polk State. It's a totally different school, but still a place where education is attainable for everyone," she said.
Davidson's earliest memories are evenings spent around the piano with her four brothers and father. Her mother would play while they would sing, the sun setting to their familial harmonies.
"Music was just a way of life," Davidson said. "It never occurred to me to even think about doing anything else."
At 10, Davidson was filling her piggy bank, getting paid 50 cents per lesson to teach piano to neighborhood children.
"I did that all through high school, while also playing local gigs in town," she said. "Winter Haven used to be such a musical town."
When she graduated from Winter Haven High School, though, Davidson — whose mother didn't work and whose father had managed an orange grove and later a gas station — didn't have the money to go to college.
That is until music, as it would her entire life, showed her a way.
"(WHHS) needed a choral director," she said. "I had just graduated, but turned right around and started teaching there."
Her salary from the high school allowed her to set up a music studio where she taught 25 hours a week to finance her bachelor's degree in voice performance from Florida Southern College.
By then, the role of teacher — though she never planned it to — fit her perfectly. She loved watching her students' progress, as they went from clumsily tapping to expertly tickling the keys of the piano. She loved seeing them concentrate on the instrument, at first intimidated by the challenges it poses, but eventually mastering its pedals, strings and hammers.
"I remember one young girl, she was maybe 9, and for some reason, her hands were always shaking," Davidson said. "We sat down at the piano, opened a beginner's book, and she pressed a key. Her hands stopped shaking and an hour later we were still having a great time.
"Music gets you out of yourself. People call it an escape from life, but it's not that. It's a focus. It's a hard study."
Davidson would go on to have four children. She earned a master's degree from University of Memphis and a doctorate from Florida State University. She started her own studio, giving 40 lessons a week. She co-founded the Bach Festival of Central Florida, and founded the Winter Haven Youth Symphony, Florida Camerata Chamber Orchestra and other choir festivals. She performed and conducted in places such as Romania, Russia, Italy, Greece and Poland. She ran her own vocal studio and performed in New York  for nearly 30 years.
But a good bit of her resume was built here at Polk State College. Hired just after the College opened in 1964 at the Bartow Air Base, she said she experienced many "career highs" at Polk, where she taught not only music but also humanities.
She admired the fact that the College was integrated from the first day it opened its doors. Yes, that created some challenges, but she was proud of being part of place that gave education to anyone who wanted it, no matter what they looked like.
She was also proud to be part of a place where even working adults could come to learn and grow.
"I remember one man, who lived in Wahneta and worked for the canning industry. He was raising three children. He enrolled in my humanities class because he'd always wanted to do something in the arts," Davidson.
"He went along and found that he had real talent. He started working on his artwork at nights and on weekends. Before he'd been totally cut off from art. Three months after that class, he called me and said he'd bought a piano and all of his children were taking piano lessons."
Most of all, she's amazed that what once consisted of just four pianos and a classroom in a maintenance building has grown into a program that just had its first alumnus accepted to Juilliard, has graduates teaching and performing in Polk County and beyond, and regularly earns statewide recognition.
"Polk State has always been a wonderful place to get an education, whether you want to take one class or 10," she said. "I'm very proud to have been part of it."
Polk State College opened its doors in 1964 to offer the students of Polk County accessible, affordable higher education. Since then, it has awarded nearly 40,000 degrees. Class Reunion is a recurring series to highlight the life-changing, generation-spanning difference Polk State has made in the lives of its graduates. Send your Class Reunion story suggestions to news@polk.edu. 
In addition to Music, Polk State Fine Arts includes Theatre and Visual Arts, all of which enjoy outstanding statewide reputations.