Únete Club students make connections and memories at HACU conference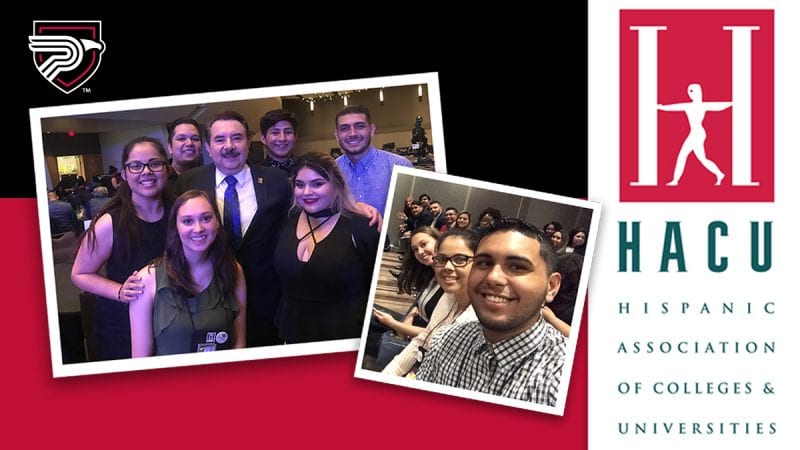 Students in Polk State College's Únete Club recently attended the 32nd annual Hispanic Association of Colleges & Universities (HACU) conference in Atlanta, Georgia, where they connected with employers and peers from across the globe.
Únete Club President Jose Ferrer and Vice President Berenis Revelo shared presentations with their fellow club members, explaining to them the importance of taking advantage of opportunities at the College, such as attending the HACU conference.
"We walked away with leadership skills, career opportunities, and great friendships that we couldn't get anywhere else," Ferrer said. "It was an honor to represent Polk State at the national level and to learn from individuals from all over the country and the world."
Ferrer, an Associate in Arts student, and Revelo, who is pursuing a Bachelor of Applied Science in Supervision and Management with a concentration in Business Administration, received internship opportunities during their visit.
Ferrer, who plans to pursue Criminal Justice, attended a workshop hosted by the Central Intelligence Agency (CIA) about leadership and, after introducing himself to and talking with the presenter, was offered a summer internship with the organization in Virginia.
Revelo participated in a career fair held at the conference and received an interview with a pharmaceutical company, which offered her a finance management internship that would allow her to balance the experience with a graduate program she plans to pursue in California.
"Even if you think a school or a company doesn't have something for you, there is always an opportunity," Revelo said.
That's also true for the HACU annual conference, which offers a variety of workshops for both students and college advisors in areas including academic success for Hispanic students, leadership, research, advocacy and policy, international partnerships, fundraising, and partnerships.
Revelo also participated in the CIA workshop as well as a workshop about interviewing and communication skills. Ferrer participated in workshops hosted by the U.S. Army and the Overseas Private Investment Corporation (OPIC), which were also focused on leadership.
Their visit to Atlanta wasn't all business, however. In their free time, they had the opportunity to sightsee and socialize with students from all over the U.S. and other countries.
Ferrer, who fled Puerto Rico after Hurricane Maria, met other students in situations like his.
"They talked about being scared, and I told them my story. There was a great sense of community and I met good people that you never want to say goodbye to," he explained. "It was interesting to see how people connected, shared stories, and learned from one another."
Ferrer also fulfilled a lifelong dream to attend a Dodgers game. He has family in Brooklyn, New York, who still root for the once-Brooklyn team, and Ferrer plays baseball himself.
Revelo, on the other hand, celebrated her birthday with more sightseeing and karaoke.
"I danced with the president of HACU," she exclaimed.
She added that the conference was an opportunity to meet students from all walks of life and different cultures – not only Hispanics. She connected with a student from France who is studying in New Mexico, for example, and was intrigued to hear more about the country she plans to visit one day.
This year's HACU conference had record-breaking attendance.
"It was awesome to be a part of, and I encourage students to take advantage of these opportunities," Revelo said. "From traveling and sightseeing, to meeting new people and connecting with potential employers, I am so grateful to HACU and Polk State for this experience."
Únete Club Advisor and Coordinator of Career Development Services, Jeannette Grullon, said witnessing students' excitement about what they learned at the HACU conference motivates her to continue extending this opportunity to more students. She attended the conference with Winter Haven Campus Dean of Student Services Larry Pakowski, who continues to seek opportunities for all students.
"The HACU conference offers an incredible opportunity for students to learn about different subject areas, about themselves, and how to apply what they learn to their lives and career goals," Grullon said. "Just because they may be from different ethnic backgrounds or the first generation in their families to go to college doesn't mean they shouldn't take advantage of as many opportunities as they can."
The College continues to boost its outreach efforts and services for Hispanic students as Polk State strives to become a nationally-recognized Hispanic-Serving Institution (HSI). Achieving this designation will make first-generation-in-college and low-income students eligible for federal grants.
To become an HSI, a college's student population must be at least 25 percent Hispanic. Polk State's Hispanic student population continues to grow, increasing from 19 percent in Academic Year 2015-2016 to 22 percent in 2017-2018.
"As advisors, we continue to seek ways to enhance services for our students, and the HACU conference was beneficial in that way as well," Grullon said. "We continue to encourage students to get involved, take advantage of opportunities, and share their experiences and knowledge with the world. Polk State College makes many leadership opportunities possible for all of our students."