Two Polk State Music Students Win Scholarships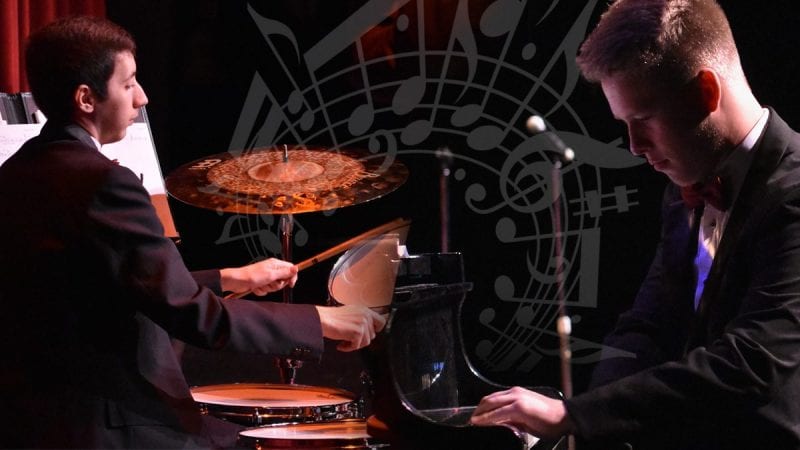 Two Polk State Music students are winners of the Bob Washington Jazz Scholarship Award Program, a five-year-old contest that organizers say continues to grow more competitive.
The Jazz Lovers and More Jazz clubs of The Villages, a large retirement community in Lake and Marion counties, award the Bob Washington Scholarships to jazz instrumentalists and vocalists who are high school seniors, or college freshmen or sophomores. The scholarship program is named after the founder of the Jazz Lovers Club who died six years ago, said Walter Griffith, current president of the club.
This year, 14 students from across Central Florida entered the contest. Eight advanced to the final round of competition and six took home awards. Awards were given during an event in late April in The Villages.
Pianist Luke Wilmoth placed second, winning a $3,000 scholarship. Drummer Brendan Nagy placed fourth, winning a $2,000 scholarship.
"I am extremely proud of both Luke and Brendan for this accomplishment," said Polk State Director of Bands Don West. "They are exceptionally talented and dedicated student musicians who have worked hard to acquire and develop a professional skill set on their respective instruments. They are a true asset to our jazz program."
Wilmoth, 18, has been playing the piano for 14 years. He will graduate from Polk State with his Associate in Arts degree in 2017, and will continue at a university to earn a bachelor's degree in music. Wilmoth said several of the other students vying for the scholarships were attending or planning to attend larger universities and music schools.
"It was really cool to be someone who represented a smaller school like Polk State," he said. "It was a really big honor."
Nagy, 18, a resident of Winter Haven, has been drumming for seven years. Like Wilmoth, he will graduate with his Associate in Arts degree in 2017, and will continue at a university to earn a bachelor's degree in music. The scholarship will help him pay for his education, but the intangible rewards that came with it are even more valuable, he said.
"I was surprised I could do this," he said. "It's been a huge boost to my confidence."
West added:
"It is a great honor to have our music students participate in events such as this, and their success is a testament to the outstanding learning and performance opportunities we provide here at Polk State College."
Griffith said that the scholarship contest gets better each year, both in terms of the number of students participating and the level of talent they display.
"This year's class was probably our best one," he said.
In addition to Music, Polk State's arts programs include Theatre and Visual Arts, all of which enjoy outstanding statewide reputations.