Two Events Underscore Polk State's Commitment to Helping Students Graduate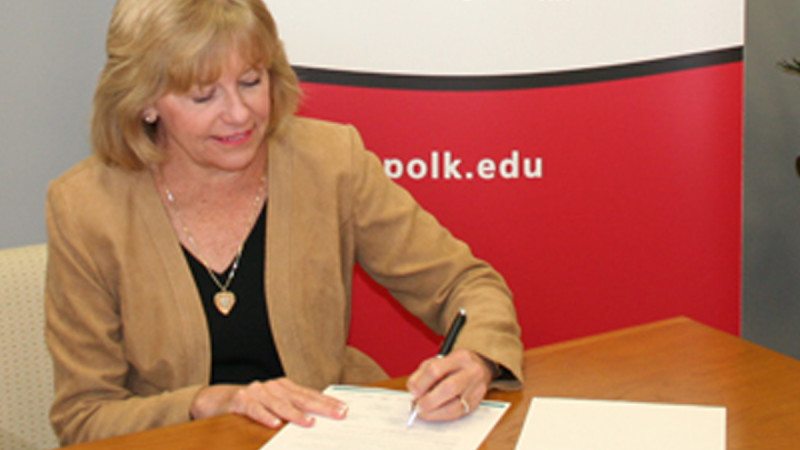 Polk State President Eileen Holden took part in two events on Monday that underscore the College's ongoing efforts to help students complete their degrees.
In the morning, Holden added her signature to a letter outlining for the community the Graduate Polk initiative.
Graduate Polk, a Polk Vision Education initiative, involves all Polk County colleges and universities and numerous local businesses. Graduate Polk aims to connect working adults who never finished their degrees with information and resources they need to graduate.
Holden will be joined in signing the Graduate Polk letter by the presidents of Florida Southern College, Keiser University, Southeastern University, Warner University, Webster University and Webber International University.
As part of Graduate Polk, a phone number — 863.298.6855 — has been established for those seeking to finish their degrees. The phone number is staffed by Polk State employees who will direct callers to the institutions and resources that most suit their needs.
The Graduate Polk letter will be published in local newspapers to encourage area residents to take steps toward finishing their degree.
Later in the day on Monday, Holden took part in a signing ceremony at the University of South Florida, marking a new agreement that will also help students graduate.
The Reverse Transfer Agreement targets students who completed some academic coursework at Polk State and USF, but didn't complete a degree at either institution.
Under the agreement, credits earned at USF will be transferred back to Polk State to apply to the students' Associate in Arts degrees. With all degree requirements met, the students will be notified and then automatically graduated from Polk State.
Polk State will work with USF to identify students who qualify under the criteria of the agreement and have earned enough credits to be awarded an AA degree.
"The success of our students is always the top priority at Polk State. Through this agreement, we will graduate students from our College, equipping them with a marketable credential they can immediately add to their resumes and give them an edge in the region's ever-competitive workforce," said Holden.
The agreement with USF is part of Polk State's broader participation in Graduate Tampa Bay, a regional initiative to increase college-graduation rates.
Polk State is joined in the agreement with USF by Hillsborough Community College, Pasco-Hernando Community College and St. Petersburg College.