Through Free Training Program at Polk State, Students Can Earn Certifications in Manufactured Construction, Get a Job Interview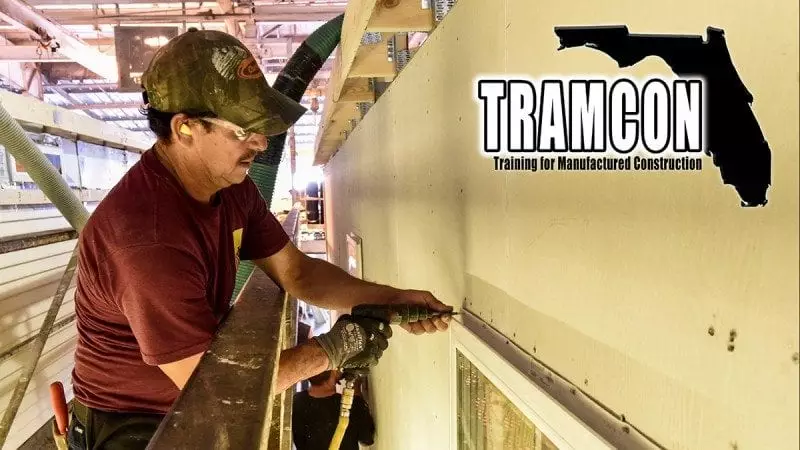 A free program at Polk State College will allow participants to earn nationally recognized certifications in the booming manufactured construction industry.
"There are employers right here in our area who need these certifications and skills. We've already seen it happen— students have come to Polk State, earned these certifications, and gone straight to work. We're eager to help even more students get hired in manufactured construction," said Mary Beth Shapiro, a recruitment, retention and completion coach at the Polk State Corporate College.
In late 2014, the Department of Labor awarded nearly $10 million to four Florida colleges, including Polk State, for the development of TRAMCON (Training and Certification Programs in Manufactured Construction). Of the total award, Polk State received $1.76 million; the rest was split between Miami Dade, Santa Fe and Seminole State colleges.
Polk State is using its grant award to offer the upcoming training program, allowing it to be offered at no cost to participants.
In manufactured construction, structural components are built in a factory and then assembled at the construction site. Doing so makes it easier to control costs and quality. For these reasons, manufactured construction — both of residential and commercial buildings — is increasingly common.
The upcoming training session will be the first of its kind Polk State has offered.
During the six-week training session, participants will complete coursework and hands-on training to earn three nationally recognized certifications, including:
MSSC Certified Production Technician (CPT): Awarded by the Manufacturing Skill Standards Council, the CPT is nationally recognized as the manufacturing industry's entry-level certification.
NCCER Core Curriculum Certificate: The National Center for Construction Education and Research's Core Curriculum Certificate affirms knowledge of basic construction skills, including basic safety, construction drawings, construction math, materials handling, hand tools, power tools, and employability and communication skills.
OSHA-10 General Industry card: This certification, awarded by the Occupational Safety and Heath Administration, validates training on the recognition, avoidance, abatement and prevention of safety and health hazards in the workplace.
In addition, participants will earn the TRAMCON certificate. Developed by the University of Florida and the TRAMCON institutions, the TRAMCON certificate is proof a trainee understands the basics of manufactured construction. Topics include the production environment, construction process, team building and cooperation, skills development and quality assurance.
Those certifications are in demand by employers like Palm Harbor Homes, the College's industry partner for manufactured construction training.
Palm Harbor has agreed to interview completers of the Polk State program. Earlier this year, Shapiro said Palm Harbor hired three students who completed a smaller-scale version of the program.
The training program will take place from 8 a.m. to 5 p.m., Monday-Friday, from Sept. 14 to Oct. 23 at the Polk State Clear Springs Advanced Technology Center, 310 Technology Drive in Bartow.
Prospective participants do not need any prior construction experience; however, they must take the TABE test, which is available at CareerSource Polk locations in Lakeland and Winter Haven.
Polk State has 20 openings for the upcoming training session.
For more information, contact Shapiro at 863.297.1010, ext. 4615, or mshapiro@polk.edu.
The Polk State Corporate College provides customized workforce training through eight institutes, including the Advanced Manufacturing Institute, Child Care Training Institute, Contractor Safety Training Institute, Insurance Institute, IT/Computer Institute, Professional Development Institute, Real Estate Institute, and Supply Chain Management Institute.