Three Polk State Distinguished Alumni featured in Smithsonian's Voices and Votes exhibit traveling the nation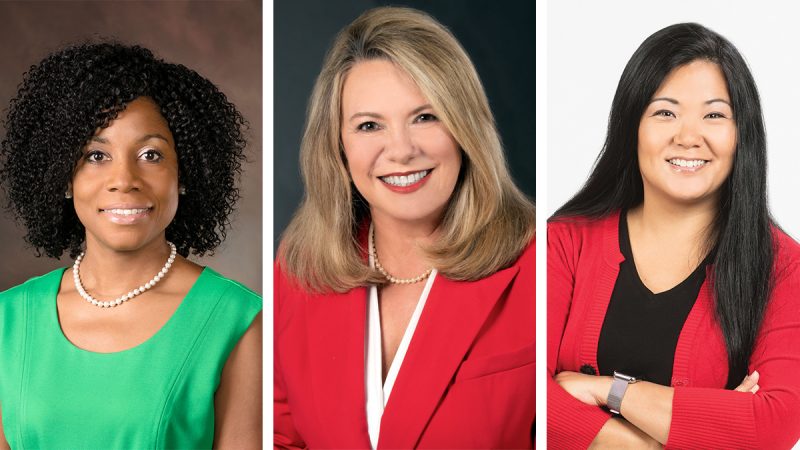 When Myrtice Young received the call from the Smithsonian Institute confirming the Polk County History Center as a host site for the latest traveling exhibit titled Voices and Votes: Democracy in America, she immediately began listing names of individuals whose voices would serve as diverse reflections of the Polk County community. As a Polk State College Distinguished Alumna, it was a no-brainer for Young to include members of Polk County's largest serving higher education institution.
Local business owner and realtor Twanna "T-Fay" Dewdney, District Board of Trustees Immediate Past Chair Teresa V. Martinez, and local business owner Nikki Smith – all Polk State Distinguished Alumni – are featured in the Smithsonian's Voices and Votes: Democracy in America, on display at the Polk County History Museum through December 11. The exhibit – and their voices – will travel to Arizona, Iowa, Kentucky, and Maryland in 2021.
"When I started mapping out the different voices that people would be interested in hearing and that would be representative of Polk County, I thought of Polk State College's broad representation of the County and the importance of education," explained Young, the History Center's Historic Preservation Manager.
The Smithsonian Institution Traveling Exhibition Service is the world's largest traveling exhibition service. Through Museum on Main Street – a collaboration between the Smithsonian Institution and State Humanities Councils nationwide – communities have the opportunity to be part of annual traveling exhibits that are based on exhibitions by the National Museum of American History, highlighting local stories and bringing voices from different communities to the national level.
Voices and Votes explores answers to the questions: who has the right to vote, what are the freedoms and responsibilities of citizens, and whose voices will be heard?
"With the centennial of the 19th amendment and voting rights for women, as well as the strong feelings and polarization going on in our country today, Voices and Votes fosters important discussions and brings them into a safe environment," Young said. "These three women did an outstanding job."
Twanna "T-Fay" Dewdney
Dewdney is owner of Salon Ashanti and a community activist. She is a Winter Haven High School graduate who earned her Polk State Associate in Arts degree in 2011 and Polk State Bachelor of Applied Science in Supervision and Management in 2013. She was the first baccalaureate program graduate to be recognized as a Polk State Distinguished Alumna.
In her interview with the Smithsonian, Dewdney discusses the importance of improving race relations and bringing people together to educate each other about their histories and different cultures. She also highlights the civic responsibility of staying engaged in the community and informed about politics.
"As a hairdresser, people from the community come to my salon because they trust me. They know that I am up on current events and that I can enlighten them about the election process," said Dewdney, who keeps voter registration forms available in her salon. "Voting is just as important as breathing."
Dewdney was "shocked" and excited to be part of the Smithsonian's Voices and Votes.
"I went into the interview thinking 'why would they pick me out of all these other individuals who are more educated and more experienced,'" she shared. "Then the interviewer said that I have a unique perspective. When I think about voices and votes, I think about diversity."
She pointed to the diversity of those interviewed.
"We all come from different backgrounds and walks of life," she said. "It is interesting to hear the different voices of people from different countries, neighborhoods, and socioeconomic statuses. It is important to listen to other people's views and to diversify your beliefs."
A great way to do this is to get involved in the community, she added.
"When you get involved in the community, you see the solutions to the problems, not just the problems," Dewdney said. "I encourage everyone to stay engaged, volunteer when you can, join local organizations, and help organize peaceful protests."
Teresa V. Martinez
Martinez exiled from Cuba to the United States and has been part of the Polk State family since she enrolled at what was then Polk Junior College. She is the founder and President of the Institute of Spanish Communications, Inc., and serves as a member of the Polk State District Board of Trustees. She was named a Polk State Distinguished Alumna in December 2006.
In her interview with the Smithsonian, Martinez provides a powerful perspective on the meaning of democracy.
"Freedom," she said. "Freedom to express yourself, to be whatever you want to be…, to have the freedom to be yourself. In Cuba, this was not something that we were able to experience…, I was able to experience what democracy is not."
She chronicles life in Cuba and the struggles of exiling in her book Success in Exile – Five Decades of Cuban Stories. In her Smithsonian interview, she recalls the first time she voted.
"When you have the ability to vote, you have the ability to have your voice heard," Martinez said. "We live in a country where we all count and where we can all have our voices heard. Everyone should exercise that right and become involved in the decisions being made in our country."
Martinez shared how honored she is to be part of the Smithsonian exhibit and how it reflects the freedoms she is thankful for as a result of the sacrifices her family made.
"My parents left everything in Cuba to have freedom and to give me the opportunity to express myself. This is what most Cubans are thankful for," she said. "To be able to say that I am part of such a prestigious thing as this Smithsonian exhibit and for it to be traveling all over the country is a privilege. I showed the video to my dad and he was just so proud."
She uses her story to motivate and inspire others, including Polk State's students.
"When I first came to this country, I felt insignificant because I didn't know the language and I felt lost. But I have made it all the way to the Smithsonian," Martinez said. "When you decide what you want to do in a country where you are free to do so, all you need is the desire and hard work to achieve it. In America, you can be anything you want to be."
Nikki Smith
Smith knows the American Dream – and the journey to reaching it – well. She was born in Korea and adopted at nine months old. A graduate of Winter Haven High School, Smith achieved her Polk State Associate in Arts degree in 1991 and founded ASAP Prints in her home in 2001. Today, ASAP has grown to a full-service commercial print shop that has garnered several local, state, and national recognitions. She was recognized as the May 2019 Polk State Distinguished Alumna.
"From being an orphan and being born in another country, to being able to live the American Dream is amazing – I am so thankful," Smith shared in her Smithsonian interview. "I don't call myself an Asian-American, I call myself an American, because on the day that I get to vote, I am voting as an American."
"We are so fortunate to live in a cultural pot of all sorts, all types, and all nationalities," she added. "But the bottom line is we are all Americans, and we all share one thing – freedom."
Smith said she was surprised to receive an invite to participate in the project and echoed Young's sentiment about the exhibit providing an educational experience in a safe atmosphere.
"In today's political environment, it is important to give a voice to people who have opinions and are drama free. This traveling exhibit does exactly that. It has a diverse group of individuals sharing their opinions in a calm, cool, and educational way," Smith said. "Democracy is the foundation of everything that America is. If we lose our ability to have conversations on democracy with civility, kindness, and open minds, we will lose the fiber of what America is."
In her advice about the importance of being civically engaged and exercising the right to vote, Smith encouraged students to compare it to the classroom setting.
"If you were asked to vote on a closed-book test, a written essay each week or open-book exams, would you skip voting? If you didn't vote your preference, you would have zero room to complain about the decision the class made," Smith explained. "Students would never let that happen in their classroom and they should never let that happen in our country. They need to vote."
Smith called Voices and Votes a unique opportunity for Polk County residents to experience the quality of a Smithsonian exhibit and for the local community to have its voices heard across the nation.
The exhibit features 55 interviews – 12 from Polk County.
"Everything is done with excellence – from the printing, to the writing, to the interactive kiosks," Smith said. "It is an exhibit that appeals to everyone and our community is fortunate to have it here in Bartow."