The Eagles Have Hatched!!!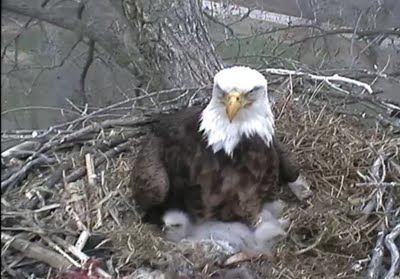 This is truly Eaglicious. Millions of people around the world have been watching a live feed from a camera positioned above an eagle nest in Decorah, Iowa.
In recent days, the event so many had eagerly anticipated finally happened…the first of the eggs hatched! The second hatched shortly afterward.
A third egg, the last to be laid, has yet to hatch…so if you haven't tuned in yet, hurry up!
While waiting for that last, sweet little eaglet to crack its shell, you'll get to see lots of other awesome moments…like the mother eagle dripping food into her babies' mouths…or the little eagles trying to hold up their fuzzy heads…or the babies wobbling around the nest.
Polk State College designer Leah Bartholomay has been watching the live feed for more than a month.
"I have one computer screen at my desk completely dedicated to the Decorah Eagles live feed. The eaglets are the love of my life," she said, adding that she has named one of the eaglets "Ferguson."
Need a little Eagliciousness in your life? Check the live feed out for yourself…with any luck, you'll be watching as those little ones finally leap from the nest and…Soar, Eagles!!!