Polk Has New Staff Members in Office of Communications and Public Affairs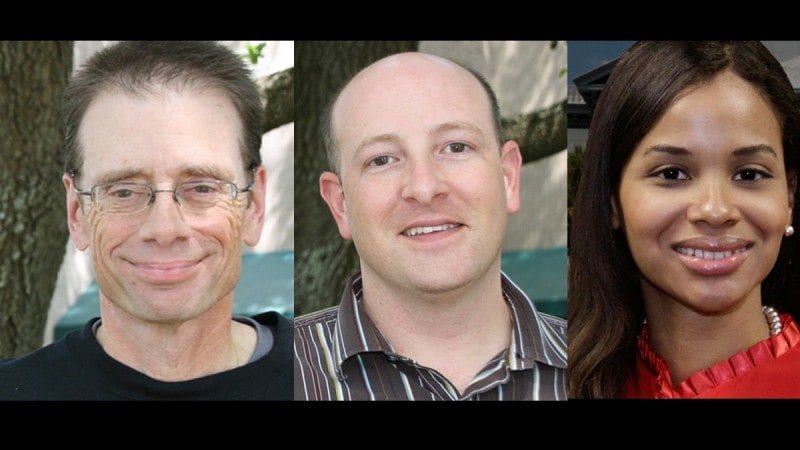 Polk State College has made a handful of strategic hires within its Office of Communications and Public Affairs.
Among the additions are Tom Hagerty, sports information coordinator, Geoff Hoskins, designer, and Ana Maria Sanchez, director of government relations.
Hagerty joined the OCPA in late February. In his role, Hagerty reports on the College's six athletic teams, producing news and feature stories for polkeagles.com and for distribution to various media outlets. His job requires him to be a fixture at home games and to travel with student-athletes to many of their away matches as well.
Hagerty holds a bachelor's degree in English from Seton Hall University in New Jersey and a master's degree in English from The Ohio State University. Hagerty has more than 25 years of experience as a writer, editor and photographer for private, public and nonprofit organizations, including the former University of South Florida Lakeland/Polytechnic, where he worked as an information coordinator. He is also a freelance photographer for clients including the City of Lakeland, Lakeland Flying Tigers and minor league baseball's Florida State League.
Hagerty replaces Lisa Coffey, who resigned as sports information coordinator late last year.
Hoskins joined the staff as a designer in March. He will lend creative talents to the wide variety of College-produced advertising, signage, brochures and other products.
Hoskins earned a bachelor's degree in Studio Art with a concentration in Graphic Design from State University of New York Plattsburgh. He previously worked as a visual communications specialist at Swarovski Lighting, Ltd., in Plattsburgh.
Sanchez joined Polk State in late 2013. She is responsible for local and state government relations.
Sanchez holds a bachelor's degree in Political Science from the University of South Florida and a law degree from Florida State University.
Her prior experience includes extensive work in state government, most recently as director of legislative and external affairs for the Florida Department of Juvenile Justice, where she was a member of the department's executive leadership team and served as the agency's advocate and spokesperson with the Florida Legislature. She has also worked as a legislative assistant to Rep. Frank Peterman and Rep. Arthenia Joyner.
Hagerty, Hoskins and Sanchez join Senior Designer Leah Bartholomay, Administrative Assistant Christine Lee, and Director of Communications Rachel Pleasant in the OCPA.
"The OCPA is only three years old, but it's proven to be a huge, value-added asset to the College," said Polk State President Eileen Holden. "It's been pivotal in rebranding the College, defending that brand, telling its stories and navigating our relationships with numerous 'publics' — from potential students to lawmakers to industry leaders. We are excited to welcome these new talents to the OCPA and to have them working for Polk State College."