Retired Polk State Professor Fulfills "Jeopardy!" Dream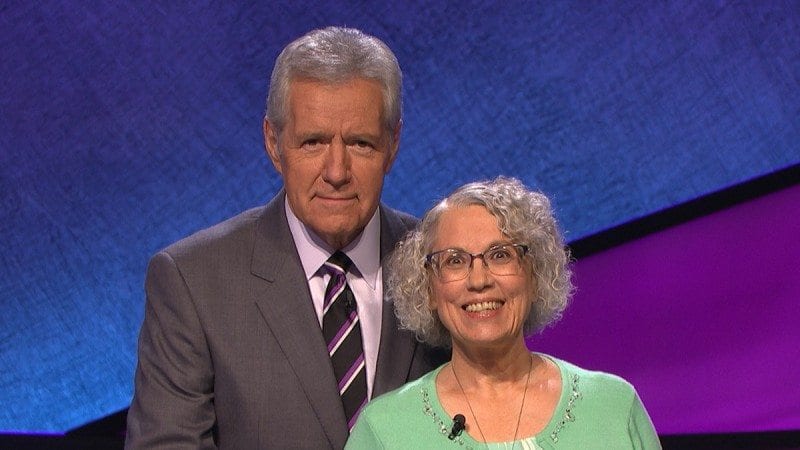 A retired Polk State College professor has fulfilled her lifelong dream of competing on the game show "Jeopardy!"
Kathy Riley will appear on "Jeopardy!" on July 9. Locally, the show airs on weekday nights at 7:30 p.m. on WTSP and at 7 p.m. on WFTV. Check with your cable provider for channel information.
"It's something I had on my bucket list and now, wow, I get to cross it off," Riley said.
Riley taught logic, humanities and developmental reading at Polk State for 27 years. When she retired in 2009, she poured her spare time and energy into the rigorous "Jeopardy!" testing and audition process.
Riley, who still sponsors the College's archaeology club, explained that "Jeopardy!" hopefuls must first pass an online test. Contestants have only 15 seconds to answer each of the 30 questions on the test, Riley said.
Contestants who successfully pass the online test receive invitations for in-person auditions.
Riley was first invited to audition in 2009, but she was unable to attend. Then in 2011, she again made it to the audition phase. It went well, but she was not selected for the show.
"Contestants are rarely put on after just one audition, and once you audition, you're not eligible again for another two years," Riley said.
Undaunted by the time commitment involved, Riley continued taking the online test each year, and in 2013, she was invited to audition in Tampa. In February of this year, the show's producers called her to Los Angeles, and she taped her episode — or episodes, she's not permitted to say how she did on the show — in April.
"I can't give away any results, but I can say that it was very helpful that I coached Brain Bowl for several years," Riley said, referring to the academic competition the College participated in earlier in its history.
In addition to her experience with Brain Bowl, Riley said her preparation for "Jeopardy!" involved reading. Lots of reading.
She began studying in earnest back in 2011, reading books by past "Jeopardy!" winners, books that contain broad summaries of subjects such as chemistry and world geography, and newspapers to keep up with current events and pop culture.
She also watched the show regularly to familiarize herself with the rules, categories and host Alex Trebek.
On meeting and interacting with Trebek in person, Riley said:
"Alex Trebek is really short, and charming, and just so well traveled and well educated, polite and polished."
Riley added that Trebek, who is 74 years old, told her he was glad to have a fellow senior citizen on the show.
"He told me he was happy to see some 'gray power,'" said Riley, 65.
Regardless of the outcome of the July 9 episode, Riley said her prize is seeing years of hard work come to fruition.
"It's something I really wanted to do and something that few people can say they've done," she said. "They told us in my audition that about 2,100 people audition a year, and only about 400-450 are called to be on the show. It's a very select group of people."
For more information on Polk State's archaeology club, visit it on Facebook, facebook.com/polkstate.archaeolgy.