Summer Monroe Having International Adventure at Intel Science Fair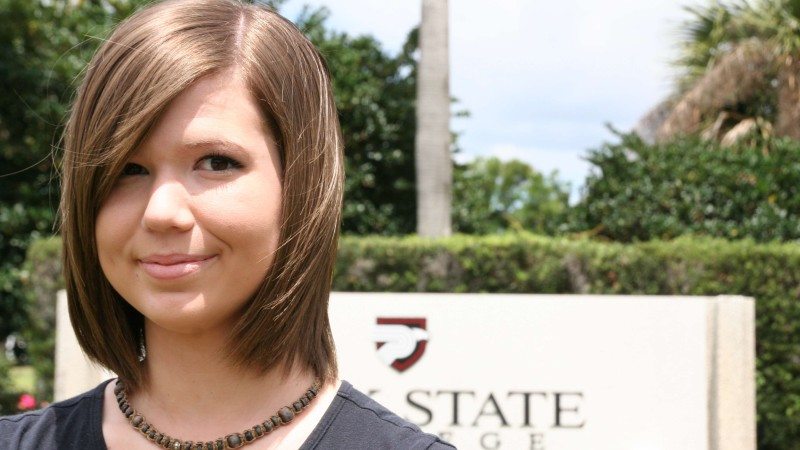 Polk State Lakeland Collegiate High School student Summer Monroe is currently competing in the Intel International Science and Engineering Fair in Phoenix.
Monroe's project, a bandage that uses copper and a material called Sharklet, which mimics sharkskin, earlier this year won second place in the microbiology category of the State Science and Engineering Fair of Florida, and first place and best of show in the senior division at the Polk Regional Science and Engineering Fair.
Though she's thousands of miles away, competing on the international stage, Monroe is sending back dispatches of her experience to share with Polk State.
Read more about what she's been up to:
May 15, 2013
Early morning today!
Judging started at 8 a.m. and didn't end until 5 p.m., with only a lunch break at 11:45 in the morning. It was definitely a little different being judged by people who all have Ph.D.'s and have already looked at your project and read your abstract before even seeing you. I'm not sure what to think about the judging results, but I know they don't give us long to think about it because in two hours we have the mixer aka "Club ISEF"…
Wow! The mixer was absolutely awesome and a great way to blow off the stress that judging brings. I'd have to say that one of the best parts was trying to teach people from other countries how to do dances that we do so much, such as the cupid shuffle, cha-cha, and the wobble. Gotta say though, they did really good for not having a clue as to what the music was saying. It was a great opportunity to meet others, eat delicious food, and just dance the night away with glowsticks, lights, and music.
May 13, 2013
This morning I thoroughly enjoyed catching up on sleep and adapting to the new time zone until the late morning, when another Florida finalist, Kyle Saleeby, and I went to go get lunch at Subway, which was crowded with even more finalists.
It was nice to see a familiar food joint and be able to talk to other competitors, whether or not we understood what the other was saying.
I headed over to the Convention Center after that to check up on my project and make sure everything was OK. I also finally got a chance to look at other finalists' projects.
It's absolutely mind-blowing to see what everyone is working on and how innovative our generation really is — and I'm happy to say I'm part of this movement.
After looking at the projects, it was time to go eat dinner at the pre-ceremony dinner provided by the Intel International Science and Engineering Fair at the Convention Center. After a delicious dinner, it was time for the opening ceremony. Intel really did put a lot of money and effort into the opening ceremony, and the sounds, lights, and speakers were awesome. I know there are pictures and videos of it all over the Internet at this point thanks to modern technology.
It was a late night, though, and tomorrow starts early with media interviews.
May 12, 2013
Today was a fairly laid back day, mostly reserved for student check-in and project setup. After registering for the event at the Phoenix Convention Center, I went to find my science project board that I had shipped three weeks before. About four hours later it was done — talk about a long setup process.
Jorgenson, my picturesque mannequin, made it safely too, managing to survive being cut in half for shipping and taped back together for my display, where he showcases my bandages and draws plenty of attention.
All was well, though, and I was cleared by Safety and Display. Then I took it easy until the pin trade this evening, where participants from all the countries and states exchange pins and get to know each other amongst an array of local and foreign foods. I didn't have room on my lanyard, so instead I chose to decorate my cowboy hat — which I swear gained 10 pounds by the end of the night. It was fun, but both my father and I were exhausted from the previous day's flying adventures and we both ended up falling asleep as soon as we got back.
May 11, 2013
We got in later than anticipated due to some flight troubles and went to go check into our hotel, the Sheraton in Phoenix. The first thing that hits you isn't the size of the city, but rather the heat. I was born and raised in Florida, but let me just say that … we have nothing on Arizona. Highs over 100 make it a bit hot out here, but at least they don't have the humidity that we Floridians get to enjoy.
It really is a very beautiful and very artistic community. There are plenty of random statues of humans and such that I haven't quite figured out, but they are great for pictures.
I went early to the convention center for early registration of my project and was greeted by students from a plethora of foreign countries.